George R. R. Martin Didn't Know What Was Happening During Game Of Thrones' Later Seasons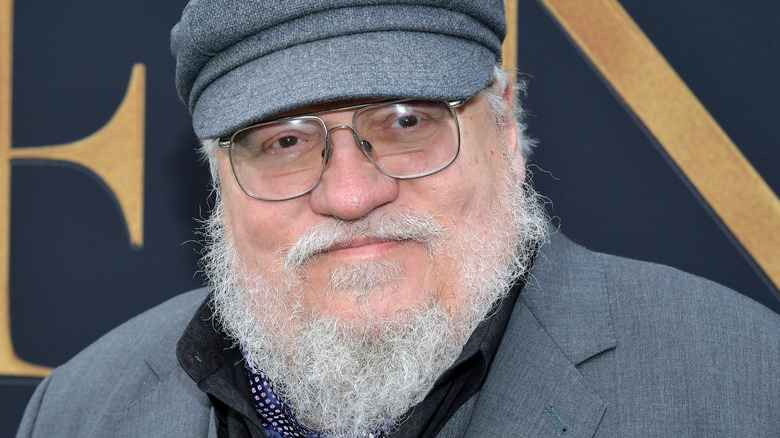 Amy Sussman/Getty Images
Celebrated fantasy author George R.R. Martin created the world and story that became HBO's mega-hit series "Game of Thrones." The show ran for eight (mostly) unforgettable seasons and featured the brutal power struggle between warring factions in the mythical land of Westeros. Plus dragons. Everybody loves dragons. Show creators David Benioff and D.B. Weiss based everything on Martin's "A Song of Ice and Fire" novels, an ongoing series that has yet to be completed by the scribe. This is perhaps more important than fans of the TV adaptation realized at first — but we'll get to that.
Starring the likes of Emilia Clarke (Daenerys Targaryen), Kit Harington (Jon Snow), Sean Bean (Ned Stark), and Peter Dinklage (Tyrion Lannister), "Game of Thrones" captivated viewers early on with shocking twists and unexpected deaths (Ned Stark, we hardly knew ye). Just once it would have been nice to see Sean Bean survive a medieval-themed adventure, but his track record there is kind of iffy, hobbits or no hobbits. But despite all the backstabbing and battling, some "GoT" characters are actually still standing at the end. The popular series proved so successful that multiple offshoot projects are in the works, the first of which ("House of the Dragon") debuts on HBO on August 21, 2022.
Key to all of this has been the involvement of Martin. The writer was working on the later entries in the novel series at the same time "Game of Thrones" was in production. Which wasn't a problem at first. Eventually, the show caught up to the books, leaving Benioff and Weiss without a real roadmap going forward. But why didn't Martin just tell them how things were going to play out?
Game of Thrones had to wing it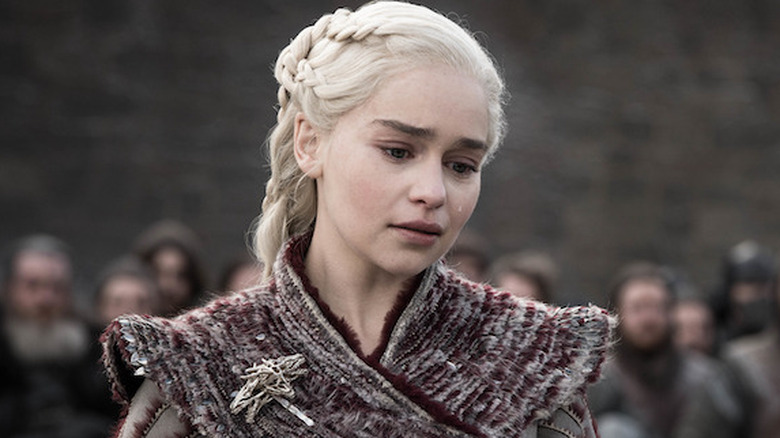 Helen Sloan/HBO
Part of the problem was that George R.R. Martin was a victim of his own success. While he was very hands-on with the show's early seasons, according to The New York Times, the success of the series kept adding new projects onto his plate — see "House of the Dragon" and the 400 other "GoT"-related ideas in development. All of this affected an already slow writing process, and Martin was left with a lot of empty pages he had yet to fully envision. So while he concentrated on the next book, he became more and more detached from what David Benioff and D.B. Weiss were doing — and they couldn't wait for him. Said Martin, "By Season 5 and 6, and certainly 7 and 8, I was pretty much out of loop." Eventually, it would start to show.
Season 8, in particular, proved to be divisive with viewers, many of who felt betrayed like Ned Stark with the way the long-running narratives concluded. In a rare move, fans took to the internet to voice their displeasure. Posted Redditor u/ostlert, "Daenerys' last words are 'we break the wheel together' which spelled backwards says 'rehtegot leewh eht kaerb ew' which doesn't make any sense just like the rest of Season 8." And that's saying something. We all know how agreeable and easy to please fanboys usually are. Like with "Star Wars."
Regardless of where you stand on how things played out in the final season of "Game of Thrones," we'll all have to wait for Martin to finally finish the novels before we find out how his version of the story goes. It seems he'll get the last word in the end.