Why Some Long-Time Game Of Thrones Fans Refuse To Watch House Of The Dragon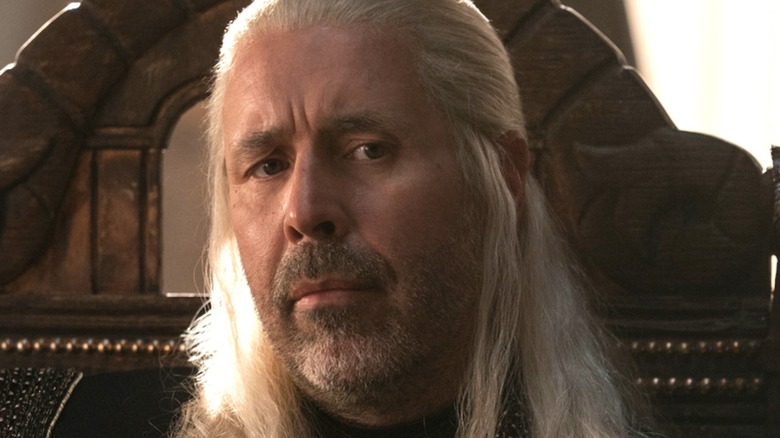 Ollie Upton/HBO
Since George R.R. Martin's massively popular book series first dropped in 1996, "A Song of Ice and Fire" has achieved monumental success with multiple sequels and, of course, the HBO phenomenon. "Game of Thrones" defied all odds with a complicated world full of many characters and political intrigue. And despite the complexity of the fantasy world, viewers flocked to the series in droves with over 12 million viewers tuning in for the final season. First ensnaring watchers with the stunning death of Ned Stark (Sean Bean) in the first season, everyone had to tune in to finally find out who landed on the Iron Throne.
Now three short years after the finale of "Game of Thrones," the network is pushing forward another series in the world of Westeros. "House of the Dragon" takes place three centuries before the events of "Game of Thrones" and explores the civil war of the Targaryen family. And while forming a series around more dragons seems like a no-brainer, some fans have become less than impressed with the upcoming series.
Many fans were burned by the Game of Thrones finale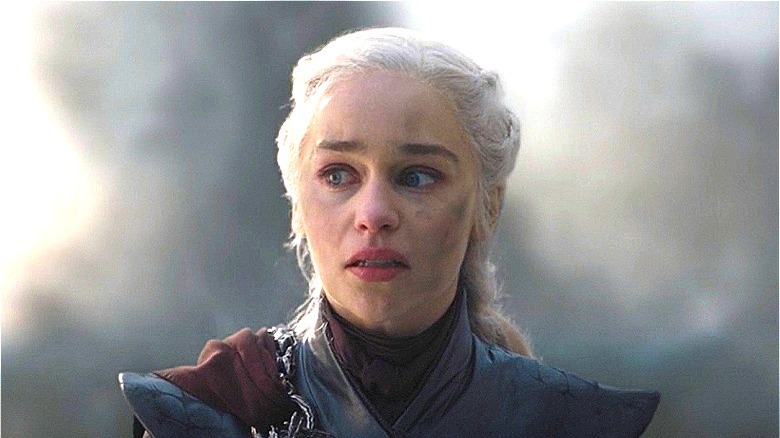 HBO
It may be an understatement to say that not all fans were satisfied with the ending of "Game of Thrones." After seasons of political machinations, devastating loss, and character development, the finale falls short as Daenerys Targaryen (Emilia Clarke) finally goes to conquer the Seven Kingdoms on dragonback. Though it was eight seasons in the making, the resolution of all the storylines does not stick the landing. Jon Snow's (Kit Harrington) Targaryen lineage ultimately doesn't matter. Jaime Lannister (Nikolaj Coster-Waldau) returns to Cersei (Lena Headey) just to die. And Bran (Isaac Hempstead Wright) becomes king for some reason. All these baffling choices made for a lackluster finale which caused many Redditors to feel hesitant about "House of the Dragon."
"Without having read the book it's based o[n] or knowing much about the creative team behind it, I'm skeptical," noted Redditor u/amoxisicilian. "Given how publicly HBO failed with GOT's finale, this show feels like a shoddy attempt to win back fans." The passion for "Game of Thrones" burned hot in its early years but as the show progressed, that passion soon turned to hatred. Some have been so betrayed by the finale they can't even rewatch the series.
"I was so hooked on GoT I would watch the series again waiting for the next season to release. Still can't even think about watching it again because of how it was ruined," reported u/redhotrage. But despite reservations, "House of the Dragon" is imminent nonetheless.
House of the Dragon has something that Game of Thrones does not
Though there are certainly many who have become embittered by the finale, there are still those who remain optimistic about the prequel series. They have noted that at the very least, there is a significant difference between the two shows. "Game of Thrones" was adapted from a long series of ongoing complex source material. Though the show has finished, George R.R. Martin has yet to complete "A Song of Ice and Fire." That is not the case for the concise history of the Targaryen family "Fire and Blood" for on which the new show is based.
"As someone who's read ['Fire and Blood'], it's a finished story, a great one too," posted u/p792161. "A Targaryen Civil War with 20+ dragons? The spectacle alone will be fantastic." Others were comforted by the fact that showrunners from "Game of Thrones" are absent from the new project. Writing team David Benioff and D.B. Weiss — or D&D as they are commonly known — made creative decisions for storylines that Martin had not yet finished in the books (via YouTube). This may have accounted for the anticlimactic finale.
"But D&D aren't part of it (creatively, at least) and there are some cool people involved," commented u/dndaresilly. "House of the Dragon" undoubtedly has creative obstacles to overcome. But when the show drops in August, there is at least support from Martin purists.