Harley Quinn's Future On HBO Max Potentially Revealed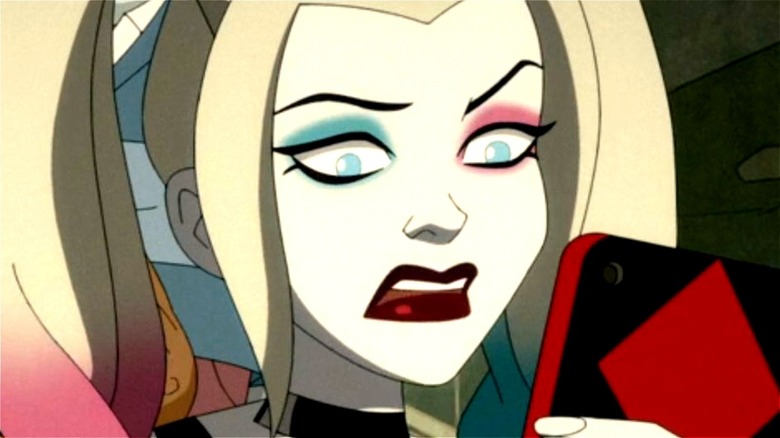 HBO Max
It's a nerve-wracking time to be a "Harley Quinn" fan. Following the cancellation of DC Entertainment's feature film "Batgirl" and the announcement that HBO Max and Discovery+ will merge into one streaming service in Summer 2023, the future of the fan-favorite HBO Max original is more uncertain than ever. Company CEO David Zaslav has promised significant investments in HBO and HBO Max programming, but even such assurances aren't completely enough to assuage fears that "Harley Quinn" might be on the chopping block as the streaming service transitions into its next stage.
The news casts a shadow over Season 3 of "Harley Quinn," which began in late July following a roughly two-year-long hiatus. While it may seem rather soon to inquire about future installments of the series, as several episodes are still yet to be released for its third season, fans are already preparing themselves to potentially say goodbye to the raunchy comedy forever. Fortunately, a small detail regarding the series has been spotted online that may give "Harley Quinn" devotees a small reason to hope that the series still has a future.
Season 4 of Harley Quinn is in the EIDR
No official announcement has been made on whether "Harley Quinn" will return for a fourth season , but there is one official source indicating that the series has a good chance at getting renewed. As it turns out, a fourth season for the show has an official registration page in the Entertainment Identifier Registry Association (EIDR), an online database that major media companies register their properties on. The page, which was created on July 27, contains information for the associated production companies, the show's cast members, a release window of 2023, and even names for 10 episodes.
The recent addition of this information to the EIDR is a strong indication that Season 4 of "Harley Quinn" is in the works. However, it may still be too soon for fans of the series to breathe a sigh of relief. As mentioned prior, "Batgirl" was a near-complete project, but it was canned nonetheless. "Worked in this town for three decades and this is some unprecedented s**t right here," an anonymous film executive reportedly told Justin Kroll, a senior film reporter for Deadline.
If "Batgirl" is any indication, a fourth season of "Harley Quinn" could proceed into production before getting canceled due to the fresh strategy for DC that Warner Bros. and Discovery are set to undergo. So, while fans have reason to believe that their favorite DC comedy series still lives, they won't know for certain until Season 4 has dropped on the service.