Where You've Seen The Cast Of Blonde Before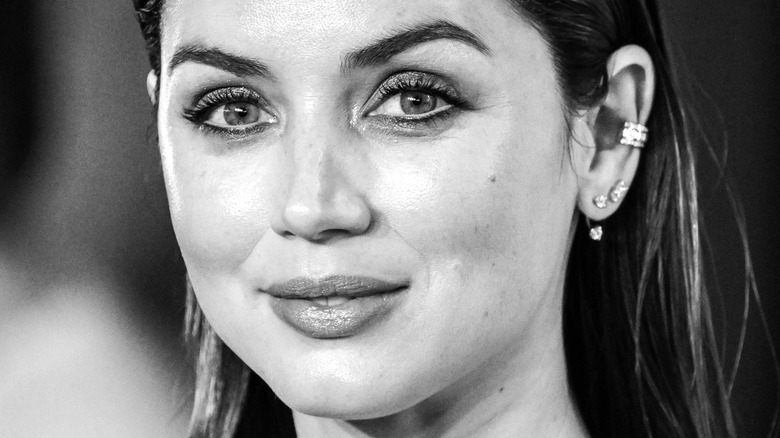 Gareth Cattermole/Getty Images
One of the most buzzworthy films of the year is "Blonde," the psychological drama biopic focusing on the life of Marilyn Monroe (Ana de Armas). It has drawn a lot of attention recently for its stacked cast, controversial choice of lead, and NC-17 rating but has also received equal amounts of praise for its bold portrayal of an iconic figure in Hollywood who was exploited by the system. Director Andrew Dominik, known for projects like "The Assassination of Jesse James by the Coward Robert Ford" and "Killing Them Softly," has vocalized his desire to adapt the Joyce Carol Oates novel about Monroe with a focus on empathy and Monroe's emotions (via The Playlist).
The film has yet to receive a wide release but has already gained positive feedback from industry insiders with support from Joyce Carol Oates, the Monroe Estate, and other actors like Jamie Lee Curtis (whose father is portrayed in the film). "Blonde" has an impressive cast of actors playing several real-life people in the film, and they all have had notable appearances on the big screen beforehand. Some have starred in blockbuster films, while others are award-winning indie darlings, but all of them have enough name recognition to feel familiar. Continue reading to find out where you've seen the cast of "Blonde" before.
Ana de Armas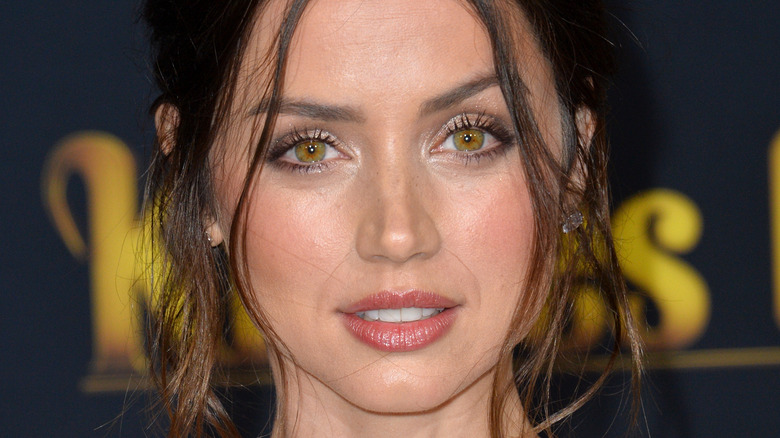 Featureflash Photo Agency/Shutterstock
Starring in the leading role of "Blonde" is Ana de Armas as Norma Jeane Mortenson aka Marilyn Monroe. It would be a challenge for any actor to embody a figure as iconic as Monroe considering her place within American pop culture, but de Armas has embodied the character both physically and psychologically in what seems to be a standout performance.
De Armas has become a household name in recent years thanks to her prolific performances on both the big and small screens. Born and raised in Cuba, de Armas began her acting career in Spanish-speaking television before making the jump to Los Angeles as many young actors do. Her first big roles were in "Knock Knock" and "War Dogs" before landing a role that significantly put her on the map as Joi in "Blade Runner 2049." Her performance as a complex artificial intelligence companion to Ryan Gosling's android character was a huge role that brought her acclaim from critics and viewers alike, leading to leading roles in films such as "Knives Out" and "No Time to Die," where she joined the ranks of being a "Bond girl" within the James Bond franchise.
Aside from "Blonde," her most recent appearances have been in the erotic thriller "Deep Water," the action flick "The Gray Man," and the mysterious upcoming film alongside Chris Evans titled "Ghosted." De Armas has risen to become one of the biggest and most talked-about stars in Hollywood today and was nominated for a Golden Globe and multiple critics' and journalists' association awards for her work in "Knives Out."
Adrien Brody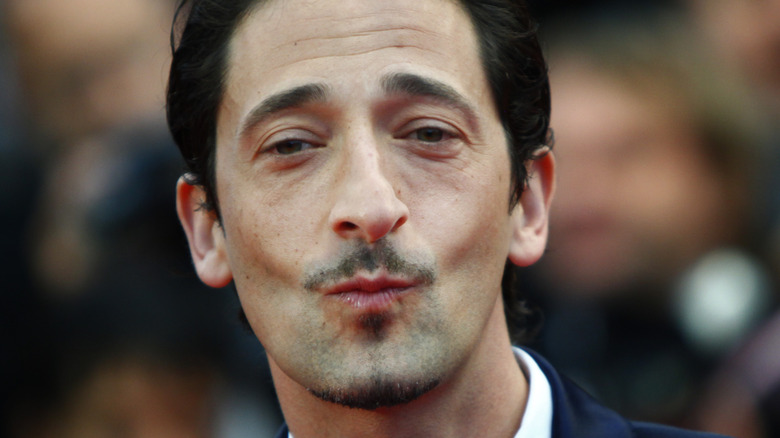 PAN Photo Agency/Shutterstock
Playing renowned playwright and screenwriter Arthur Miller, creator of "Death of A Salesman," "The Crucible," and "The Misfits" to name a few, is none other than Adrien Brody. Arthur Miller is a crucial character in the plot of "Blonde" since he was married to Marilyn Monroe for several years between 1956 and 1961, just before her tragic death. Although the film only refers to him as "The Playwright," it's obvious that this character is meant to represent Miller. The two had a complex relationship in real life that included a particularly touching moment where Marilyn converted to his religion, as well as continued marriage troubles during the filming of "The Misfits," in which she played a starring role.
Brody may seem familiar to cinephiles since he has had a long and fruitful career in Hollywood. Beginning his film career with appearances in "Restaurant," "Summer of Sam," and "The Thin Red Line" before his career-making role in Roman Polanski's "The Pianist" in 2002. His performance as Polish-Jewish pianist Władysław Szpilman, who hid in the Warsaw Ghetto during the Holocaust, gained critical acclaim and won him an Academy Award for Best Actor. Since then, Brody has enjoyed a prolific career in films and series such as "King Kong," "Midnight in Paris," "The Grand Budapest Hotel," "Peaky Blinders," and "Winning Time: The Rise of the Lakers Dynasty." Brody earned a reputation as a dedicated method actor who fully commits to each role, although he's certainly gotten into hot water for taking roles too far before, like when he got banned from SNL.
Bobby Cannavale
DFree/Shutterstock
Bobby Cannavale plays the role of "The Ex-Athlete" aka Joe DiMaggio, one of the most famous baseball players of all time, in "Blonde." Joe DiMaggio was a center fielder for the New York Yankees for 13 years throughout the 1930s, 1940s, and 1950s, becoming known as the "Yankee Clipper" by fans. According to official stats, DiMaggio was a three-time MVP winner with a still unbeaten 56-gaming hitting streak, 361 home runs, and a .579 slugging percentage under his belt. Unfortunately, he is also known for his tumultuous and abusive relationship with Marilyn Monroe where he displayed toxic, manipulative, and physically abusive behavior according to many sources. This portrayal of a real-life complicated figure is delicately handled by Bobby Cannavale in his interpretation of Joe DiMaggio.
This actor may seem familiar because of his numerous appearances in film, television, and theater over the course of his extensive career. Having dipped his toes in both comedy and drama with some of his first notable roles being in "Will & Grace," "Sex and the City," "Nurse Jackie," and "Boardwalk Empire," for which he received an Emmy for best supporting actor. Cannavale is also known for his role as Richie Finestra in HBO's "Vinyl," a show about a record executive in the wild world of the 1970s music industry. If you recognize Cannavale's voice but not his face, that may be because of his significant voice acting in shows like "Robot Chicken," "BoJack Horseman," and "Big Mouth."
If you or someone you know is dealing with domestic abuse, you can call the National Domestic Violence Hotline at 1−800−799−7233. You can also find more information, resources, and support at their website.
Xavier Samuel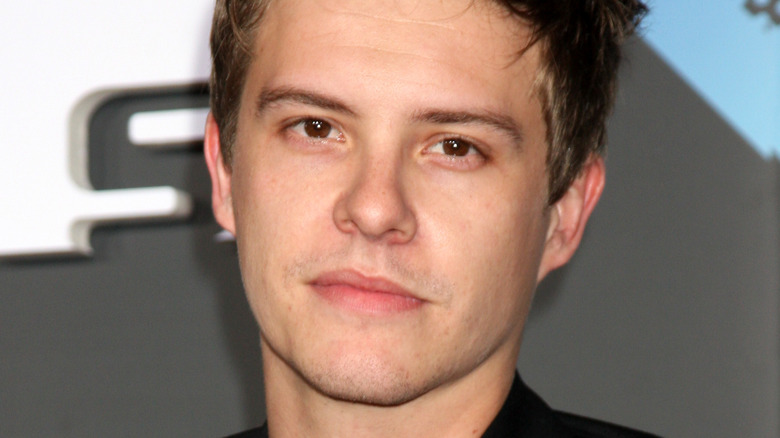 Kathy Hutchins/Shutterstock
One of the more interesting portrayals of actual people in "Blonde" is Xavier Samuel's interpretation of Charles Chaplin Jr., known as "Cass" in the film's credits. As the son of legendary silent film actor Charlie Chaplin, Charles Jr. had to build an acting career of his own throughout the 1950s to little success. His father is generally considered one of the most famous actors of all time, with pictures like "City Lights," "Modern Times," and "The Great Dictator" solidifying his place as a true Hollywood icon. His son, on the other hand, managed a smaller career with appearances in features such as "Limelight," "Columbus Discovers Kraehwinkel," and "High School Confidential," which were not particularly huge hits. What sets him apart is an intimate relationship with Marylin Monroe, since they briefly dated for a time before she went off to meet, and marry, Joe DiMaggio.
As for Samuel, you may have seen him from his role as Riley Biers in "The Twilight Saga: Eclipse," one of the bigger franchises he has been a part of. Samuel is an Australian actor who has been featured in several large films such as "Fury" and "Elvis," as well as the Amazon Original Series "Tell Me Your Secrets." While his career is still on the up and up, it seems as though to many fans, he is still mainly known for his appearance in the "Twilight" franchise as one of the major antagonist vampires in the third film.
Caspar Phillipson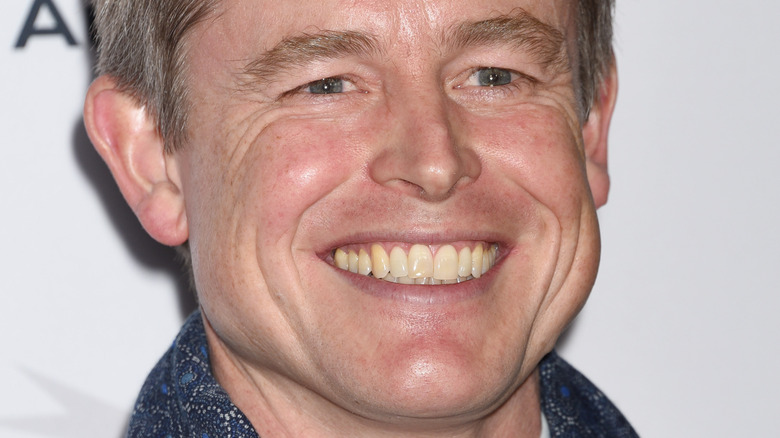 Ga Fullner/Shutterstock
One of the more historically famous individuals being showcased in "Blonde" is none other than President John F. Kennedy, played by Danish actor Caspar Phillipson. Kennedy was the 35th president of the United States from 1961 to 1963 when he was assassinated in Dallas, Texas. Known mostly for his good looks, charisma, and Cold War policies, Kennedy has gone down in history as one of America's preferred presidents (per C-SPAN), between Thomas Jefferson and Ronald Reagan. On the other hand, Kennedy was also known to be a bit of a philanderer in his day, with the most notable example of this being a rumored extramarital relationship with Marilyn Monroe (per PEOPLE).
Phillipson has seemingly made a career out of portraying the now-mythical U.S. president, as he has played him before in History's "Project Blue Book" series, a short film in 2017, and the 2016 film "Jackie," starring Natalie Portman as First Lady Jackie Kennedy. The actor bears a striking resemblance to JFK and focused heavily on mastering Kennedy's voice, mannerisms, and style of presentation. Aside from Phillipson's performances as John F. Kennedy, audiences may recognize him from smaller parts in "Mission Impossible: Fallout," "Odd Man Rush," and "The Match."
Julianne Nicholson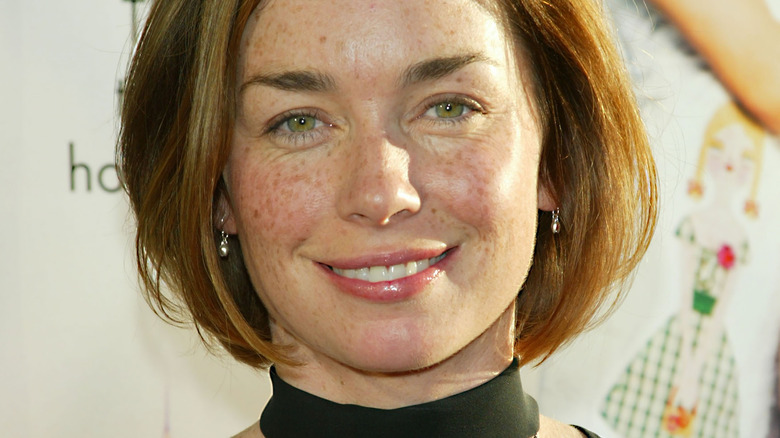 DFree/Shutterstock
The role of Marylin Monroe's mother in "Blonde" is played by Julianne Nicholson, with a focus being on the complicated relationship between mother and daughter. It is known that Marylin's mother, Gladys Pearl Baker, suffered from certain mental health issues that came to a head in 1934 when she had to be hospitalized and then institutionalized following that. This was a defining moment for her daughter, who ended up becoming a ward of the state as a result of her mother's incapability. Since it is not fully known who Marilyn Monroe's father is, her strained relationship with her mother left a deep and lifelong impact on her life as is explained in numerous pieces of literature on the topic.
Nicholson is a working actor who has appeared in many film and television roles with critical acclaim, with her most famous role being that of Lori Ross in the HBO series "Mare of Easttown," which won her a supporting Emmy. She is also famous for her roles in "August: Osage County," "Law and Order: Criminal Intent," "I, Tonya," "Winning Time: The Rise of the Lakers Dynasty," and "The Outsider," to name a few.
Toby Huss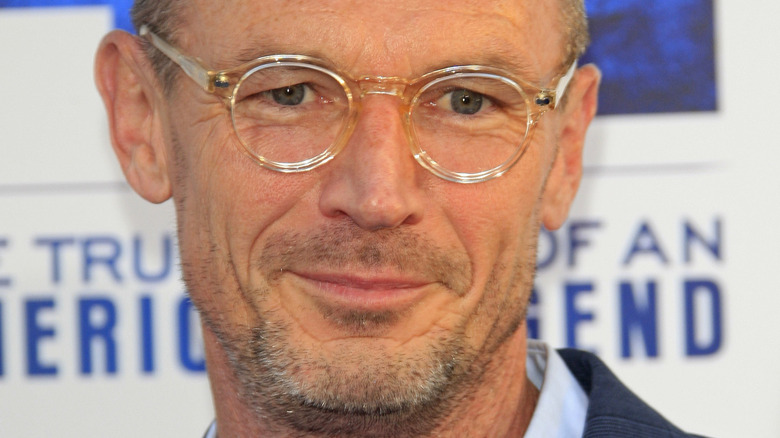 Joe Seer/Shutterstock
A critical side role in "Blonde" is that of Allan "Whitey" Snyder, a make-up artist and friend of Marylin Monroe played by Toby Huss. In real life, Snyder was Monroe's personal make-up artist, who worked with the icon from her first feature all the way until her death. One of the more famous stories regarding their relationship was that at her request, he did the funeral makeup for Monroe after her death. Many historians and fans of Monroe consider Whitey and Marilyn's a special friendship both professionally and personally, and together they crafted the iconic look of the starlet as her career took off.
Huss plays Snyder in the film and probably seems familiar thanks to his many roles in film, television, theater, and voiceover. With a background in theater and advertisement voiceover, Huss has become most known for his roles as Cotton Hill in "King of the Hill" and Artie in Nickelodeon's "The Adventures of Pete and Pete." Additionally, Huss has appeared in countless small roles in film and television such as "Carnivàle," "Halt and Catch Fire," "Seinfeld," "Vegas Vacation," the 2018 "Halloween," and "Brooklyn Nine-Nine," with many more examples in his extensive filmography.
Evan Williams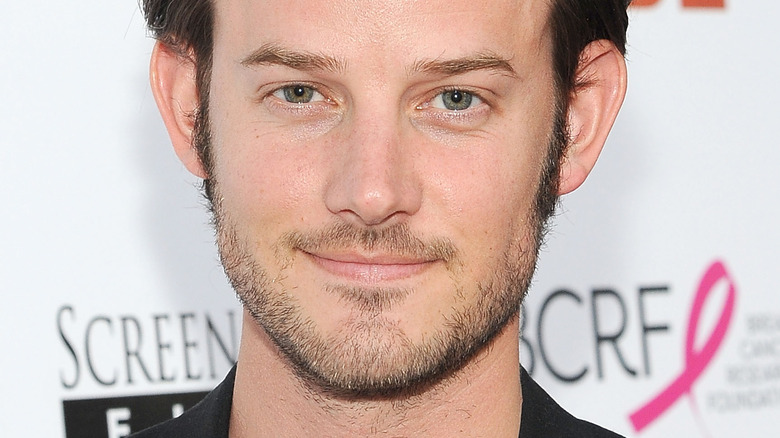 Angela Weiss/Getty Images
"Blonde" may take some liberties with what's proven to have happened in Marylin Monroe's life if it's anything like the book it's based on, and one of the ways is through the character of Edward G. Robinson, Jr. While not explicitly stated to be Robinson in "Blonde" and instead referred to as Eddy G., the book portrays a situation in which Monroe has a threesome with this character and Charles Chaplin Jr. without any intention of it being historical fact. What can be proven is that Robinson was an actor who worked with Monroe on "Some Like It Hot," and was known to have a bit of a wild streak with a few confrontations with the law peppered in (via The New York Times).
The character of Eddy is played by Evan Williams, who may be familiar to viewers from a number of television shows and films. A few of his most noteworthy roles include that of Kelly Ashoona from "Degrassi: The Next Generation," Tyler in "Escape Room," Luke from "Awkward," and in the small role of Jack in "Westworld" Season 4.
Michael Masini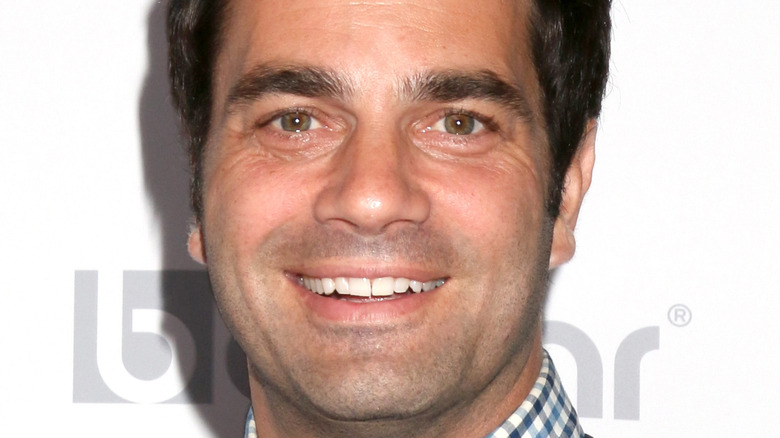 Kathy Hutchins/Shutterstock
Jamie Lee Curtis' famous father Tony Curtis is actually portrayed in "Blonde" by Michael Masini. Tony was a beloved actor in his own right, with a massive career sprawling from the 1940s to the 1990s and beyond with dozens of film, television, theater, and radio credits. One of his most famous roles is that of Joe aka Josephine in the irreverent romantic comedy "Some Like It Hot," alongside co-stars Jack Lemmon and, you guessed it, Marilyn Monroe. In the film, Curtis plays Monroe's love interest, a jazz musician on the run from the mafia forced to take up a disguise as a woman. Behind the scenes, "Some Like It Hot" was apparently difficult to film because of Monroe's substance abuse issues making it difficult for her to remember her lines, especially in scenes with Curtis.
To show the unique off-screen relationship between Monroe and Curtis, "Blonde" cast Masini as Tony Curtis. Masini has appeared in mostly television roles such as "Modern Family," "The Young and the Restless," "General Hospital," "Dynasty," and "High Desert," as well as a police officer in "Birds of Prey." While the role of Tony may be minimal in "Blonde," it is an important part of Monroe's story seeing slices of her life during the creation of one of her most successful movies.
If you or anyone you know is struggling with addiction issues, help is available. Visit the Substance Abuse and Mental Health Services Administration website or contact SAMHSA's National Helpline at 1-800-662-HELP (4357).
Sara Paxton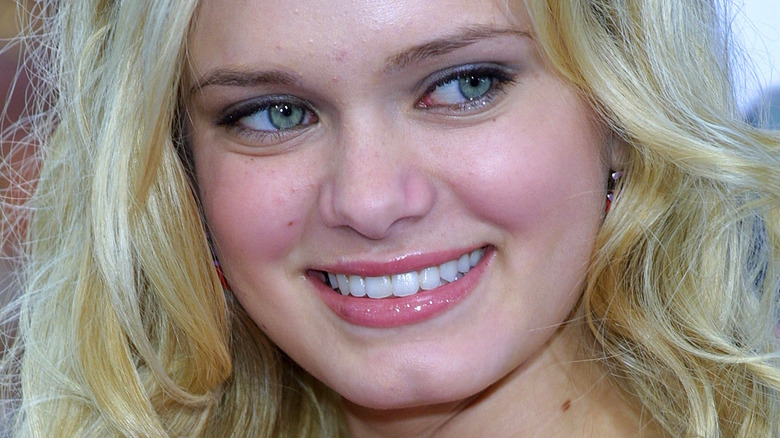 Tinseltown/Shutterstock
A rather mysterious role in "Blonde" is Miss Flynn, played by Sara Paxton. Since the film doesn't get released to Netflix until mid-September 2022, we don't have a ton of information on who exactly the character of Miss Flynn is within the story or her relation to Marilyn Monroe. Whether Miss Flynn was a real person in Monroe's life or a fictionalized individual will remain a mystery until we see "Blonde" for ourselves.
What we do know, however, is that Paxton is someone you've probably seen before on the big screen. Paxton began her acting career as a child star by appearing in "Liar Liar," "SpongeBob SquarePants," "Lizzie McGuire," and "Sleepover" before landing her biggest role as Darcy Fields in the Discovery Kids series "Darcy's Wild Life." She also has a notable film and television career as an adult, with appearances in movies such as "Aquamarine," "Return to Halloweentown," "Superhero Movie," "The Front Runner," and the "Twin Peaks" revival. The choice to recast the lead of "Halloweentown" from Kimberly J. Brown to Paxton was slightly controversial and had some interesting reasons for happening.
Eric Matheny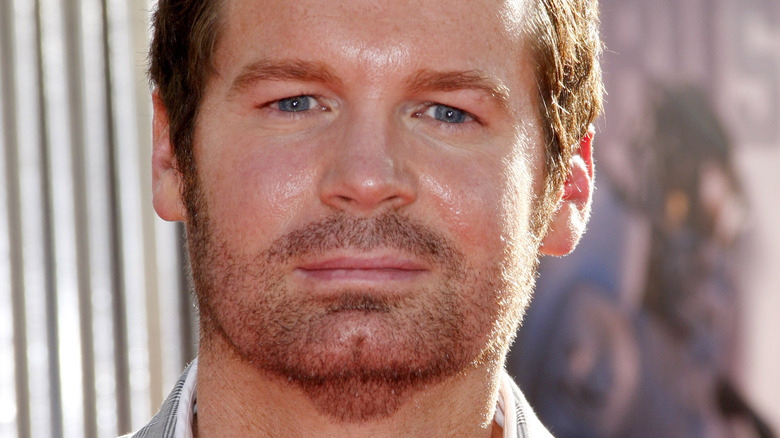 Tinseltown/Shutterstock
As far as Marilyn Monroe movies go, "Niagara" is a standout for giving her top billing and raising her notoriety to newfound heights. That is why her co-star, famous leading man Joseph Cotten, makes an appearance in "Blonde" portrayed by Eric Matheny. For context, Cotten was a hugely popular actor during the golden age of Hollywood and often worked with cinematic titans like Orson Welles, as well as George Cukor and Alfred Hitchcock. Cotten played major roles in some all-time classic films such as Jed Leland in "Citizen Kane" and Holly Martins in "The Third Man." His performance as George Loomis in "Niagara" was another big moment in his already impressive career where he played the dangerous husband of Monroe's character, Rose.
Matheny's biggest roles so far have been one-off appearances in "CSI: Crime Scene Investigation," "CSI: Miami," "Buffy the Vampire Slayer," "Bones," and "The Stafford Project," as well as a small role in "J. Edgar" opposite Leonardo DiCaprio. More than anything, Matheny has become known for co-founding The Acting Center in Los Angeles, which teaches acting and improv.