Every Marilyn Monroe Movie Ranked From Worst To Best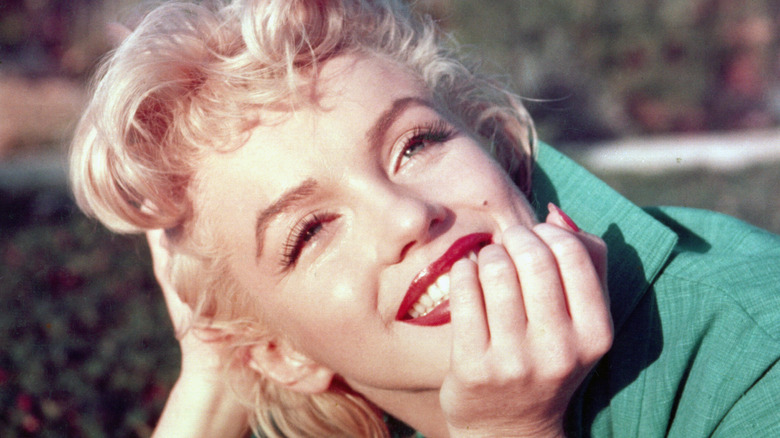 Baron/Getty Images
It's hard to know where to start with Marilyn Monroe. Simultaneously one of the most beloved, derided, and misunderstood Hollywood actresses of all time, reactions to her work often had more to do with the perspectives of those in the audience than with her own talent. To her critics, Monroe was nothing more than a pretty blonde bombshell, her success the result of her good looks rather than her acting chops. But there is always more than meets the eye with Monroe. A magician of the highest order, she had the uncanny ability to enrapture audiences with her charm, all while conning her admirers into believing there was nothing more behind her eyes (there always was).
Looking through Monroe's uneven filmography, one might question if her lasting star power had more to do with the tragic nature of her death than her work on-screen. But looking through her Rolodex of films — some good, some bad — it's clear that Monroe always had the indescribable "it-factor" she is so known for, regardless of whether it was properly utilized by her directors.
In order to get a better sense of her career trajectory and the kind of roles she was offered (and excelled in), we're taking a look at her entire filmography. Once you wade through a considerable number of clunkers, the gems are well worth the wait. Read on to discover our ranking of every Marilyn Monroe film, from worst to best.
29. Home Town Story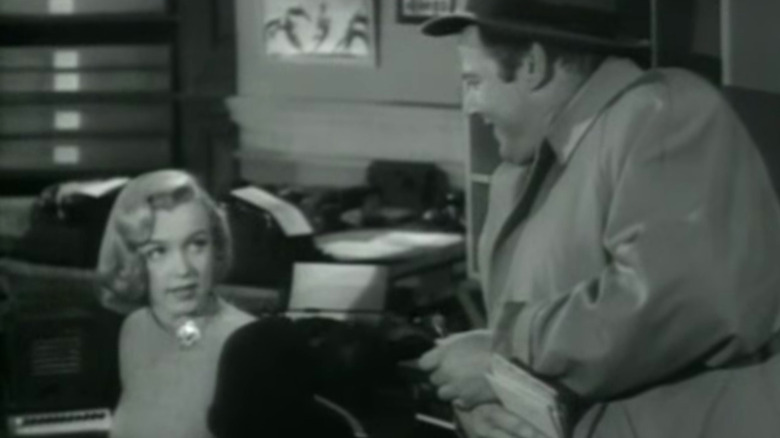 20th Century Studios
A fairly early Marilyn Monroe film released in 1951, "Home Town Story" barely figures into her filmography. The film follows politician Blake Washburn (Jeffrey Lynn) who is defeated during his re-election campaign. He returns home and takes over his uncle's newspaper, beginning a crusade against big business in order to appeal to voters. But, when tragedy strikes his family, he must call on a local capitalist to help.
Overall, the film's mildly interesting premise is poorly executed, and it becomes a thinly veiled vessel for corporate propaganda by the end. Even more damningly, Monroe only appears in the film for a few minutes, as a secretary at the local paper. But, despite her limited role, Monroe still shines, bringing wit and sparkle to her inconsequential part.
28. Love Happy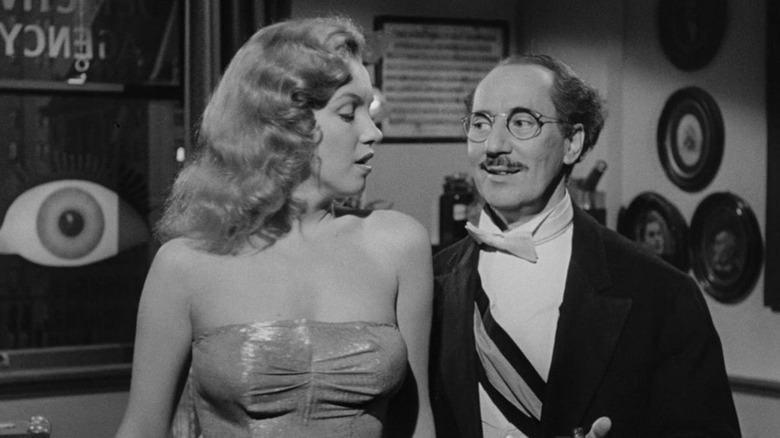 United Artists
1949's "Love Happy" is the Marx Brothers' final feature film, and unfortunately, it's also their worst. Harpo plays a struggling actor who is part of a theater troupe hoping to get their big break on Broadway. In order to feed his fellow actors, he steals a tin of sardines that turn out to be hiding stolen diamonds. Now Harpo and his troop must evade diamond thieves while simultaneously trying to stage their play.
Once again, Monroe is only on screen for a few minutes, and she really isn't given the chance to show off her talents (apart from her obvious beauty). Although her role in the film isn't particularly memorable, Monroe apparently had quite an effect on the set: Recalling her initial audition for the film, Groucho Marx claimed that "the whole room revolved when she walked."
27. Bus Stop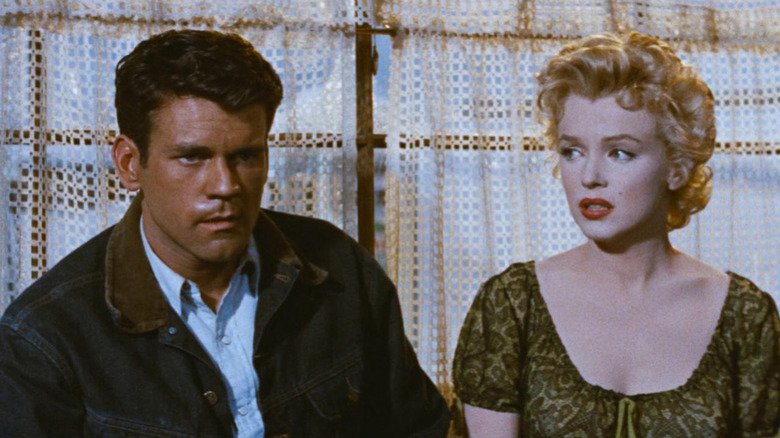 20th Century Studios
"Bus Stop" is a complicated text within Marilyn Monroe's career. Though she clearly had a rare presence in front of the camera, she was insecure about her acting ability for much of her career. This led her to briefly step away from the screen in the mid-1950s, honing her acting skills by studying with Lee Strasberg at the Actors Studio. The result of this was "Bus Stop," which somehow manages to be one of her best performances, but one of her worst films.
The film follows Bo Decker, an insecure, sexist cowboy (Don Murray) who falls in love with Monroe's Cherie just minutes after meeting her. He wants to take her back to Montana so they can get married, but she has dreams of moving to Hollywood and making it as an actor. When Cherie refuses Bo's offer, he forces her to get onto the bus back to Montana against her will.
While the film is ostensibly billed as a romantic comedy, it's neither funny nor romantic, and it's nauseating to see how Monroe is treated in the film. Perhaps most disappointing is the fact that her performance is so good, adding a sense of depth and even tragedy to her beleaguered character. In more capable hands, the film could have been a fascinating commentary on the objectification of women — Monroe included — and the insidious entitlement of "nice guy" characters like Bo, but it never actually goes there.
26. Fireball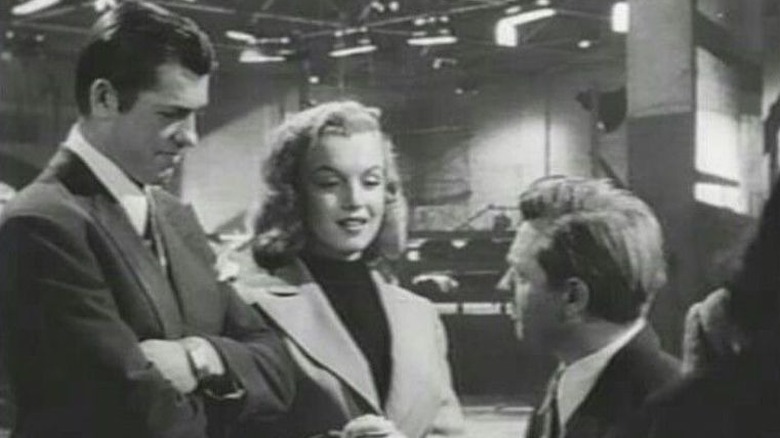 20th Century Studios
A lot of the films from Monroe's early career are pretty hard to get through, and honestly, probably not worth watching. Because of the constraining and often brutal studio system of the time, actors didn't have much of a choice about what movies they did: Studio executives made those decisions. This context likely accounts for why Monroe was in "The Fireball," a real clunker of a film.
1950's "The Fireball" follows Johnny Casar (Mickey Rooney), a teenager who runs away from an orphanage. Upon his escape, he discovers a talent for roller skating and embarks on a successful career as a skater. But just when the fame is starting to go to his head, he is diagnosed with polio and must reconsider his options.
The most obvious flaw in this very bad film is the fact that 30-year-old Mickey Rooney plays a teenage boy, a casting choice that never becomes any less jarring as the film goes on. Rooney's performance is overblown and grating, and Monroe only appears in two scenes in the film. Even her natural charm and beauty don't make this one worth watching.
25. Let's Make It Legal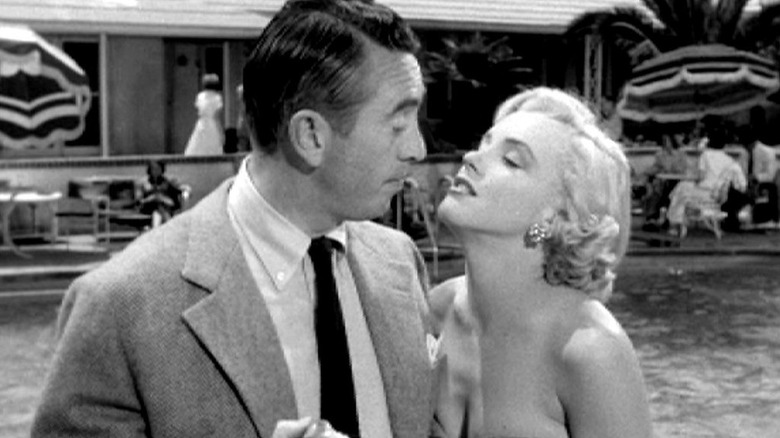 20th Century Studios
Marilyn Monroe's part in 1951's "Let's Make It Legal" was one of her earliest "gold digger" roles, an archetype she perfected (with great nuance and charm, we might add) in "Gentlemen Prefer Blondes." The film follows a woman named Miriam (Claudette Colbert) who is divorcing her husband, Hugh (Macdonald Carey) because of his addiction to gambling. Miriam's former flame, a self-made millionaire named Victor (Zachary Scott), is intent on winning her back. A fortune hunter named Joyce (Monroe) is determined to capture Victor and his money, but he only has eyes for Miriam.
Monroe gets a good deal more screentime than we had seen from her up until this point, but unfortunately, the film itself isn't anything to write home about. The writing is decidedly uninspired, and both Monroe and Colbert out-act the material they are given by a mile. If you're dedicated to exploring Monroe's entire filmography you might check this one out, but otherwise, it's probably not worth adding to your list.
24. Dangerous Years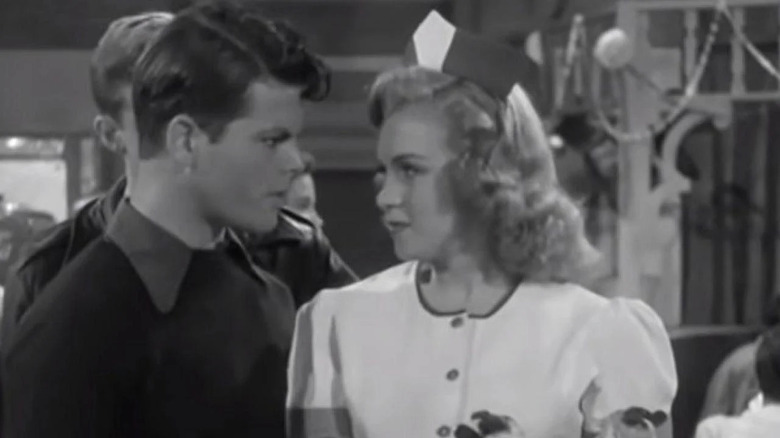 20th Century Studios
"Dangerous Years" was Marilyn Monroe's film debut, and at the very least it's an interesting look at the origins of her star persona. A teen B-movie, "Dangerous Years" follows Jeff Carter (Donald Curtis), a youth counselor who is trying to curb the delinquency of his town's teenagers by starting a boys' club. A young troublemaker named Danny (William Halop) comes into town and starts a gang, killing Jeff when he tries to stop a robbery, leading to a dramatic murder trial.
Monroe only has a small part in the film — she plays a sassy waitress named Eve who works at the local juke joint. She's charming enough in the film and definitely pleasing to watch, but she doesn't yet have that scene-stealing quality that she would come to possess in later films. Nonetheless, it's fascinating to watch Monroe's transformation, from a sweet, rather innocent girl in "Dangerous Years" to the seductive bombshell she often portrayed later in her career.
23. As Young As You Feel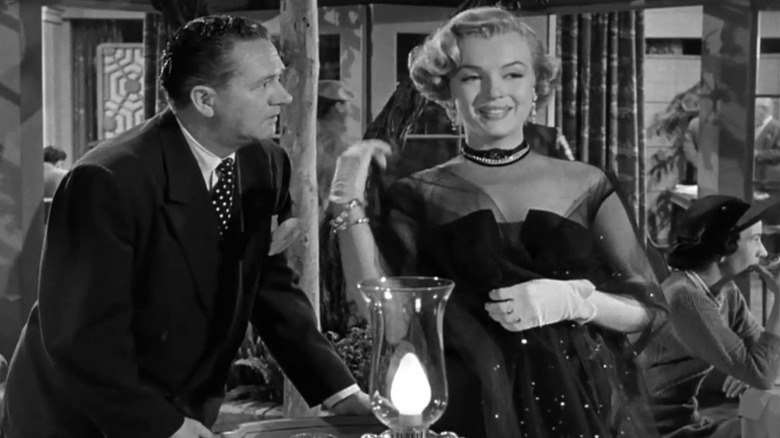 20th Century Studios
In 1951, Marilyn Monroe played two secretary characters back to back. The first was "Home Town Story," and the second was "As Young As You Feel." The latter film follows John Hodges (Monty Woolley), an employee at Acme Printing who is forced to retire following his 65th birthday. Determined to get his job back and repeal the unfair retirement policy, Hodges impersonates the president of Acme Printing's parent company. Various complications arise, of course, and Hodges' plot is nearly ruined.
Monroe's role as a secretary is small, but she brings a notable wit and comedic timing to the part. So often cast as a "dumb blonde," directors tended to overlook Monroe's skill and intelligence as an actor, and "As Young As You Feel" is a perfect example of that. Despite being given little in the way of narrative significance or gravitas, Monroe still manages to fill the role with humor and charm, while the film itself is decidedly mediocre.
22. Scudda Hoo! Scudda Hay!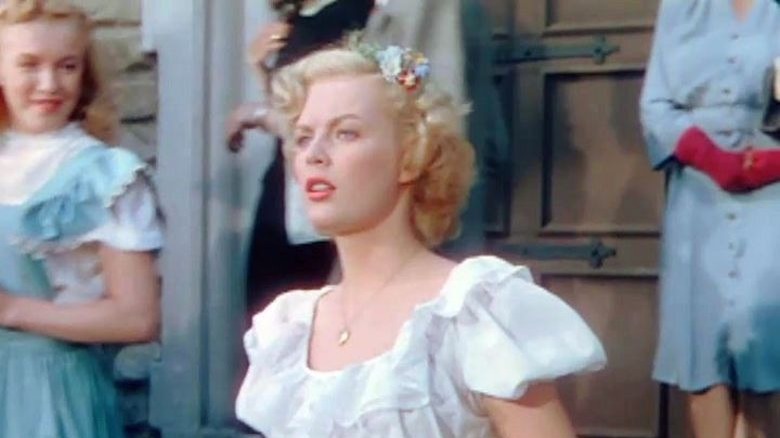 20th Century Studios
Though "Dangerous Years" was the first film of Monroe's to be released, 1948's "Scudda Hoo! Scudda Hay!" was technically the first film she ever shot. The comedy follows two stepbrothers, Snug (Lon McCallister) and Stretch (Robert Karnes), who live on a farm in the Midwest. Snug begins working on a neighboring farm where he must learn to train a pair of mules. He also happens to be in love with his employer's daughter (June Haver), who toys with both brothers' affections.
The only thing that makes this film interesting from the standpoint of Monroe's career is that she uses her "natural" voice in the film, rather than the iconic breathy affectation she would go on to perfect in later films. A young Natalie Wood also appears — but despite the presence of these two future stars, it's pretty forgettable. Monroe's part in the film is so insignificant that she wasn't even credited at the time, but it's since become included among the rest of her filmography.
21. A Ticket To Tomahawk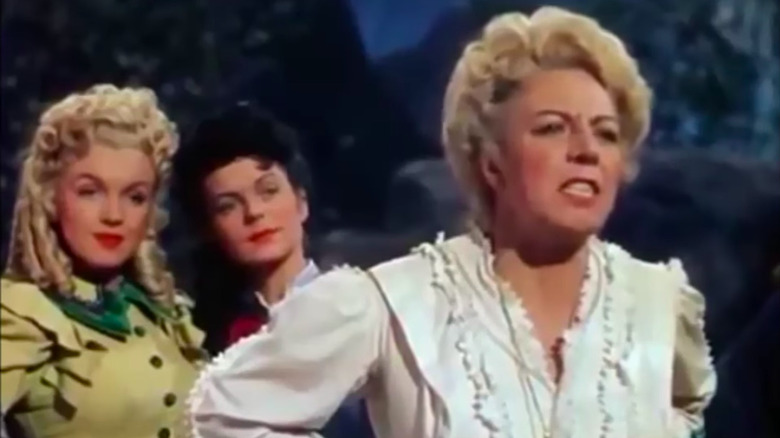 20th Century Studios
Marilyn Monroe appeared in many bit roles early in her career, but 1950's "A Ticket to Tomahawk" might just be the smallest. Set in 1876 Colorado, the film follows Kit Dodge Jr. (Anne Baxter), a capable gunslinger and the daughter of a railroad executive. As the Western railroad begins to expand through the Rockies, Kit finds herself competing with Dakota (Rory Calhoun), who works for a stagecoach company and wants to stop the progress of the railroad.
Monroe's role in the film is tiny. She only has one line — "mhm, honey" — but she does also appear in a song-and-dance number as a member of a traveling vaudeville troupe. Though her role is quite small, the musical number is downright charming, which is why the film is higher up on the list than some of her other minuscule parts. Plus, Anne Baxter's no-nonsense frontier hero is very fun to watch, even if it's not one of the most memorable Westerns out there.
20. We're Not Married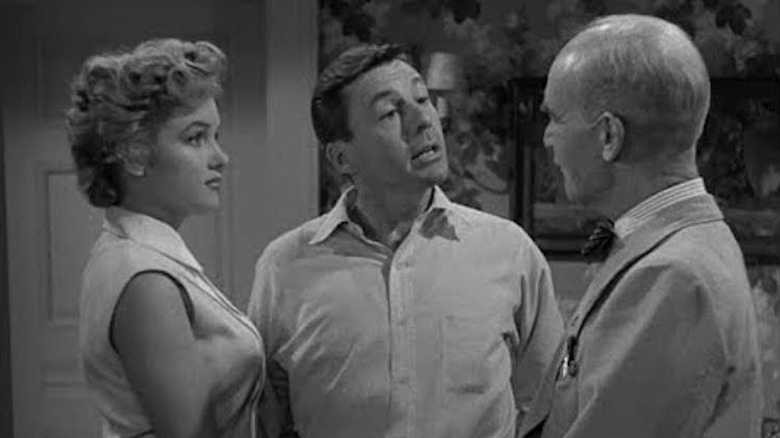 20th Century Studios/YouTube
1952's "We're Not Married" is an anthology rom-com that follows five couples who discover they're not legally married because the justice who married them didn't have a valid license at the time. When they learn this shocking piece of news five years later, each of the couples must decide if they want to remarry or not.
Monroe's character, Annabel, is married (or not married, as it were) to a man named Jeff (David Wayne). Annabel is a beauty queen who has just won the Mrs. Mississippi pageant, and, along with her manager, is preparing to enter the Mrs. America pageant. Jeff is upset that she is shirking her domestic duties and that he has to take care of their child, so he does everything he can to sabotage her career, even going so far as to ensure she is stripped of her Mrs. Mississippi title.
As is the case with many of Monroe's films, in "We're Not Married" she's playing a role that is somewhat demeaning and doesn't live up to her talent as an actress. Instead of sympathetically illustrating the plight of Monroe's character, the film sides with Jeff as he tries to ruin her career and her chances of success outside of their marriage. Despite this offensive narrative, Monroe — per usual — manages to shine in the role, appearing on screen as a woman of undeniable consequence. If only the film actually respected her.
19. Love Nest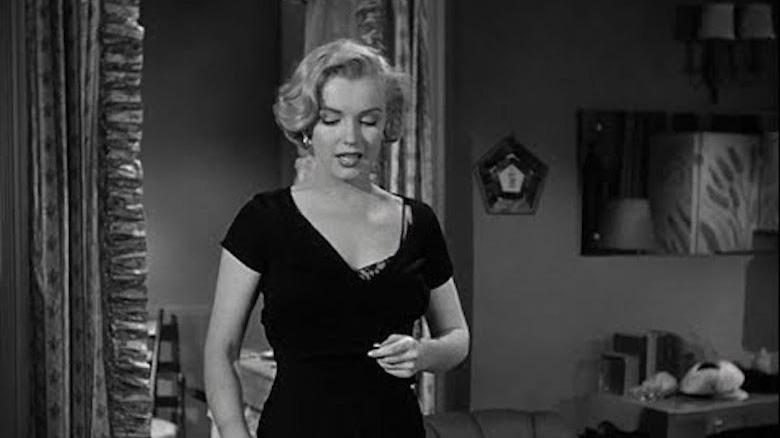 20th Century Studios/YouTube
1951's "Love Nest" is yet another film in Monroe's filmography that doesn't respect her as a woman or as an actress. It follows Jim Scott (William Lundigan), a war vet and a writer whose wife, Connie (June Haver), buys a run-down apartment building in New York City. Among their colorful group of tenants is Roberta "Bobbie" Stevens (Monroe), an old war buddy of Jim's. This creates problems for the couple when Connie becomes jealous of Bobbie's increased presence in their life.
Monroe is typically great in the film, but "Love Nest" once again reduces her to a character whose sole purpose is to be desired by men and hated by women, an archetype Monroe was constantly coming up against throughout her career. The character itself was written with very little interiority in mind, so any depth Bobbie has is due to Monroe's considerable talent and not the middling script she was given. A less capable actor could have very easily been trampled all over in the role, but Monroe meets the challenge.
18. Right Cross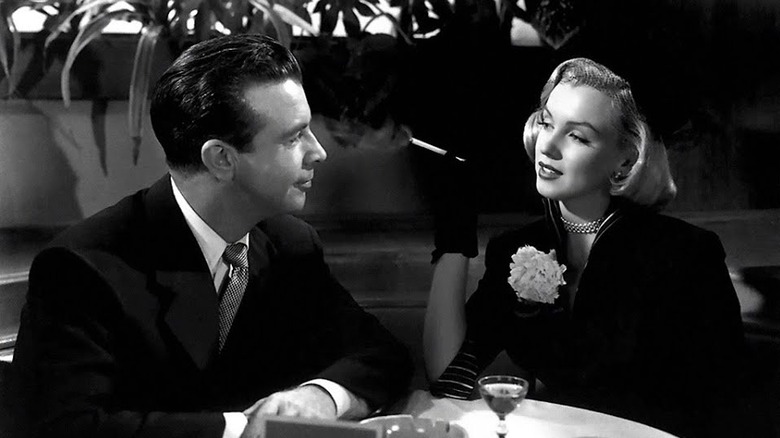 20th Century Studios/YouTube
Another bit part for Marilyn Monroe, 1950's "Right Cross" is a film about boxing and romance. The film follows Johnny Monterez (Ricardo Montalbán), a successful boxer who is tired of being discriminated against for being Mexican. Johnny finds himself falling in love with Pat O'Malley (June Allyson), who happens to be his manager's daughter. What's worse, his best friend, sportswriter Rick Gavery (Dick Powell), is also fighting for her affections.
Monroe's part in this John Sturges film is barely there. She plays a woman who Powell's character briefly goes on a date with before ditching, and she only appears in the film for less than a minute. The main point of interest for the film is seeing a young Marilyn before she was the dazzling, perfectly polished actress we know her as today. The film itself is entertaining enough, and at the very least it's slightly progressive when it comes to depicting race relations in America. For Marilyn fans though, there's not much there.
17. Ladies of the Chorus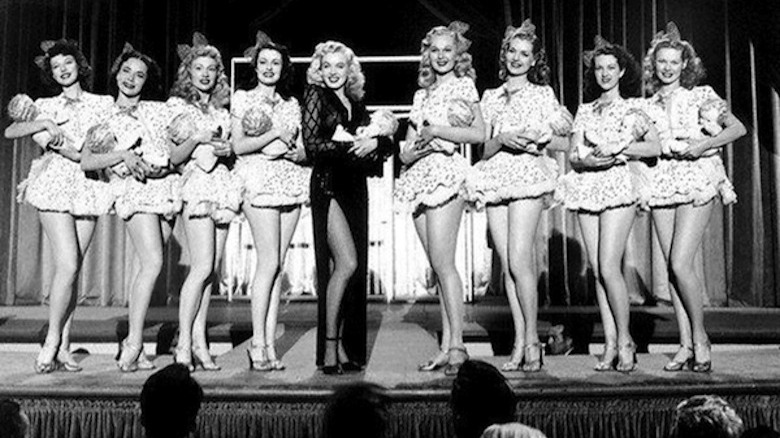 Columbia
After several small bit parts, Marilyn Monroe's role in 1948's "Ladies of the Chorus" was her first major role in a film, one that allowed her to show off her distinctive singing voice for the first time. Monroe plays Peggy, a chorus girl who works in the same field as her mother (Mae Martin). When the star of the burlesque they're in walks out one night, Peggy is suddenly thrust into the spotlight. Her mother is worried she will be taken advantage of and advises her to stay away from men, but she falls for the wealthy Randy Carroll (Rand Brooks) all the same.
Though Monroe may not have the most powerful singing voice, it's so sultry and disarming that it's hard to deny its charm. Monroe was able to prove just how adept she was as an entertainer in the film, and her blinding smile is hard to ignore. Though Columbia opted not to renew her contract after "Ladies of the Chorus," we know now that her career had much more in store, even if they weren't able to see it at the time.
16. Let's Make Love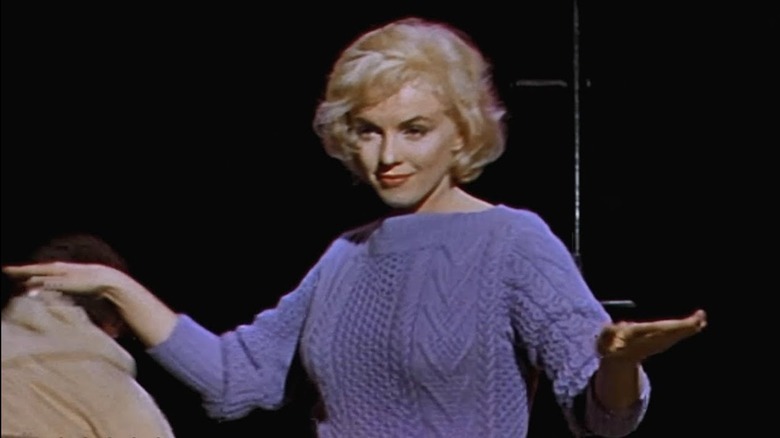 20th Century Studios
"Let's Make Love" is sadly one of those films that's not greater than the sum of its parts. Directed by George Cukor, known for helming successful films like "The Women" and "A Star Is Born," the film follows Jean-Marc Clement (Yves Montand), one of the richest men in the world. Lonely and unlucky in love, Clement learns that he is going to be the subject of a satirical off-Broadway show. Clement visits the production and is offered a part playing himself. He accepts the role so that he can be closer to the show's beautiful star, Amanda Dell (Monroe).
The premise of the film is entertaining, and much of the humor comes from the way it satirizes theater and celebrity culture, featuring cameos from the likes of Milton Berle, Bing Crosby, and Gene Kelly. But, once again, Monroe's character is thinly drawn and she's not given a lot to work with. Despite this, she manages to be charming enough, but it's not her best performance by a long shot. In her second-to-last performance before her death, one gets a sense that she was struggling with this one — though maybe we're reading too much into it. Cukor and Monroe should have been a match made in heaven, but with such a trifling script it's no wonder this one didn't pan out.
15. O. Henry's Full House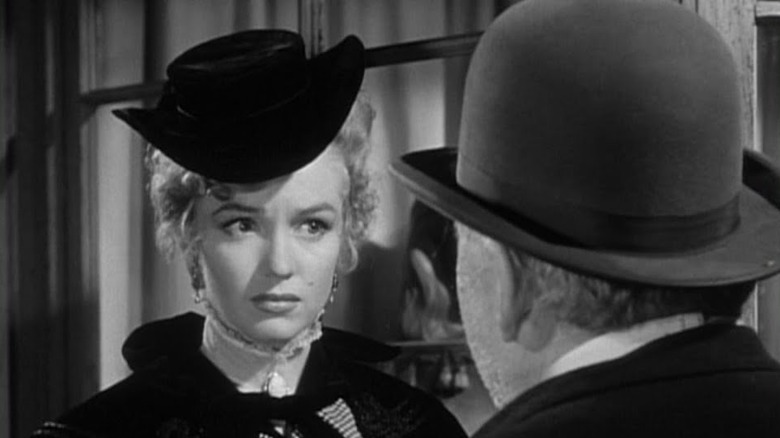 20th Century Studios/YouTube
"O. Henry's Full House" is a 1952 anthology film that tells five different O. Henry stories, all directed by different filmmakers and featuring narration from John Steinbeck. The story Monroe is featured in is called "The Cop and the Anthem," and it follows a vagrant, Soapy (Charles Laughton), who is on a mission to get thrown in jail so he can avoid the cold weather. But, no matter what he does, he just can't seem to get arrested. Monroe plays a streetwalker who encounters Soapy on his mission.
It's certainly not Monroe's strongest role, but once again she brings unexpected depth to a rather thinly written character. It's also a treat to get to hear Monroe sound much more down-to-earth, without the breathy, coquettish one she put on for many of her other roles.
14. River of No Return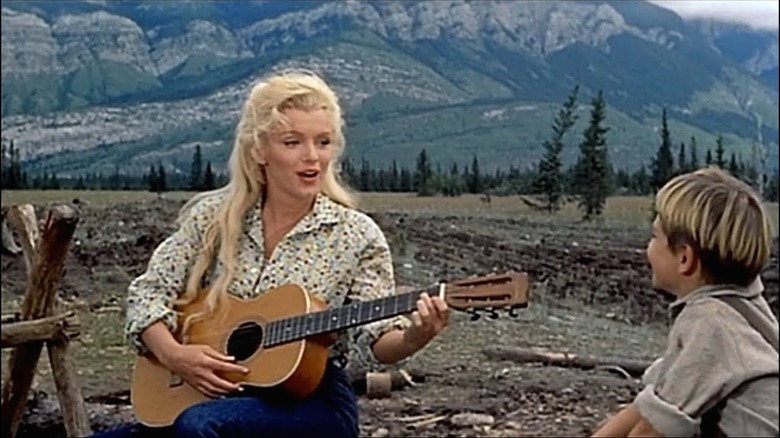 20th Century Studios
As with many Westerns of the time period, 1954's "River of No Return" is filled with beautiful landscapes and sumptuous visuals, but also some pretty offensive social and political commentary. The film follows farmer Matt Calder (Robert Mitchum), who returns home in 1875 after serving a prison sentence. He retrieves his young son Mark (Tommy Rettig) from a saloon singer with a heart of gold named Kay (Monroe). Kay's fiancee, Harry (Roy Calhoun), convinces Kay to journey downriver with him in search of gold, but then robs Matt and leaves Kay behind.
The use of CinemaScope — an extremely wide lens — and Technicolor make the film beautiful to look at, but the story itself is not particularly engaging. (To say nothing of the casual sexism and racism scattered throughout "River of No Return.") Monroe reportedly almost drowned during filming, a story that is much more exciting than the film itself. Nonetheless, it has its moments, such as when Monroe performs charming musical numbers like "File My Claim." Plus, it's a treat to see the stunning Monroe nestled among the beautiful Canadian mountains playing a sweet song on the acoustic guitar. The only truly great Western she was ever in, however, is yet to come.
13. The Seven Year Itch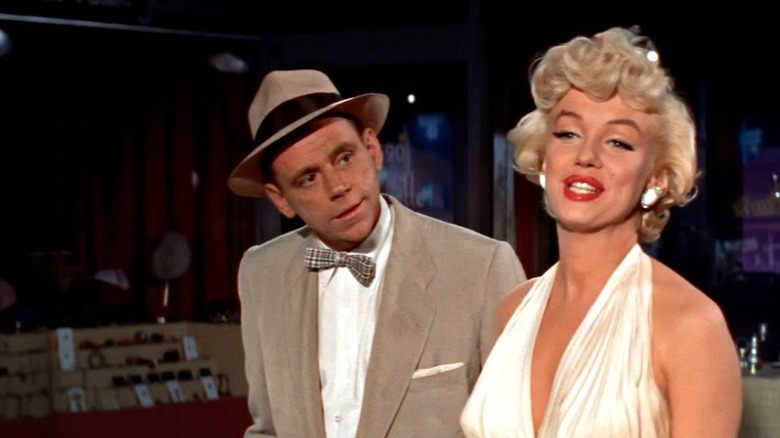 20th Century Studios
The most significant legacy of 1955's "The Seven Year Itch" is that it created the most lasting and iconic image of Marilyn Monroe's entire career. You surely know it — Monroe, standing on top of a subway grate, her luscious, cream-colored dress blowing up past her knees as she tries to hold it down. It's a legendary moment, but the film itself is far less memorable.
Tom Ewell plays Richard Sherman, an executive whose wife (Evelyn Keyes) and their son are on vacation in Maine for the summer. On his own in Manhattan, Richard runs into a blonde model (Monroe) who has moved into the apartment above his. He immediately becomes enamored with her and begins to ponder his devotion to his wife. Monroe's character seems to have no idea of the power she has over men, despite the fact that Richard is constantly leering at her.
In what was sadly a common occurrence in Monroe's career, her character in the film is reduced to an object that exists only to be looked at by men. Nonetheless, despite the film's sour tone, Monroe shines through the haze, her charisma alone keeping the film from being totally unwatchable. "The Seven Year Itch" sees Monroe as someone to be poked fun at, but her dazzling screen presence and brilliant comedic timing allow her to refute that designation at every turn.
12. The Prince and The Showgirl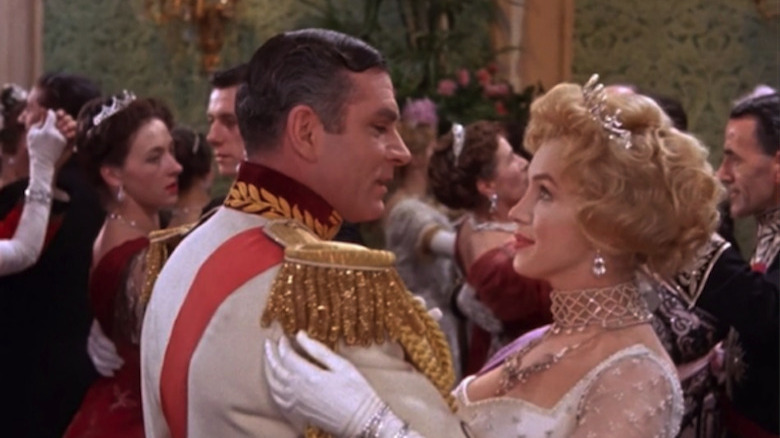 Warner Bros.
Directed by and starring Laurence Olivier, 1957's "The Prince and The Showgirl" sees Marilyn Monroe take on a romantic period piece. Olivier plays the Prince Regent of a fictional European country who visits London in 1911 to witness the coronation of a new king. The Prince Regent is taken to a musical performance, where he becomes enamored with one of the performers, Elsie (Monroe). After becoming close with the Prince Regent, Elsie stumbles upon a plot to overthrow him, something that would lead to instability across Europe. It is now up to Elsie to prevent the coup from happening.
Despite the film's famously difficult production – as depicted in 2011's "My Week With Marilyn" – Monroe's performance is wonderfully sensitive, and she and Olivier have clear chemistry on screen. Monroe had actually formed her own production studio at the time, which is how she was able to purchase the rights to the play on which the film is based. This is especially compelling given the fact that Monroe had very little choice in the films she starred in earlier in her career.
Despite Olivier's rather dismissive comment that Monroe was a "model forced to be an actress," Monroe shines in the film and received a BAFTA nomination for her performance. It may not be the best film in her catalog, but it is a great example of the stunning work she could produce even under less than ideal circumstances.
11. There's No Business Like Show Business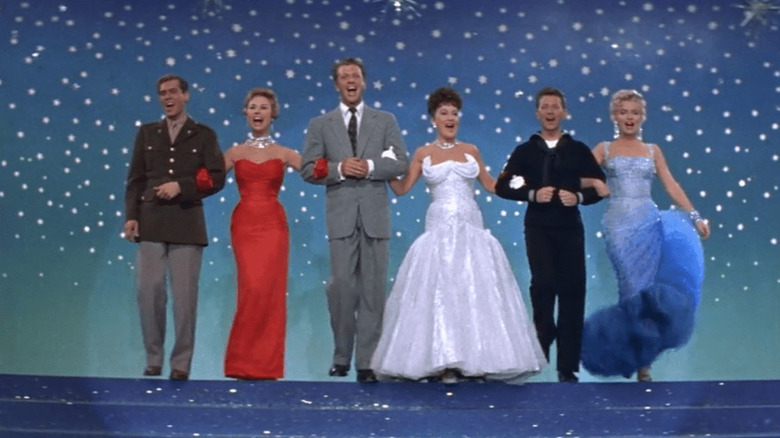 20th Century Studios
"There's No Business Like Show Business" is one of those classic musicals that feels like a bygone relic of old Hollywood. Dazzling and expansive, the Irving Berlin musical is a perfect vehicle to display Monroe's performance chops. The film follows Terry (Dan Dailey) and Molly (Ethel Merman), a vaudeville duo who add their three children to their act. As they grow, however, the children begin to go their own way. Steve (Johnnie Ray) decides to become a priest, and Katy (Mitzi Gaynor) and Tim (Donald O'Connor) meet a woman named Victoria Parker (Monroe) and join her show.
It may seem ill-advised for the light-voiced Monroe to be cast in a film starring musical giants like Ethel Merman and Donald O'Connor, but Monroe holds her own among this talented ensemble. By this time in her career, her bombshell persona had been solidly established, and it plays out perfectly in the film, as she displays a magnificent blend of suggestiveness and naiveté. Though it may not be the best mid-century musical out there, it's definitely one worth revisiting.
10. Monkey Business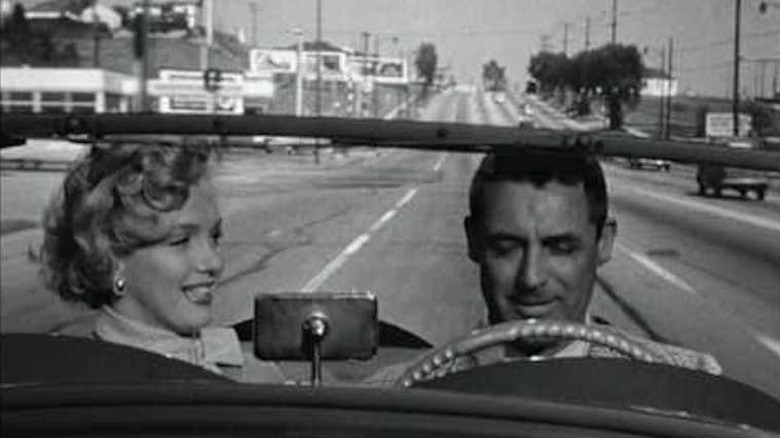 20th Century Studios/YouTube
"Monkey Business" is perhaps the most ludicrous film Marilyn Monroe ever starred in. Directed by the great Howard Hawks, the film stars Cary Grant as a chemist who is working on creating a pill that stops the aging process. Following an incident in the lab involving a loose chimpanzee, a magical anti-aging elixir is created. But when Grant's Dr. Fulton tries the potion on himself, he begins behaving like an adolescent, as does everyone else when it gets into the water system at the office.
It's an extremely outlandish premise, but it does have its charms. Monroe plays the secretary of Fulton's boss who he begins leering at after he downs the elixir. She is hilarious in the role, and it's a shame she wasn't paired with Grant more often because they have incredible chemistry. In fact, Monroe out-performs Ginger Rogers, who plays Fulton's wife in the film, even though Rogers is given the more significant part. Monroe has often been criminally overlooked for her comedic genius, and "Monkey Business" is one film that illustrates just how perfect her timing really is.
9. Clash By Night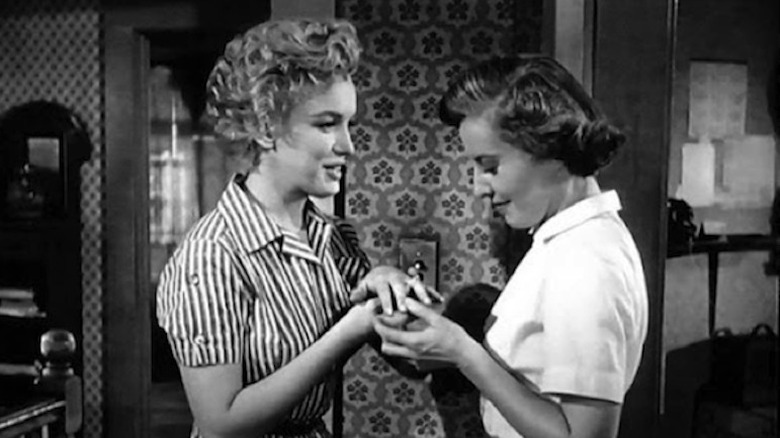 RKO Pictures
"Clash By Night" is a domestic noir directed by Fritz Lang and starring the great Barbara Stanwyck. Monroe has a small but compelling part in the film, at times even stealing the focus away from the other characters when she appears on the screen. Stanwyck plays Mae Doyle, a woman who has just returned to California after having a disastrous affair with a married politician, and wastes no time in beginning a relationship with Jerry (Paul Douglas), a good-hearted, simple fisherman. Tensions begin to arise between Mae and Jerry's best friend, Earl (Robert Ryan), who is attracted to Mae, but whose advances she rebuffs. Mae and Jerry get married, but she quickly gets bored and begins an affair with Earl.
Monroe plays the girlfriend of Mae's abusive brother, a sweet girl named Peggy. She may not have many scenes in the film, but she makes the most of the screen time she does have. It's impressive to watch Monroe hold her own against the film's more veteran cast members. The scenes that involve both Monroe and Stanwyck are especially compelling, due to how forcefully the women contrast with one another. It just goes to show that Monroe had just as much chemistry with her female co-stars as she did with her male ones, something that can clearly be seen throughout her filmography.
8. Niagara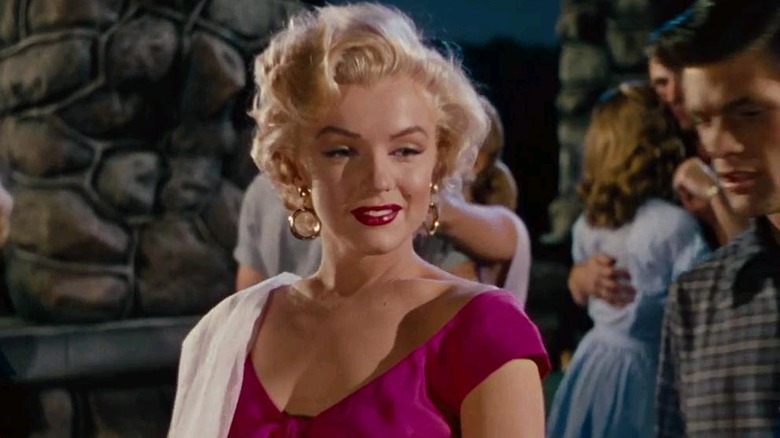 20th Century Studios
It's too bad Marilyn Monroe wasn't celebrated more for her work in film noir, because 1953's "Niagara" proves just how adept Monroe was at moving within the confines of the genre. Shot in brilliant Technicolor — a novel move for a film noir — it follows Polly (Jean Peters) and Ray Cutler (Casey Adams), newlyweds who are staying at a cottage in Niagara Falls for their honeymoon. While there, they encounter another couple, the dazzling Rose (Monroe) and her dour husband, George (Joseph Cotton). Polly begins to suspect something is dangerously wrong about Rose and George, and it turns out she is right.
Monroe is absolutely stunning in the role. While Rose's actions may seem selfish or perplexing at times, Monroe's nuanced, melancholic performance allows the audience to get a better sense of why she acts the way she does. Monroe is exceedingly sexy, yes, but there's always a hint of something else underneath her shining exterior, whether it be desire or a deep and abiding sense of sadness. The film's narrative tends to get a little convoluted by the end, but Monroe's presence on screen is never anything but spellbinding.
7. How To Marry a Millionaire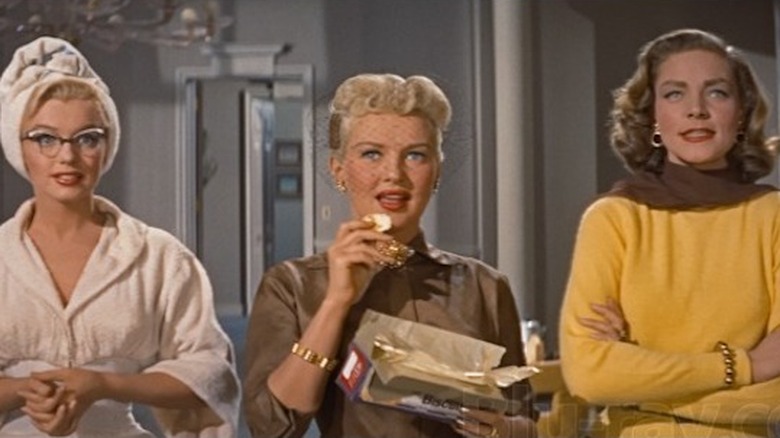 20th Century Studios
Though it may not be Monroe's best comedy (nor her best gold digger role), 1953's "How To Marry a Millionaire" is an undeniably charming film. The first film to be shot in CinemaScope (though the second to be released, after the biblical epic "The Robe"), it's a dazzling Technicolor marvel that features three of the greatest stars of its time. Monroe, Lauren Bacall, and Betty Grable play three women who are on a mission to marry rich men. To achieve this goal, they move into a swanky New York City apartment. They find no shortage of millionaires, but the content of their character leaves something to be desired. They must decide what's more important: money, or love?
While it's certainly not an original premise, the film's predictable plot is buoyed by its three charming stars, Monroe most of all. It's a delight to watch Monroe, Bacall, and Grable play best friends who are determined to climb their way to the top, and the humor still hits in all the right places. Even more significantly, Monroe's gold digger character isn't disrespected or talked down to, a dynamic that is so common in many of her other films. Like the excellent "The Gold Diggers of 1933," the leading ladies of "How To Marry a Millionaire" are savvy, charming, and, importantly, not condemned for their money-hungry ways.
6. Don't Bother To Knock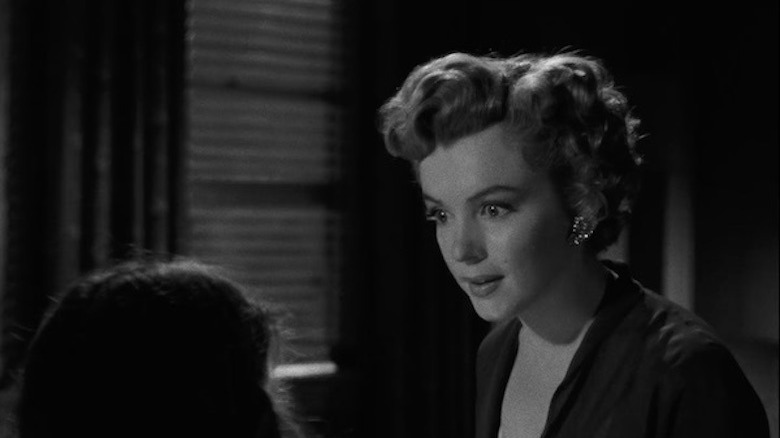 20th Century Studios
With a less capable cast, 1952's "Don't Bother To Knock" could have easily been another forgettable, melodramatic film noir. Instead, it's one of the best performances of Marilyn Monroe's career. She plays Nell, a babysitter at a New York hotel who is suffering from mental illness. She meets pilot Jed Towers (Richard Windmark) who is quickly enamored with her, but soon becomes concerned about her mental well-being when she begins behaving erratically.
Her performance as a woman experiencing a nervous breakdown is incredibly moving, and she prevents the character from becoming a lurid cautionary tale, imbuing her with tragic humanity. The melodramatic narrative of the script could have very easily borne cheap and overblown performances, but Monroe never takes it in that direction. Though the film itself doesn't reach the technically brilliant level Monroe is performing at, it's a must-see for those searching for evidence of her genius.
5. The Asphalt Jungle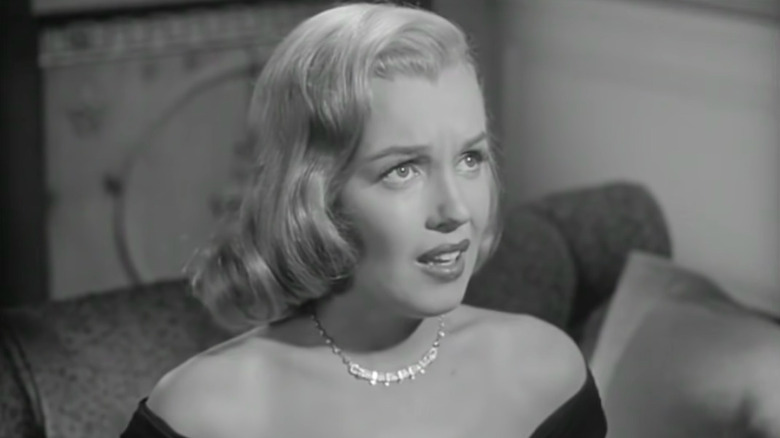 MGM/YouTube
Yet another film in which Monroe only has a small part, 1950's "The Asphalt Jungle" is a noir directed by John Huston. The film follows aging criminal Doc (Sam Jaffe) who has just been released from prison. Doc has devised a plan to steal a million dollars worth of jewels and enlists the help of fellow outlaws in order to pull off the heist, among them the petty thief Dix Handley (Sterling Hayden). Monroe plays the mistress of one of the other crooks, a lawyer named Alonzo Emmerich (Louis Calhern).
Released the same year as "All About Eve," "The Asphalt Jungle" was Monroe's breakout role, and it's clear why that was the case. Though she only has a small part in the film, she steals every scene she's in, making it obvious that she was a bona fide star in the making. Her character is written mainly as a sexy sidepiece, but Monroe once again grants her an extra layer of depth that really makes her leap off the screen. It doesn't hurt that the film itself is a masterful piece of work — it earned four nominations at the Oscars — so it's worth watching even if Monroe isn't your starlet of choice.
4. The Misfits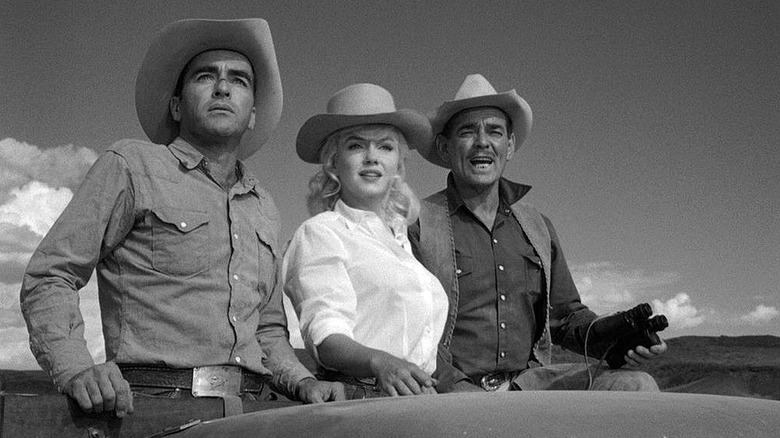 United Artists
The last film released before her death the following year, 1961's "The Misfits" is understandably loaded with a lot of extra meaning due to Monroe's tragic legend. But, these extratextual circumstances notwithstanding, the film is an excellent example of just how skilled Monroe was as an actor. As Angelica Jade Bastién writes in Vulture, her work in the film feels "like an elegy for the 'dumb blonde' she never truly was, and the Hollywood she existed within."
"The Misfits" follows Roslyn Taber (Monroe), an ex-stripper who has just filed for divorce. Roslyn meets Gay Langland (Clark Gable), an aging cowboy and gambler, and Guido Racanelli (Eli Wallach), a former WWII aviator. The trio decides to move into Guido's unfinished home in the desert, after which they encounter Gay's friend, the ex-rodeo rider Perce Howland (Montgomery Clift). The four then begin a business catching wild horses.
It's a powerful film, filled with haunted characters who are constantly longing for something that's just out of their reach. Starring three sex symbols whose lives would go on to end tragically – Gable died just days after completing the film, and Clift's health deteriorated until he died of a heart attack at the age of 45 in 1966 — the film in many ways reflects the sadness of these stars' actual lives.
3. All About Eve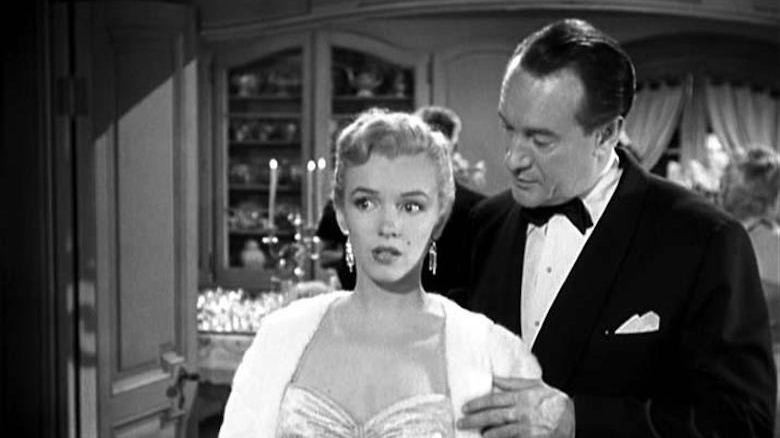 20th Century Studios
The 1950 classic "All About Eve" is probably the most critically lauded film Marilyn Monroe ever starred in. It received a record-breaking 14 nominations at the Academy Awards, and remains the only film to ever receive four acting nominations for its female cast members. Monroe's presence in the film may be relatively insignificant, but it's still worth including.
"All About Eve" follows an aspiring actress named Eve Harrington (Anne Baxter). One evening, the desolate Eve winds up in the dressing room of Broadway superstar Margo Channing (Bette Davis), who takes pity on her tragic life story. Margo takes Eve under her wing, but when Eve begins to devise a plan to usurp Margo's power, things become contentious between the two actresses.
Monroe plays a young actress named Claudia Caswell who is on the arm of conniving critic Addison DeWitt (George Sanders). She may not have much to do in the film, but she certainly makes an impression during her limited screen time. "All About Eve" sees a young Monroe doing what she does best — playing a character who could easily be written off as a dumb blonde, slyly revealing to the audience that she is much smarter than she appears. It may well be the best film Monroe ever starred in, but it's not a true vehicle for Monroe's talents, which is why it doesn't top this list.
2. Gentlemen Prefer Blondes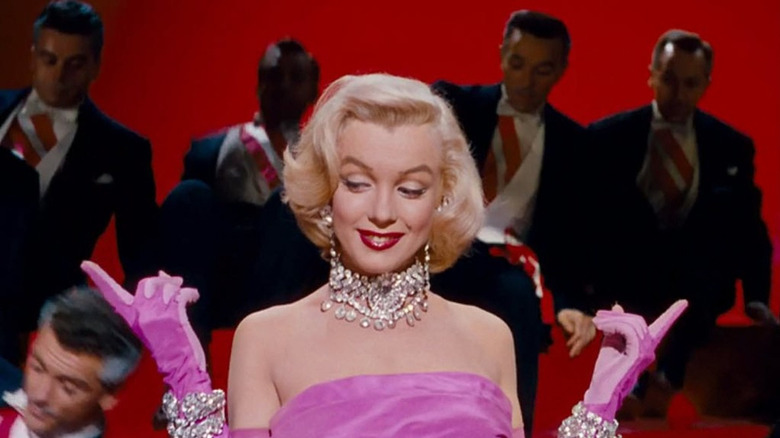 20th Century Studios
You can't watch "Gentlemen Prefer Blondes" without grinning from ear to ear. The 1953 Howard Hawks picture follows two showgirls, Lorelei Lee (Monroe) and her best friend, Dorothy Shaw (Jane Russell). Lorelei is engaged to a wealthy man named Gus Esmond (Tommy Noonan), whose father doesn't approve of their relationship, under the impression that Lorelei is just after his money. When Lorelei and Dorothy go on a cruise together, Gus's father hires a private detective (Elliot Reid) to get the dirt on Lorelei so he can stop their marriage.
Anyone who says Marilyn Monroe should have stuck to modeling — ahem, Laurence Olivier – clearly hasn't spent enough time with this film. Monroe's charm and effervescence jump off the screen, and it isn't just her obvious beauty, either. The song and dance numbers in the movie — most notably Diamonds Are A Girl's Best Friend – are absolutely delightful to watch, and Monroe shines just as bright as the precious stones she covets.
Monroe's Lorelei may be a gold digger, but she's a gold digger with a good head on her shoulders. She's smart, witty, and believes strongly in her own worth. Her dynamic with Russell is one of the most engaging parts of the film, and their banter — in which Russell is cast as a wise, worldly woman and Monroe as her (not so) naive counterpart — crackles on the screen.
1. Some Like It Hot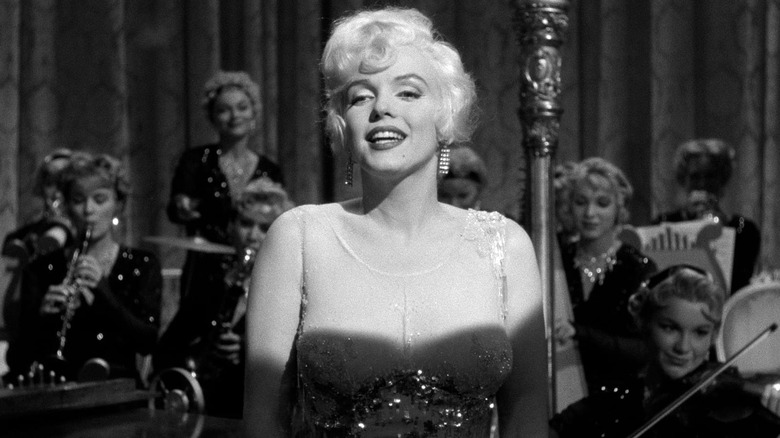 United Artists
Directed by the brilliant Billy Wilder, "Some Like It Hot" is the best of Marilyn Monroe's career, both due to her performance in it and the quality of the film itself. The story follows two musicians, Joe (Tony Curtis) and Jerry (Jack Lemon), who unwittingly witness a Mafia murder. In order to escape the clutches of the mobsters, Joe and Jerry disguise themselves as women and join an all-female jazz troupe on their way to Florida. While Joe is besotted with the band's singer, Sugar (Monroe), Jerry is wooed by a millionaire (Joe E. Brown) who is intent on winning Jerry's affection.
It's a decidedly outlandish plot, but the dedicated performances of all those involved make it a thrilling, uproariously entertaining watch. The film is a perfect vehicle for Monroe's unique talents. She displays all her quintessential charm and sensuality here, but with that added layer of openness and vulnerability that makes roles like this extra special. She rightfully won a Golden Globe for her performance, but was overlooked at the Oscars (as she was for her entire career – she never received a single nomination).
With hilarious hijinks and ample opportunity for Monroe to show off her musical prowess, it's no wonder "Some Like It Hot" is one of the most beloved films of all time.