Archer Star Amber Nash's Favorite Relationship On The Show Makes Too Much Sense
Whether they're off on a mission or just hanging around ISIS headquarters, the characters on "Archer" are guaranteed to get into trouble. With impeccable writing that frequently dabbles in obscenity, the series capitalizes on its format by putting the characters in the most outrageous situations imaginable. Although the semi-suave Archer (H. Jon Benjamin) is plenty funny on his own, the show wouldn't be the same without the supporting cast. Each character brings out a different side to Archer, allowing the narrative to develop him from a one-dimensional ladies' man into someone the audience can really identify with. Archer's complex relationship with his mother and boss, Malory (voiced by the late Jessica Walter), gives viewers a look at the root of his dysfunction, while his partnership with on-again/off-again love interest Lana Kane (Aisha Tyler) allows us to witness the depth of his incompetence, as well as his persistent humanity.
Each member of the team brings something unique to the table. The different character dynamics on the show are so interesting to watch that it's difficult to choose the best combination. On this matter, actor Amber Nash, who voices human resources rep turned wannabe agent Pam Poovey, has plenty to say. Nash isn't afraid to play favorites, so let's take a look at her pick for the best relationship on the show.
Amber Nash's favorite duo is Pam and Archer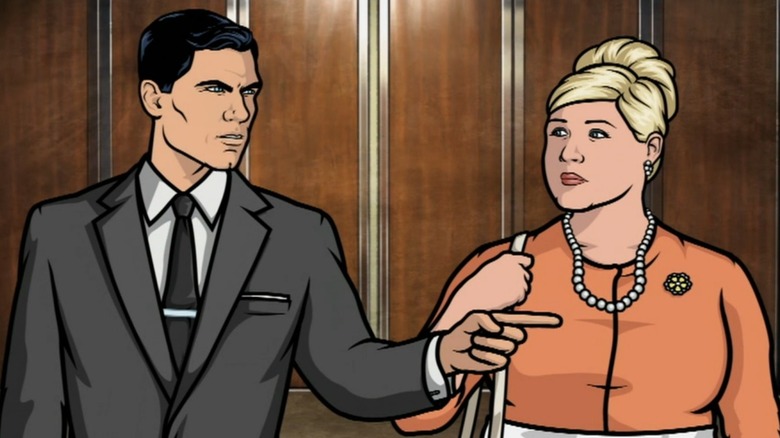 FX
Amber Nash isn't shy when it comes to what she really thinks about her "Archer" character. Of all the relationships on the show, Nash's favorite dynamic is the chaotic connection between Archer and Pam. Although Archer and Pam have opposing personalities, they also have a lot in common. They're both known for their promiscuity, as well as their shared love of a stiff drink and the heart-pounding thrill of adventure. In an interview with CBR, Nash elaborated on why she thinks their relationship is so compelling.
"My favorite relationship is Pam and Archer," the actor explained to the outlet. "I think that Pam is the only person that really truly gets him and doesn't judge him for it — because Pam doesn't judge anybody for anything because she's like, 'Who am I to judge?' That's just so wonderful about Pam."
Pam's optimism and Archer's frivolity make for some truly great banter, an unexpected chemistry that the writers have taken full advantage of. Their compatibility even leads to a brief friends-with-benefits arrangement. However, the most rewarding part of Archer and Pam's relationship is their ability to be brutally honest with one another. There are no pulling punches with these two! Even when they're making fun of each other, it's clear that they're coming from a place of genuine affection and respect.