Why Allison Janney Had The Entire Mom Cast And Crew Freaking Out During The Final Season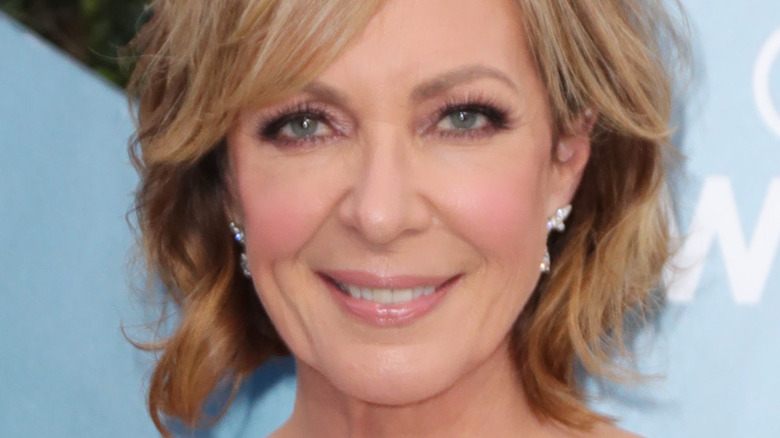 Leon Bennett/Getty Images
CBS may have ended its sitcom "Mom" in 2021, but the relatable story about a family struggling with real-life issues like addiction, domestic violence, and illness will forever remain relevant. The series starred Anna Faris as Christy Plunkett, a single mom who moves to Napa, California, to fix her life after struggling with addiction. She reconnects with her mom Bonnie Plunkett (Allison Janney), who is also recovering from drug addiction. Fans watched Bonnie and Christy repair a deeply fractured relationship as the pair try to give Christy's two children a better start in life. 
The series premiered in 2013 and received critical acclaim for its lighthearted way of telling real-life stories that so many families deal with.  Janney earned two consecutive Emmys for outstanding supporting actress in a comedy series for her work on the show. Faris left "Mom" after Season 7 in 2020, leaving Janney to star in the show's eighth and final season. In an interview about the ending of the series, Janney explained one on-set moment that had the entire crew absolutely shocked. 
Allison Janney secretly wore a wig for the majority of Mom
Allison Janney appeared on "The Tonight Show" with Jimmy Fallon and discussed the ending of "Mom" as well as the next moves for her career after spending eight years on the show. One of the most amusing anecdotes she shared was an instance during the final season of "Mom" when Janney showed up to set with her natural hair. On the show, Bonnie is often seen with long, light brown hair parted on the side. However, Janney really had short grey hair in real life and not even the "Mom" showrunners had any idea.
Janney apparently came on set with her natural hair and producers started to freak out. "They're like, 'What have you done?!' How are we gonna do...? You should have asked us before you did this to your hair," Janney said. She informed the crew that since 2013, she'd been sporting a wig, and it was no longer a secret anymore. When she left the show, Janney said she took the wig she wore as a souvenir, along with a few pairs of comfortable sweatpants. It's a move that would've made Bonnie Plunkett proud.