Lightyear Will Be Erased From Disney+ In The Middle East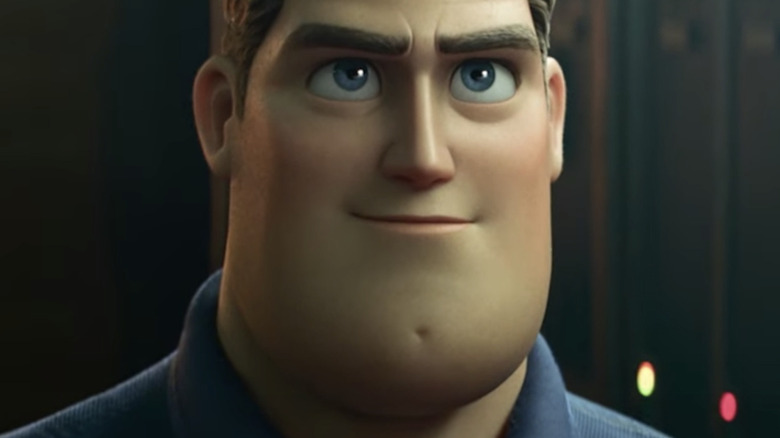 Disney+
Pixar's "Toy Story" franchise features some of the best animated movies of all time, and it's easy to see why when they tell heartfelt stories about anthropomorphic toys who slowly come to terms with becoming outdated and unwanted by a young boy called Andy (John Morris). And since the series has raked in over $3.3 billion worldwide (via Box Office Mojo), it's no surprise that Disney is keen to keep revisiting the toy box. And in 2022, "Lightyear" imagines the movie that Buzz Lightyear (Tim Allen) came from, with Chris Evans voicing the iconic Space Ranger for the in-universe adventure.
The film sees Buzz undertake a series of test-flight missions to try to find a way home for an entire colony of Star Command officers and workers that are stranded on a strange planet, T'Kani Prime. Unfortunately, they end up crossing paths with a nefarious race of robots — led by Emperor Zurg (James Brolin), and Lightyear is forced to reckon with his own actions over the years.
Director Angus MacLane previously told Empire Magazine that he wanted the film to look and feel like classic sci-fi movies, saying, "What we focused on was really trying to emulate a cinematic feel and making it chunky. Because in the films of the pre-digital era, there was so much more model making and so because they were making it physically, it would have a tangibility to it that you can feel."
Unfortunately, while "Lightyear" just landed on Disney+, it's being erased from the platform in the Middle East for a specific reason.
Lightyear is getting pulled because Disney is sticking to regulation requirements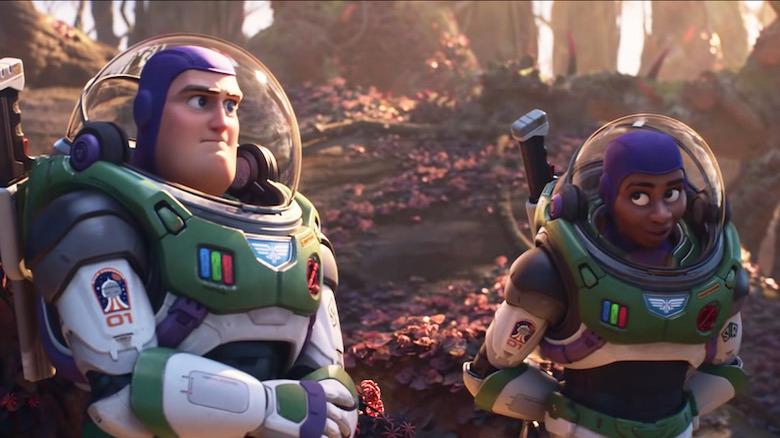 Disney+
Audiences might remember that "Lightyear" didn't get a theatrical release in the United Arab Emirates because it featured an LGBTQ relationship between Buzz's best friend, Alisha Hawthorne (Uzo Aduba), and her wife. But according to Esquire Middle East, the animated movie is being pulled from Disney+ to stick to the rules set out by the regulator. A Disney representative told the outlet, "Content offerings differ across our many Disney+ markets, based upon a number of factors. Content available should align with local regulatory requirements."
It's important to note that the UAE hasn't banned the film completely, Disney could technically add it to the streaming service, but the company is choosing to stick to the rules. Esquire Middle East also noted that the "Baymax" series is another recent title that's unavailable because it also features LGBTQ characters in its story. However, this is primarily because these projects are aimed at children, while other titles with LGBTQ characters aimed at older audiences — like "Doctor Strange in the Multiverse of Madness" and "Eternals" — are still on Disney+.
Both of the Marvel Studios movies did get theatrical releases in some parts of the UAE, although the "Doctor Strange" sequel was banned in Saudi Arabia, and "Eternals" was either banned or heavily edited to cut out any intimate scenes depending on the region. 
For now, it looks like audiences in the UAE won't be able to watch "Lightyear" at home.