The Real-Life Heartbreak Hannah Waddingham Channeled Into This Sad Ted Lasso Scene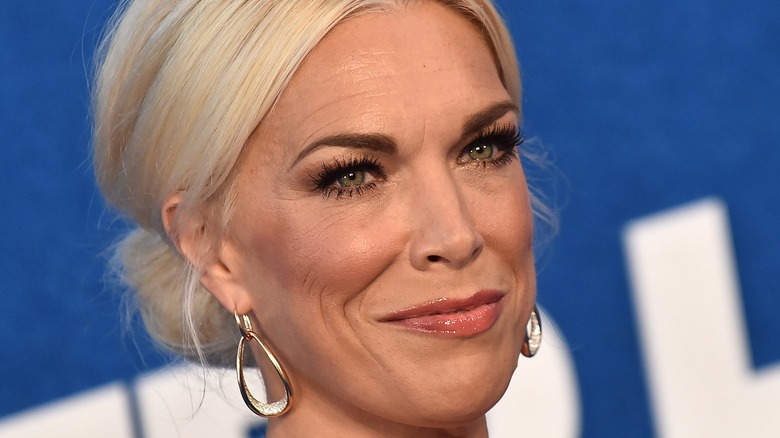 DFree/Shutterstock
In 2020, the London-based comedy series "Ted Lasso" premiered on Apple TV+ and steadily garnered widespread praise from both critics and fans. Following the titular character's move to the English city of Richmond, the show charts the ways in which Lasso's (Sudeikis) unerring optimism slowly earns the respect of his colleagues and begrudging soccer team. During this time, Lasso frequently butts heads with Rebecca Welton (Hannah Waddingham), the reluctant owner of AFC Richmond. Smarting from an acrimonious divorce, she initially distrusts Lasso's affable demeanor. Eventually, however, the unlikely duo become close confidantes and friends. In a review for Variety, one critic applauded " [t]he show's hard pivot from an absurd premise to a heartfelt comedy about adult relationships."
A year after its debut, the series returned for a 2nd season to significant critical acclaim (via Rotten Tomatoes). Notably, Apple TV+ also greenlit a 3rd season in 2020, upon the success of the first (via Esquire). Since its release, "Ted Lasso" has received numerous awards in the Hollywood industry, including an extensive sweep of Primetime Emmys in 2021 and 2022. After season 1, Sudeikis won an Emmy for outstanding lead actor, while Waddingham clinched an Emmy for outstanding supporting actress. During an interview, Waddingham celebrated the evolution of her character, particularly her multifaceted growth as a kind and caring ally. As Waddingham observed in Season 2, "I thought this is a whole new Rebecca, and I get to show her vulnerability in a different way" (via The A.V. Club).
At the same time, stepping into Rebecca's shoes hasn't always been the smoothest transition for Waddingham.
Hannah Waddingham's father was undergoing heart surgery during shooting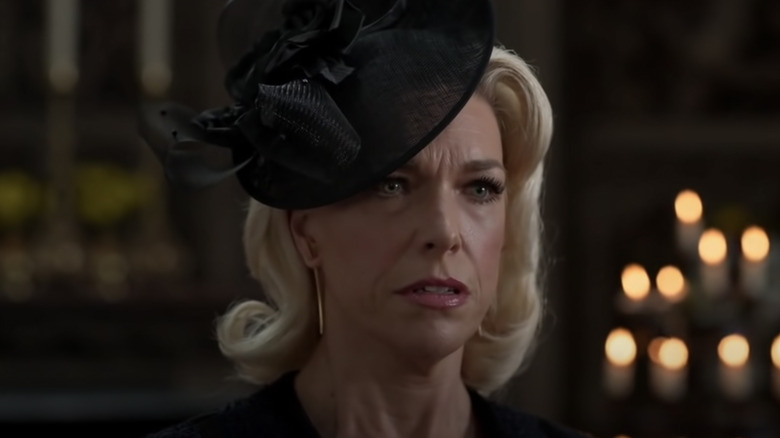 In Season 2 of "Ted Lasso," Rebecca abruptly learns that her estranged father has died. Heartbroken yet resolved, she attends his funeral and delivers a poignant eulogy about their relationship. This includes a spontaneous breakout into an uncharacteristically melancholy version of Rick Astley's "Never Gonna Give You Up." During this time, her close friends and family rally around her, including Lasso and the AFC Richmond team. While the scene is a stirring and thoughtful meditation on the complications of grief, the moments that took place off-camera also seemingly added to its resonance.
During a cast interview with Apple TV+, Waddingham revealed that her own father was having surgery at the time of filming. As she shared, "What most people don't know... is that ... on that very day, my own father was having emergency quintuple open-heart surgery." Visibly near tears, Waddingham added, "And these people here got me through it." In the interview, she motioned to her castmates, Toheeb Jimoh, Nick Mohammed, and Juno Temple.
Reflecting on their tight-knit camaraderie, Waddingham observed, "And they've become my companions and my family in real life ... There was no worry about performing in front of them." She praised her castmates for holding her up throughout the day, including during the eulogy, and cited their unwavering support as indicative of their off-screen affection for each other.
In the end, Waddingham considered the seeming difficulties of shooting to be an overall gift. As the actress said, "[I]t was the weirdest art-meets-life moment of my life. And in a way I'm glad I had that, as a release that day ... I feel like this has been sent to me today to allow me to grieve."