Where Is Ted Lasso Really Filmed?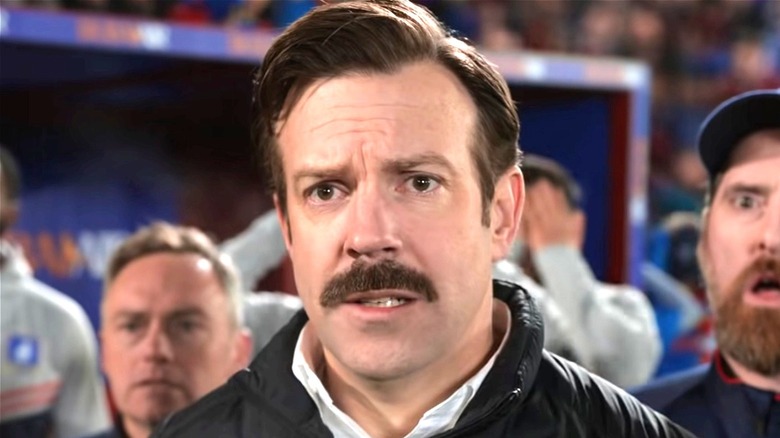 Apple TV+
"Ted Lasso" is one of Apple TV+'s most beloved shows. The streaming service's breakout comedy series follows its titular character (played by Jason Sudeikis), a cheerful American football coach, when he is hired to lead an English football club despite having no experience coaching the sport. The character was originally created to help advertise NBC Sports' coverage of England's Premier League in 2013 but was revived years later for the Apple TV+ series (via THR).
At the start of the show's first season, Ted is hired to coach the downtrodden Premier League team AFC Richmond because its owner, Rebecca Welton (Hannah Waddingham), wants to get revenge on her ex-husband by hiring a highly incompetent coach to make his beloved team fail. However, Ted ultimately manages to lift the spirits of the team's players, managers, and executives alike, and even forms an unlikely friendship with Rebecca.
While "Ted Lasso" is set in London, England, it'd be fair to wonder if the series is really filmed there, or if it's possible to visit its filming locations in real life. Read on to find out about where the hit comedy is actually made.
Ted Lasso is largely filmed at West London Film Studios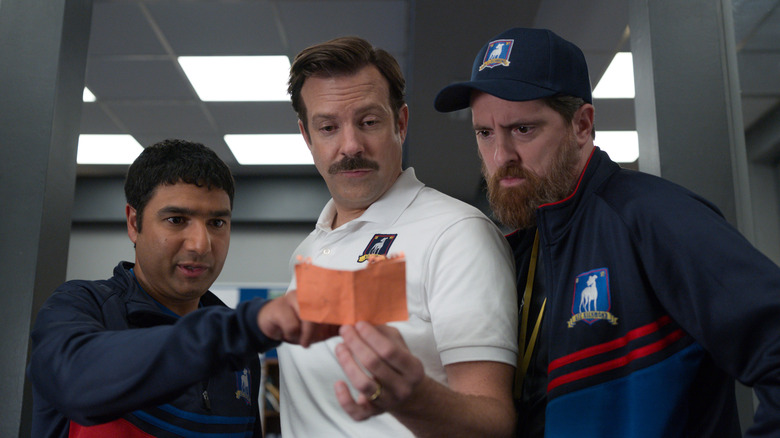 Apple TV+
"Ted Lasso" is set and filmed in London, but some of the actual locations are hard for fans to visit in everyday life. That's because most of the show is filmed at West London Film Studios in Hillingdon, London. It's a relatively new shooting location and was only officially opened by its owner Frank Khalid back in 2014 (via MyLondon). Since then, the studio has served as a filming location for hit TV shows like "Killing Eve" and "Good Omens," as well as movies like "The Imitation Game," "Judy," and "Last Christmas." Many of the indoor scenes of "Ted Lasso," including its various conference and office room sequences, are shot at the studio. 
"Ted Lasso" does also rely on a handful of real-life filming locations, some of which are based in Richmond, London. For instance, there's the Prince's Head Pub, which was renamed "Crown and Anchor" for the series. Meanwhile, the scene in "Ted Lasso" Season 2, Episode 1 featuring Roy (Brett Goldstein) and Keeley (Juno Temple) sitting by the River Thames was filmed at Twickenham Rowing Club on Eel Pie Island (via Groundhopper Soccer Guides).
Ted Lasso's football scenes are filmed at Selhurst Park Stadium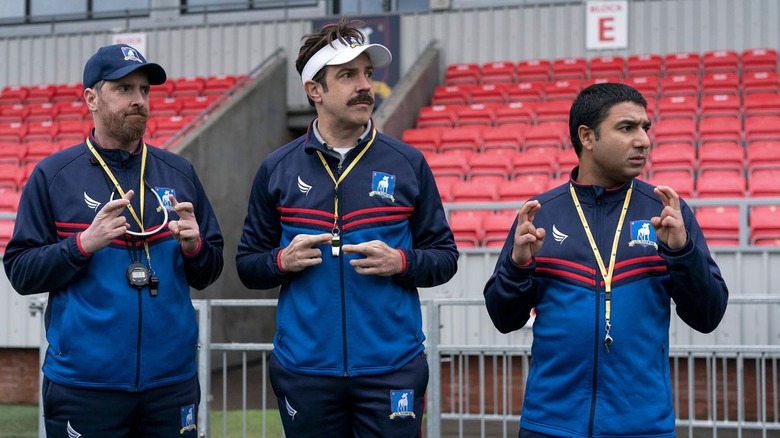 Apple TV+
Even though most of "Ted Lasso" is filmed at a studio, you can visit one of its most pivotal locations yourself. The Apple TV+ series' football match scenes are filmed at Selhurst Park Stadium (via The Cinemaholic), which can be found in the South London borough of Croydon. In real life, it's known for hosting the Crystal Palace Football Club. The stadium was also used for the 1948 Summer Olympics and for the Wimbledon tennis tournament in the late 1990s and early 2000s. Elsewhere, the Hayes & Yeading United Football Club is primarily used for the TV series' training scenes, and it can be found in London's Borough of Hillingdon.
"The first burden for anybody who's made a sports movie or TV show is that it's really easy to make one that looks fake," Bill Lawrence, the co-creator of the show, told The New York Post in an August 2020 interview. "The football aspects of it needed to look real. We were lucky enough to use real venues." The "Ted Lasso" producers aren't the only ones lucky that the show shoots in actual places either, as its reliance on real locations means that fans can visit some of the series' most recognizable spots.