Ted Lasso Star Hannah Waddingham Is In Denial Over Season 3. Here's Why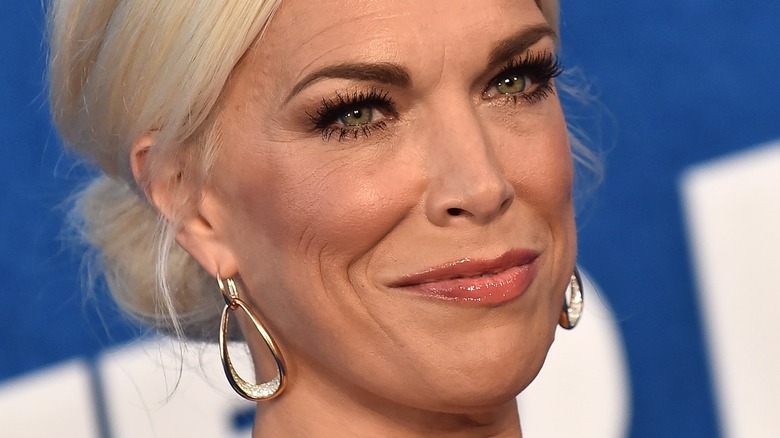 DFree/Shutterstock
"Ted Lasso" has brought joy to the hearts of millions. It's become one of the most popular programs on Apple TV+ with people tuning in to see the continuing adventures of the titular character, who's hired to coach an English soccer team while winning the players over with his folksy attitude. It's a great show that's won over people's hearts for its excellent portrayal of positive masculinity and unique sense of humor. 
However, it can't always be good news, even where "Ted Lasso" is concerned. Brett Goldstein, who plays Roy Kent on the series, has spoken out about how they plan on ending the series after its third season. The show recently aired its second, and filming is currently underway for the third. That means it won't be long until fans have to say goodbye, but it isn't just fans who are being hit hard with the news. The cast themselves are having a hard time letting go of their characters, as Hannah Waddingham, who plays Rebecca Welton, revealed.
Hannah Waddingham isn't ready to leave behind Rebecca
Rebecca Welton is an engaging character on "Ted Lasso." She initially hired Lasso to coach the soccer team she owns, expecting him to fail as a means to get revenge on her cheating ex-husband. However, he manages to win over the team, as well as her, with his good-natured spirit. Her performance has included a range of emotions and tempers, to the point where it's easy to see why she won the Emmy for Outstanding Supporting Actress in a Comedy Series in 2021. 
Clearly, fans and critics adore her character, and Waddingham has a soft spot for her, too, as revealed in an interview with Deadline during a special "Ted Lasso" event. She told the outlet, "We are halfway through shooting Season 3, and I would like to pause things because I'm not ready to say goodbye to her in three episodes." She went on to add, "Brett and I were talking about [saying goodbye] earlier, and we're both a little bit in denial but have been expecting it since the word go at the same time. It's like a long, slow mourning. I love her, man. She's the girl — my girl — that I'm walking along next to and serving."
While Goldstein has said he planned on ending the show after three seasons, Waddingham remained hopeful for a way to keep the show going. There's always hope, but fans should prepare for the end when "Ted Lasso" Season 3 comes out in the near future.