A New George R.R. Martin Film Just Won A Major Award At The LA Shorts International Film Festival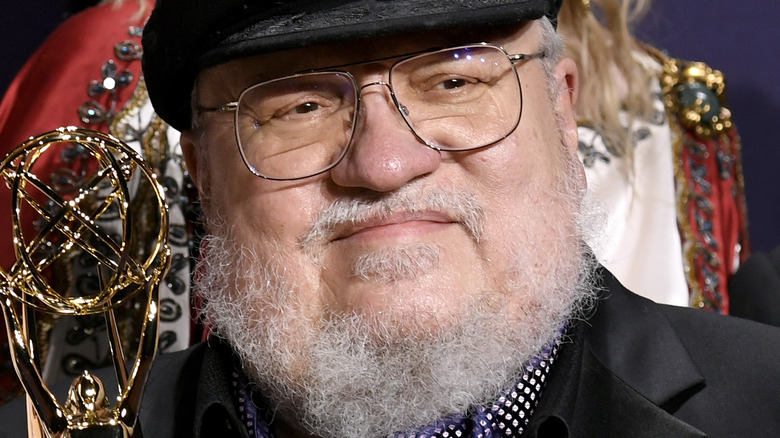 Frazer Harrison/Getty Images
George R.R. Martin could use some good news right about now. First came his decision to cancel his in-person signings at San Diego Comic Con because of the ongoing surge in Covid cases (per his blog). Martin still spoke the "House of the Dragon" panel and shared his thoughts on the upcoming "Game of Thrones" spin-off, but anyone who was hoping to pick his brain about the show's potential direction (for instance, could it become an anthology?) while he signed their merch was surely disappointed. Then, lo and behold, Martin got Covid anyway, meaning he had to miss the second leg of his West Coast tour, including the premiere of "House of the Dragon" (via Deadline). 
Even though, per a video posted on his blog, he has now tested negative, it was no doubt a drag to have been so careful and yet still end up missing a tentpole premiere. Luckily, Martin seems to always keep himself busy, meaning that even when he's delivering bad news about one project, he still manages to find good news elsewhere. 
This time around, he's received said good news from the LA Shorts International Film Festival.
Night of the Cooters won Best Sci-Fi at the LA Shorts International Film Festival
Followers of George R.R. Martin may remember when he announced on his blog that he would be executive producing a film adaptation of Howard Waldrop's short story "Night of the Cooters." By then, the short film had already finished principal photography in Santa Fe, directed by and starring Vincent D'Onofrio, with the screen adaptation from Joe Lansdale –- who, per IMDb, has written several stories adapted for the screen himself, including the 2002 cult favorite Bruce Campbell movie "Bubba Ho-Tep" and the "Hap and Leonard" novels. Not only did the short premiere last night at the LA Shorts International Film Festival at the Laemmle in North Hollywood, it took home the award for best sci-fi (per Variety).
"Night of the Cooters" is a collaboration between Trioscope, Lumenscapes, and Martin's own production company Fevre River Packet. "It was a thrill to be able to work with Vincent D'Onofrio, the team at Trioscope and the rest of our amazing cast and crew and an honor to bring one of Howard Waldrop's wild and wonderful stories to the screen," said Martin during the post-showing Q&A. "There is only one Waldrop!"
Written in 1987, and available to read online at Clarkesworld Magazine, "Night of the Cooters" is half-western, half-science fiction, telling the tale of an attempted alien invasion in the late 1800s of Pachuco, Texas and the efforts of the people of Pachuco, led by Sheriff Bert Lindley, to fend it off. If it all sounds a bit pulpy and absurd, that's because it is. Waldrop's fiction is a strange concoction of alternative history, Southern gothic, sci-fi, classical mythology, and rock and roll. Judging from the trailer, the film adaptation leans hard into this comic book sensibility, with a half-live action, half-CG look.