Snowpiercer's Final Season Just Hit The Most Ironic Production Snag Imaginable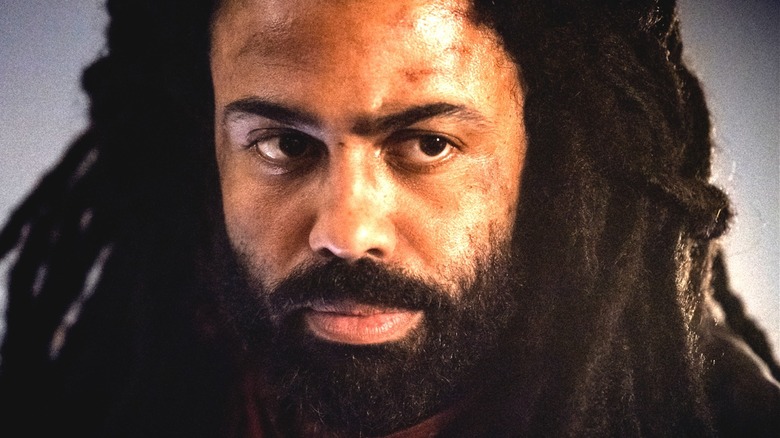 David Bukach/ TNT
"Snowpiercer," the dystopian television show that follows the remaining population of humanity as they circle the frozen Earth on a train and fight the rigid social hierarchies established within, has hit a major production snag. Call it irony, or a sign of the times, but either way, the situation has rapidly escalated, bringing tragedy to the production of the show's 4th and final season.
The show is a prequel, functioning as an extension of "Parasite" director Bong Joon-ho's 2014 film by the same title. Starring former "Hamilton" star Daveed Diggs, Oscar-winner Jennifer Connelly, Mickey Sumner, and more, it takes a deeper dive into the intrigue and class struggle aboard the perpetual train and its world. Members of a resistance led by Diggs' character Andre battle the powers that be aboard the train, mostly represented by Connelly as the train's lead engineer, Melanie.
Evidently, the show's world is a warning for what may come our way should humanity fail to address climate change before we hit what climate scientists, as noted by Science, refer to as a "point of no return" (what, precisely, that point is, is a matter of ongoing debate). Now, amid a year that the National Oceanic and Atmospheric Administration has ranked Earth's sixth warmest ever, the production for "Snowpiercer" Season 4 has hit a snag that couldn't be more ironic if the show's writers had come up with it themselves.
Snowpiercer has suspended production because of extreme heat, with multiple crew injured
Production on Season 4 of "Snowpiercer" has been halted following skyrocketing temperatures on its outdoor set in British Columbia, Canada, Deadline reports. At the time of writing, up to 14 people working on set, including actors and crew, have been taken to nearby hospitals by ambulance.
Temperatures in British Columbia, as in much of the Northern hemisphere, have reached worrying dangerous levels this summer, and on Thursday, the heat on the set of "Snowpiercer" reached upward of 90 degrees Fahrenheit. Matters were made worse by the show's wardrobe, which, due to "Snowpiercer" being set on a frozen version of Earth, involved heavy winter coats. A spokesperson for the show's producer, Tomorrow Studios, claimed that cooling tents were on site for the cast and crew, along with medical personnel. In a statement, the spokesperson said, "Out of an abundance of caution, production of Snowpiercer wrapped early yesterday and was suspended for today due to extreme heat on location. The health and well-being of show cast and crew remains top priority."
Of course, having production halted due to an extreme heat event is a tragically ironic turn for "Snowpiercer." The premise of the show is that, in an attempt to reverse global warming, aerosols were injected into the atmosphere, but the plan backfired, sending the planet into a new ice age. For this show, a more symbolic twist of fate is hardly possible.