Why Julia Louis-Dreyfus Will Never Watch The First Episode Of Seinfeld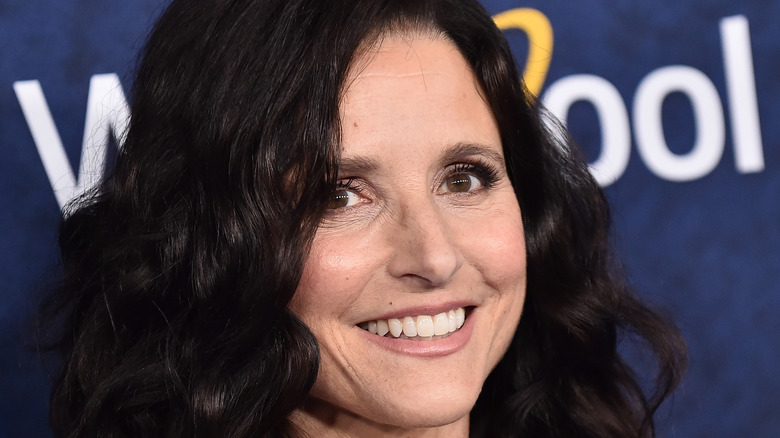 DFree/Shutterstock
The "'Seinfeld' curse" arose early on as an explanation for why several television projects from the sitcom's former cast members bombed so badly in their inaugural seasons. "The Michael Richards Show," Jason Alexander's sitcom "Bob Patterson," and Julia Louis-Dreyfus' experimental comedy "Watching Ellie" were quickly canceled due to low ratings (via Entertainment Weekly). However, "Seinfeld" co-creator Larry David's dismissive explanation for why this happened to Esquire does make sense: "So there were two TV shows attempted that didn't work? Big deal. How many TV shows work?"
Louis-Dreyfus' career after "Watching Ellie" was canceled may have proven the superstition wrong after all. Her sitcom "The New Adventures of Old Christine" won the star an Emmy in 2006, causing the actress to proclaim in her victory speech, "I'm not somebody who really believes in curses ... but curse this, baby!" Her 2013 HBO comedy "Veep" proved to be a hit as well, leading to even more award wins for Louis-Dreyfus (Emmys).
The veteran actress may not believe in curses, yet she still won't watch the first episode of "Seinfeld." Here's the reason why.
Louis-Dreyfus is superstitious about the pilot
Julia Louis-Dreyfus was not featured in the pilot episode of "Seinfeld," originally titled "The Seinfeld Chronicles," because the female character in the series meant to contrast with the guys was supposed to be Claire (Lee Garlington), a waitress at the restaurant Pete's. However, Garlington's character was dropped, as noted by HuffPost. According to the show's Season 1 inside look, Louis-Dreyfus wasn't cast as Elaine Benes — Jerry's ex-girlfriend turned platonic friend — until they started filming on another Season 1 episode, "Male Unbonding." It's also worth noting that the character's name was supposed to be Eileen, as revealed by "Seinfeld" casting director Marc Hirschfeld.
In interviews on the making of "Seinfeld," Louis-Dreyfus told the filmmakers that she had not only never seen the pilot, but she wasn't planning to watch it, ever. "I don't know why, it just feels superstitious," she admitted. She would later say that she doesn't feel comfortable taking part in a project where she is in only one scene, as she was in "Male Unbonding."
It's hard to imagine a version of "Seinfeld" without Elaine's intense antics, so it makes sense that she would choose to skip an episode where her character doesn't even exist. Luckily, the actress fit right into the show's set, as Michael Richards noticed that she showed up on the first day in cowboy boots. "I said, 'Ah yes, this is our girl," he said in the "Seinfeld" making-of clip.