The Only Three Seinfeld Episodes That Don't Feature Elaine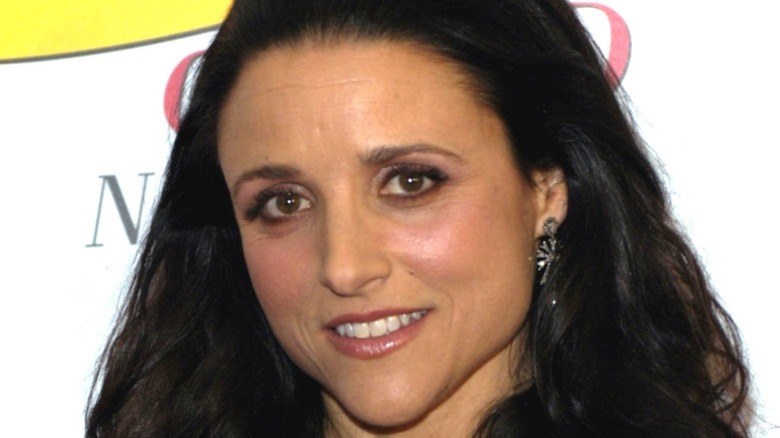 Fernando Leon/Getty
The character of Elaine Benes (Julia Louis-Dreyfus) was actually added to "Seinfeld" as a condition of the show being greenlit. The NBC executives felt that the series about single guy Jerry (Jerry Seinfeld) would be too focused on the male condition and asked that they add a woman to the cast (via Marie Claire). Co-creators Seinfeld and Larry David obliged, and Jerry's ex-girlfriend turned mostly platonic pal Elaine was born.
Elaine's aggressive, forceful personality not only felt unusual compared to more passive female characters in sitcoms at the time, but Louis-Dreyfus' energy fit in perfectly with Jason Alexander's neurosis, Seinfeld's dry apathy, and Michael Richards' goofiness. The character could be as petty and absurd as the men as well, such as in "The Stall" when she doesn't want to date a possibly deformed lover, or when she travels to a wedding in India out of insecurity.
It's almost impossible to imagine the sitcom without Elaine, but out of 180 episodes of "Seinfeld," there are in fact three chapters of the show in which Louis-Dreyfus never appeared.
Louis-Dreyfus is absent from the pilot and the Season 4 premiere
First, Elaine is not in the pilot for the series, originally called "The Seinfeld Chronicles," because a waitress named Claire (Lee Garlington) was supposed to be the "main female" at first. However, after the pilot, the character and her restaurant were dropped from the series, in part because the writers wanted a more active member of the main group (via Decider). Julia Louis-Dreyfus actually shot her first scene as Elaine for the fourth episode, "Male Unbonding" (via YouTube). Mike Richards (Kramer) said that he knew the actor was the right fit for the character when she came on set wearing cowboy boots.
Finally, while Louis-Dreyfus is in almost every episode of the show afterward, she went on maternity leave before the fourth season so she could have her first child, Henry, with husband Brad Hall (via The AV Club). Elaine, therefore, doesn't appear in the two-part Season 4 premiere "The Trip," where Kramer, while in Hollywood, is accidentally suspected of being Los Angeles killer The Smog Strangler.
Otherwise, Elaine is featured in 177 episodes of "Seinfeld," and Louis-Dreyfus certainly has no regrets about the part. In 2013, the actor told Katie Couric that "It was just such a joyous thing, you know? It was such a gift, and it was indescribably fun" (via YouTube).