The Office's John Krasinski Stole This Iconic Prop From Set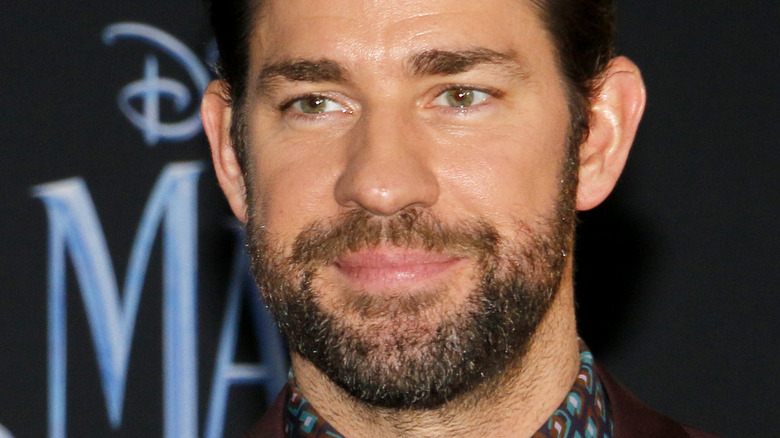 Tinseltown/Shutterstock
"The Office" has been over for nine years, and it still surges on streaming platforms like Peacock (via Forbes). It quickly became popular while on air, winning five Primetime Emmy Awards during its run. Like other massive comedy programs on NBC, such as "Saturday Night Live," being part of "The Office" was a proving ground and a stepping stone for much of the main cast. Steve Carell already had a decent acting resume before taking on the role of Michael Scott (via IMDb), but it could be argued that playing Michael shot his career into the stratosphere for the years to come.
Fan-favorite Jim Halpert was certainly John Krasinski's breakout role, as he was nearly going to quit acting altogether before being cast as Jim (via The Late Show with Stephen Colbert). Krasinski has now gone on to create, direct, and star in "The Quiet Place" alongside his wife Emily Blunt and star as Jack Ryan in "Tom Clancy's Jack Ryan" series. He even recently appeared as a version of Mr. Fantastic in "Doctor Strange in the Multiverse of Madness." Still, Krasinski fondly reflects on his time as Jim and would be open to a reunion (via Esquire).
Krasinski also recently revealed that he is no different from other actors who have stolen props from set before they left a show or movie. But it's no small item, as it's considered an iconic prop.
John Krasinski stole the Dunder Mifflin sign
According to an episode of Jenna Fischer and Angela Kinsey's podcast "Office Ladies," it was revealed that John Krasinski stole the Dunder Mifflin sign from the set (via ET Canada). In the episode, Krasinski explains that during the end of the final episode, after wrapping, he went back to his trailer in tears before running back to set after thinking that he should take something as a souvenir. Krasinski confessed, "When I got back to the trailer, I was crying like crazy, and I went, oh my God, there's one thing I want. Like, what's one thing you would want from the show? And I ran back and stole the Dunder Mifflin sign that we all did talking heads to."
Apparently, "The Office" creator Greg Daniels was upset and looking for that sign later, telling Krasinski that someone stole it. Hilariously, Krasinski would end up lying to Daniels, pretending he had no idea and that the theft was terrible.
For fans, it's likely nice to see that Krasinski still reflects on "The Office." In a recent conversation with co-star Rainn Wilson on his Instagram show, "Hey There, Human," Krasinski explained that it will likely remain the best thing he's ever done (via Complex).