The House Of The Dragon Prop Matt Smith Took From Set And Then Gave Away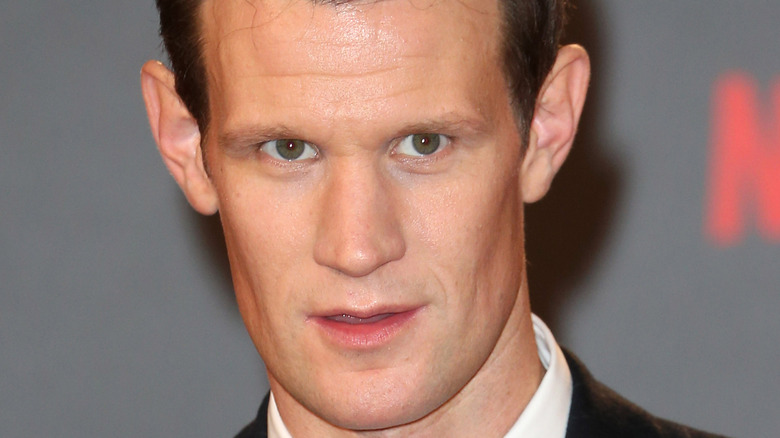 Cubankite/Shutterstock
Three years have passed since the ending of HBO's "Game of Thrones" series, which adapted the popular but brutal fantasy work of author George R.R. Martin. But the universe on which the show was based is returning on August 21, 2022, thanks to a prequel set 200 years before the events of the original series. "House of the Dragon" adapts Martin's novel "Dance of the Dragons." And there's no need to worry as the word "dragon" in the title isn't a false advertisement. The series promises to showcase an unbelievable amount of the fire-breathing creatures. "House of the Dragons" will also contain the healthy amount of backstabbing and battling the series is known for, as the show focuses on the civil war within House Targaryen.
"House of the Dragon" includes a familiar face for "Doctor Who" fans, as Matt Smith will star in the series as Prince Daemon Targaryen. Smith hasn't exactly had the easiest time filming the series, as the actor suffered a stunt injury on set. But that does suggest that we're going to see him brandishing a few weapons. "Game of Thrones" has some incredible weapons that would make good props to take home for any actor. Fortunately, Smith had the chance to take home such a prop but instead chose to give it away.
Smith gave away a knife and may have nicked a sword
In audio obtained by Looper during a special "House of the Dragon" news conference, Matt Smith showed his generous side by giving actor Emma D'Arcy, who plays Rhaenyra Targaryen, a gifted prop from the set. "I got given a knife, and I gave it to Emma actually, on like day one," Smith said. 
Usually, it's not uncommon for actors to take home special props from the films and television projects they worked on. But Smith giving away his prop to his co-star is a classy move. Still, that doesn't mean the actor didn't have his eyes on another bigger prize from the set. "...Then I nicked Dark Sister," the actor continued. "Dark Sister is in my lounge, yeah." Fans of "Game Of Thrones" should already be familiar with the legendary name of Dark Sister due to its significant lineage within the series. The sword is made of impressively sturdy and sharp Valriyan steel and originally belonged to Prince Daemon's great-aunt Visenya Targaryen. The sword got passed down through generations until it eventually reaches the hands of Daemon.
Smith is likely only kidding about stealing the fabled sword, but given its importance and fantastic look, no one would blame him for wanting to take it home. If it truly is in the actor's lounge, then at least Smith had better luck retrieving his sword than one "Game of Thrones" alum. Tormund Giantsbane, who was played by Kristofer Hivju, could be seen on "Game Of Thrones" wielding a sword that roughly looked like a cross between a large bowie knife and the gladius swords held by Roman soldiers. Although Hivju wanted to take the cool weapon home, he didn't quite get the chance. "[I]t's very dangerous, and I could have killed people with that if I had it in my home, so they took it away," Hivju said in an interview with Entertainment Weekly.
The ten-episode HBO Original drama HOUSE OF THE DRAGON debuts SUNDAY, AUGUST 21 at 9:00 p.m. ET/PT on HBO