An Unbelievable Amount Of Dragons Will Be Featured In House Of The Dragon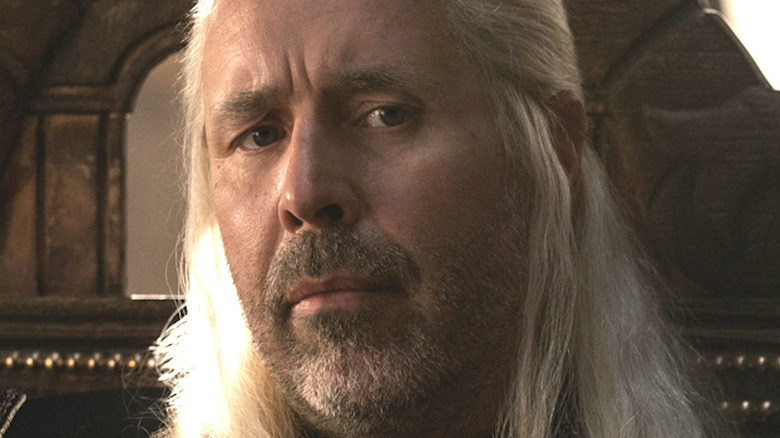 Ollie Upton/HBO
The world of "Game of Thrones" is ready to return to our screens with the new, improved, and uniquely different prequel series "House of the Dragon." Taking place 200 years before the original show, "House of the Dragon" will follow the build-up and breakout of civil war within House Targaryen, which is later known as the "Dance of the Dragons." Based on the 2018 George R.R. Martin novel "Fire & Blood," the series promises to deliver the same spirit of the hit HBO show it spawns from, with another "Game of Thrones" prequel pilot starring Naomi Watts getting scrapped as its creators felt it didn't reach the heights as the original (via The Hollywood Reporter). Hopefully, this is a sign that the show's creators are taking this enthralling next chapter with the utmost consideration for fans, especially after the backlash received by its now-infamous series finale. 
There's no doubt that the effort put into crafting the world of "House of the Dragon" is a tall task. However, one of the most surefire ways to keep audiences happy in a series with the word "dragon" in the title is to deliver a good few of the fire-breathing behemoths within the show, especially when they were so scarce in the parent series. Thankfully, the forthcoming HBO show plans to do just that — and even give fans more than they might be expecting.
Plenty of fire-breathers will be on display
In audio obtained by Jacob Hall of Static Media sister site /Film while in attendance at the "House of the Dragon" panel at San Diego Comic-Con 2022, showrunner Ryan Condal was asked about how the crew differentiated the personalities of the all of the dragons. He replied, "Well that was really important for the show because there are 17 of them at the height of this [period], so it was really important to differentiate them not only by the way they looked, but the way they acted and the way they bonded with their riders." Condal, a fan of George R.R. Martin's work, was offered the chance to helm the prequel series after befriending Martin (via The Hollywood Reporter). 
Martin's words were crucial in the creation of the show's plethora of dragons. "Of course, George, who writes very detailed books, gave us the gift of specifying color and size and age, so we really took all those things that are given to us in the book and tried to extrapolate them and add personality to them." Condal went on to mention dragons such as Styrax, Caraxes, Peraxes, and Vhagar as some of the beasts who will be flying back onto screen. And there is still more to come, as Condal also mentions that the team weren't able to fit every dragon into the first season, but believes fans will be pleased with what they see.    
"House of the Dragon" premieres on HBO Max on August 21.