House Of The Dragon Was Actually Inspired By Real Life Events
Ollie Upton/HBO
The upcoming "Game of Thrones" prequel "House of the Dragon" is one of the most highly-anticipated shows hitting television screens this summer. The series comes about three years after the ending of the first series, which is adapted from author George R.R. Martin's work and lasted eight seasons on HBO (although it went out on a sour note thanks to its series finale). Nevertheless, "Game of Thrones" is still reviewed highly by fans and critics as a whole (via Rotten Tomatoes) and has solidified itself as one of the most watched television series of all time (via Business Insider). 
If you recall, "Game of Thrones" follows what becomes a deadly battle for control over the Seven Kingdoms of Westeros, with the hallowed king tasked with ruling taking their place on the famed Iron Throne. While "House of the Dragon" will include much of the courtly intrigue and battlefield action last seen on its predecessor, the HBO program takes the story back just about two centuries to focus on House Targaryen. Obviously, this is because the Targaryen can control dragons with the power of their will, not to mention can walk through fire without a scratch.
As teased in the latest "House of the Dragon" trailer, there will be a familial battle for the Iron Throne within House Targaryen. Also, much like "Game of Thrones," the prequel was apparently inspired by historical events that make this fight to crown the right ruler all the more intriguing.
George R. R. Martin says House of the Dragon comes from The Anarchy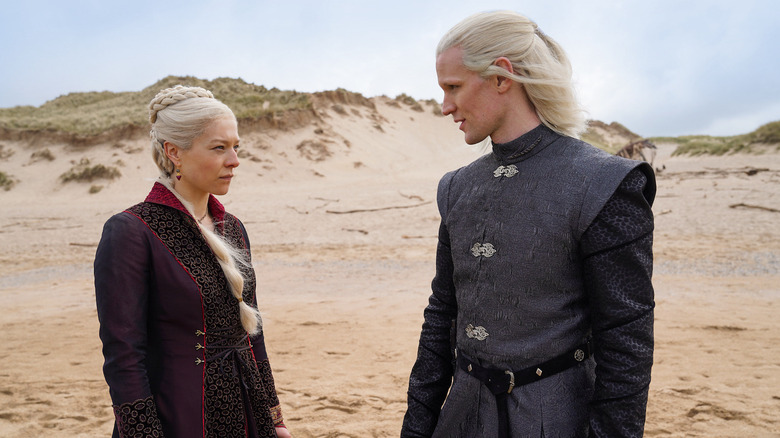 Ollie Upton/HBO
In the "House of the Dragon" panel attended by Jacob Hall, Jeremy Mathai, and Ryan Scott from Static Media sister site /Film at San Diego Comic-Con 2022, novelist George R. R. Martin was asked why Westeros is apprehensive to appoint female leaders. The question springs from Martin's fictional world, as well as the "House of the Dragon" trailers, where the women who are poised to take over (see: Emma d'Arcy's Rhaenyra Targaryen, Emilia Clarke's Daenerys Targaryen) have their claim to the throne threatened. Martin explained that, although this world he creates takes place in fiction, a lot of what happens is based on elements from history. "'Game of Thrones,' as many people observed, is based loosely on the Wars of the Roses. ['House of the Dragon'] is based on an earlier period of history called The Anarchy.
Martin then loosely explained the story of The Anarchy, which took place in England and Normandy and involves King Henry I losing his son and only heir in a drowning accident. He is then left with only his daughter, Matilda, to assume rule — but Henry's nephew, Stephen, has other plans and a civil war ensues (via Historic UK). While still on the question about Westeros being apprehensive toward female leaders, Martin continued that since this has been a common behavior in history, the show merely draws from that rather than Westeros being specifically way more sexist.
"House of the Dragon" is to premiere on August 21, and it already has a shot at a second season according to HBO Max chief content officer Casey Bloys (via Variety).