12 Best Shows What We Do In The Shadows Fans Need To Watch Next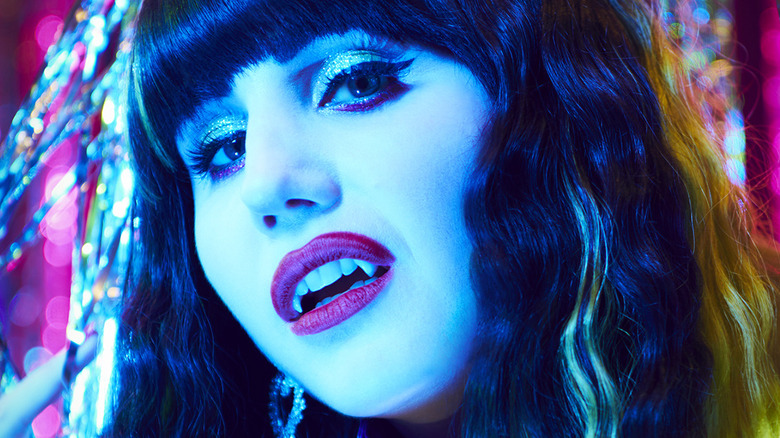 FX
The beauty of "What We Do in the Shadows" is how it presents the supernatural as totally ordinary. In its funniest moments, it takes the fantastical situations dictated by its premise and grounds them in recognizable human awkwardness and emotions. The mockumentary format allows the show to delve into the motivations and psychological dynamics between its four vampire roommates, and in doing so it makes the unrealistic completely relatable. Existing is boring, confusing, and causes social anxiety whether you're an energy vampire, a djinn, a familiar, or just a bystander.
Comedy is especially refreshing as the basis for a vampire series, because often fantasy stories have a self-serious tone that doesn't allow for anyone to crack jokes or say something self-conscious. A lot of media around the occult and supernatural has the gothic, maudlin tone of something like "Interview with the Vampire" or the multiple interpretations of "Dracula." "What We Do in the Shadows" has breathed fresh (after) life into the genre with its lighthearted tone and humane touch, even though it follows no-longer-human characters. If you need something to watch between episodes or during the long waits between seasons, there are plenty of other comedies that take a grounded look at legendary archetypes and premises. Here are the best comedies like "What We Do in the Shadows" you need to watch next.
Wellington Paranormal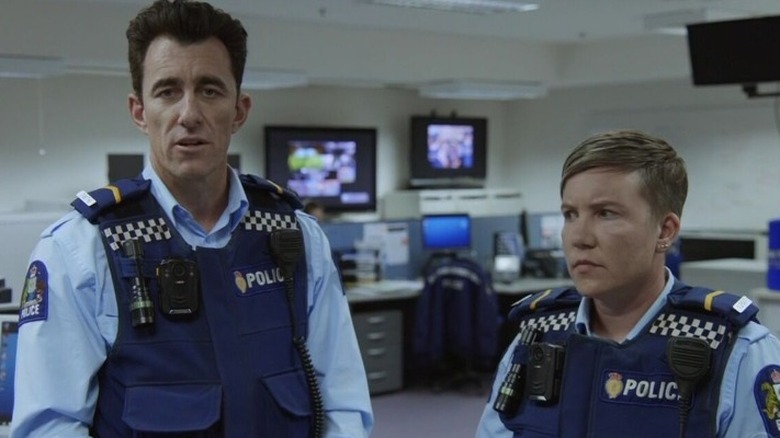 TVNZ 2
You might be surprised to learn that "What We Do in the Shadows" is in fact the second TV show to spin off from the movie of the same name. "Wellington Paranormal" focuses on Minogue and O'Leary, two local police constables who pop up in the original 2014 film at a couple of key moments to remind the vampires to install smoke detectors and to mistakenly blame a werewolf attack on a local pet dog. In their spinoff, they've been reassigned to a secret two-person unit they describe as "like 'The X-Files'" to focus on the now-undeniable amount of supernatural activity taking place in their precinct.
The charm of "Wellington Paranormal," like its sister show, is that Minogue and O'Leary remain their same implacably bumbling selves no matter what sort of demon, UFO, ghost, or whatever else they encounter. They plow ahead even though they're usually one step behind the mayhem, and their otherworldly suspects invariably end up escaping police custody. "Wellington Paranormal" was made in New Zealand, and even teamed up with the real New Zealand Police during the beginning of COVID-19 to create a series of helpful PSAs that had Minogue and O'Leary applying their resolute calm to the challenges of lockdown and social distancing.
Good Omens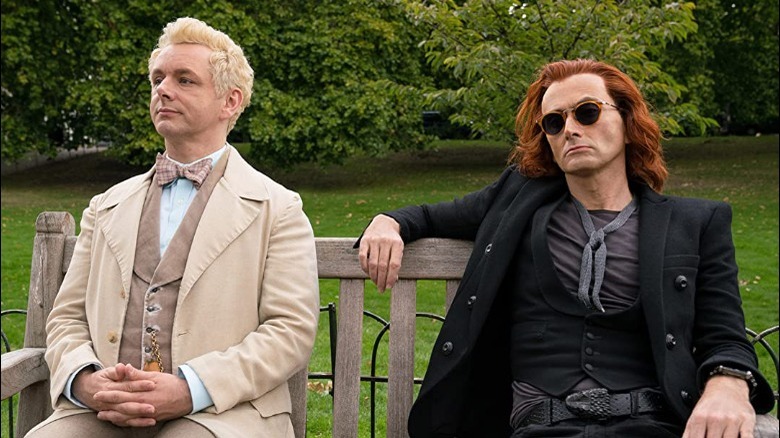 Amazon Prime
The immortal nature of vampires raises big questions about the afterlife and the soul that "What We Do in the Shadows" isn't particularly concerned with answering. For a more comprehensive comedic metaphysical tour, check out Amazon's adaptation of "Good Omens." Based on the cult favorite book by Neil Gaiman and Terry Pratchett, "Good Omens" uses the Bible as a jumping off point to tell a madcap story involving prophecy, witches, the Antichrist, and the apocalypse. It's anchored by two fabulous performances from Michael Sheen and David Tennant as an angel and demon who have walked among humanity since the dawn of time and gotten a little too invested in it to let things play out according to the "ineffable" divine plan.
"Good Omens" uses the backdrop of the world-shaking events laid out in the Book of Revelation, along with ideas about fate and free will, to examine how simple human affection can alter the course of even the most intractable and cosmic designs. The inciting incident for "Good Omens" involves the infant Antichrist being accidentally switched at birth and raised as a normal kid. Curiously, even though the first season got through the entirety of the novel, the show will return for a second season to tell an entirely new story.
Our Flag Means Death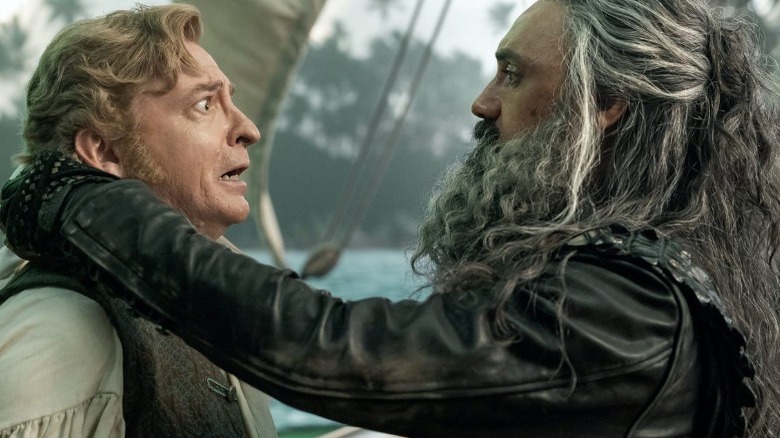 HBO Max
"Our Flag Means Death," co-starring "What We Do in the Shadows" co-creator Taika Waititi, is an empathetic and sensitive examination of the mythos of pirates. Rhys Darby plays the leading role of Stede Bonnet, a real-life swashbuckler known as the "Gentleman Pirate" because he turns away from a life as a moderately wealthy landowner in British colonial Barbados. Taking the barest facts of Bonnet's life and using them as a jumping-off point, "Our Flag Means Death" envisions Bonnet's ship as a place where the crew are paid a fair wage, get days off, and are regularly called together to talk about their feelings instead of bottling them up.
Waititi arrives midway through the first season to shake things up with his lithe and menacing portrayal of the infamous pirate Blackbeard, who befriended Bonnet in reality as well. In just one short season (with more on the way, thankfully), "Our Flag Means Death" has managed to examine masculinity in a completely new way by telling a fantastical story set against a repressed colonial backdrop. Its cast, though disproportionately male, is one of the most diverse on television, and it includes thoughtful notes that encompass modern subtexts like LGBTQ relationships and pronouns thoughtfully and without overstatement.
Santa Clarita Diet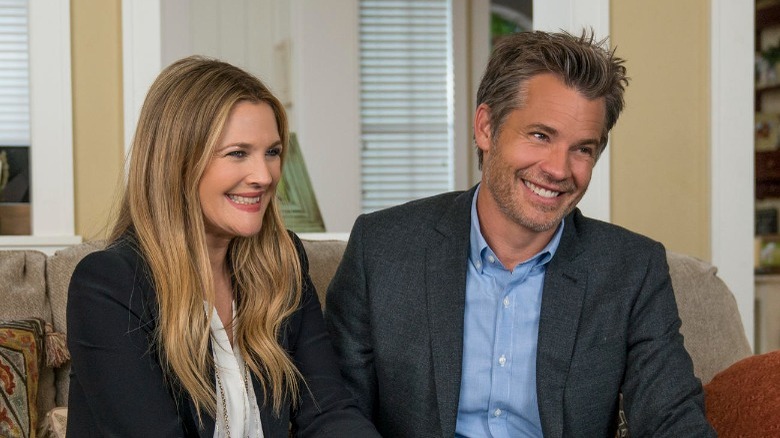 Netflix
"Santa Clarita Diet" is a comedy where long-time movie star Drew Barrymore plays Sheila Hammond — a suburban realtor, wife, and mother who turns into a zombie. The twist is she's a self-aware zombie who passes for alive and weighs the morality of eating people to survive. Created by Victor Fresco of the criminally underrated sitcom "Better Off Ted," "Santa Clarita Diet" ran for three seasons on Netflix, telling increasingly bonkers stories where bodies pile up alongside a slowly deepening and fascinating zombie mythology.
But the true highlight of the show is a long-awaited comedic showcase for co-star Timothy Olyphant, who plays Sheila's devoted still-human husband. After glimpses of his comedic potential in small roles in films like "Go" and "The Girl Next Door" followed by five seasons of gruff deadpan energy on "Justified," Olyphant gets to fully let loose in a big, broad comedy that features talking severed heads and a character very accurately referred to as "Mr. Ball-Legs." Liv Hewson of "Yellowjackets" and Skyler Gisondo of "The Righteous Gemstones" round out the main cast, and the show is full of recurring heavyweight guest stars like Andy Richter, Joel McHale, and Nathan Fillion.
Russian Doll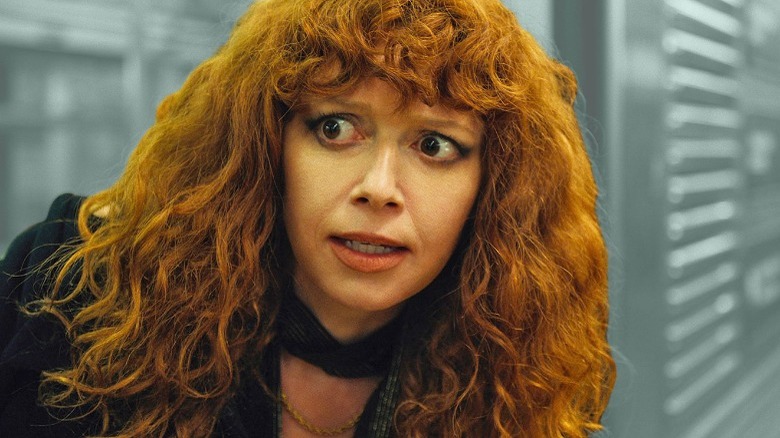 Netflix
Everyone loves time loop stories. In a way, movies like "Groundhog Day" and "Palm Springs" are some of the most relatable sci-fi tales, because they have everyday people reacting with reasonable concern, fear, and humor in the face of time itself restarting indefinitely. If you haven't seen "Russian Doll," its two seasons put a new spin on the time-loop formula that combines with the irascible personality of producer and star Natasha Lyonne to make it one of the most memorable takes on the genre.
In the first season, Lyonne's character Nadia is trapped reliving her 36th birthday party over and over, repeatedly dying inexplicable and hilarious "Final Destination"-style deaths that reset the loop. With each reset, the party becomes more sparsely attended and other details degrade. In a way, the first season is about Nadia reckoning with her mortality by being stuck in the same moment. The second season mixes it up even further and has Nadia stuck in her mother's body in the distant past, determined to set right events that altered her family's history. Throughout everything, Lyonne's vividly expressive face and crack comedic timing ground the show in real emotion, especially the emotion of frustration. Lyonne has a knack for performing totally earnest existential nightmare levels of frustration that are somehow still funny and charming for the folks watching on TV. 
Ghosts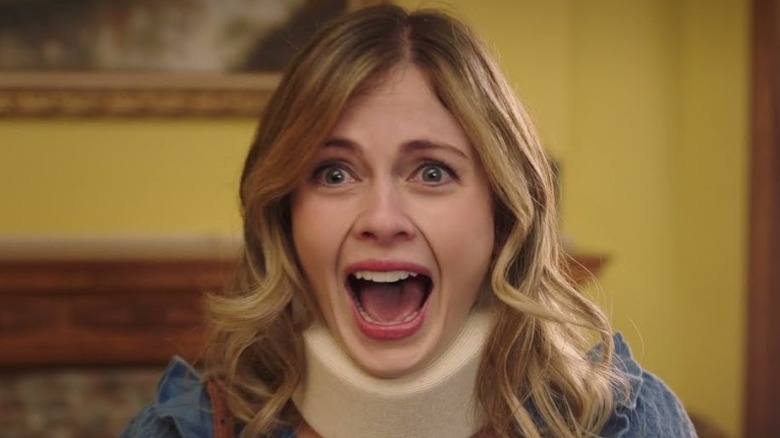 CBS
In many ghost stories, it's often just the most recent person or family that died on a property lingering around to haunt the premises. But since humans have been around for thousands and thousands of years, shouldn't any given stretch of land have dozens of ghosts on it? The CBS sitcom "Ghosts" imagines just this scenario. When a young couple inherits a huge estate, they find several generations of spirits remain on the grounds to cause trouble. The ghosts range from a 2000s-era frat-bro who died of an overdose to an ancient Viking who was struck by lightning on the future site of the mansion.
Conveniently, one of the young new owners has a near-death experience soon after moving in, which enables her to see and hear the ghosts. Instead of a standard haunting story, "Ghosts" concerns itself with helping the lingering spirits resolve the baggage they left behind in life, checking in on their loved ones, and occasionally helping solve the mystery of their deaths. There's also the British show of the same name, which the American "Ghosts" is based on, that has been running for three years of equally life-affirming, death-based humor.
Pushing Daisies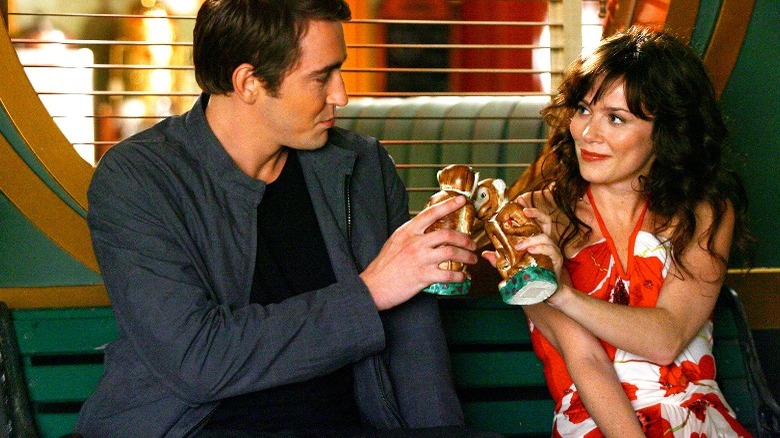 ABC
"Pushing Daisies" is a unique, fairytale-like story about pie, and also the dangers of reanimating the dead. Lee Pace played a baker with the ability to revive the deceased with just a touch, and to re-deadify them with another touch. It seems like a relatively useless skill, until he meets a private investigator, and they team up to solve recent murders. Complicating things, he's also brought his childhood sweetheart back to life after she was recently murdered, but he can never touch her again. As the story unfolds, the balance between murder mysteries and living life secretly back from the dead begins to take its toll on the "Pushing Daisies" gang.
"Pushing Daisies" is notable for its colorful production design and whimsical tone, as well as its short run as a result of low ratings and a first season handicapped by the 2007 writers' strike. But despite the farcical and fantastical tones, it mines real emotion from its characters, especially Broadway darling Kristin Chenoweth as a waitress hopelessly pining for Pace's character. Chenoweth and Ellen Greene, another Broadway veteran in the supporting cast, occasionally liven up "Pushing Daisies" with a musical number. 
Los Espookys
Thoroughly steeped in the oddball energy that makes "What We Do in the Shadows" so delightful, "Los Espookys" is a delightful reversal of the premise of "Scooby Doo" from co-creators and stars Julio Torres, Ana Fabrega, and Fred Armisen. In a fictional Latin American country steeped in the traditions of the theatrical and occult, a group of friends form a team for hire to provide horror where it's needed, staging things like hauntings and exorcisms for a populace very willing to suspend their disbelief. Their scheme-slash-business venture is ably financed by the fortune of Torres' character's family who run a chocolate empire.
"Los Espookys" is notable for a non-white cast and is almost entirely in Spanish with English subtitles. It is wordplay-heavy and is a wonderful showcase for the eccentric visual sensibility of Torres in particular, who gained viral fame as a writer of "Saturday Night Live" sketches like "Wells for Boys" and "Papyrus." The characters, farcical at first, all feel increasingly well-realized as their personal lives come to the fore as the show carries into the end of its first season. But the ghost-creating premise of the show is hilarious, as their business cards even have to specify: "We're not Ghostbusters... it's different."
Gravity Falls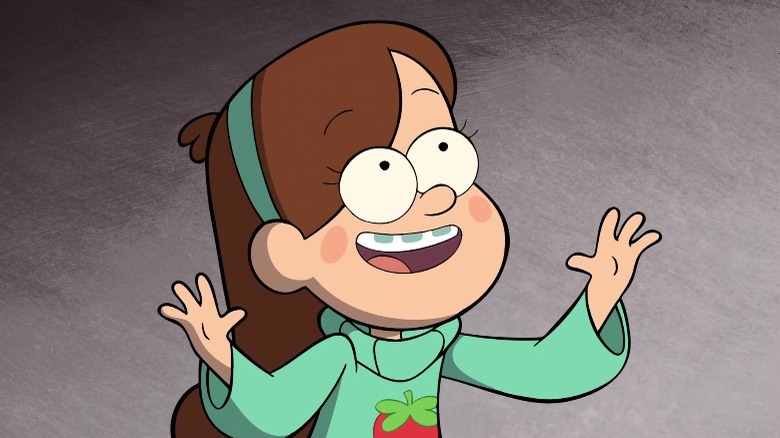 Disney+
If you're a fan of Kristen Schaal's work as The Guide in "What We Do in the Shadows," you can't miss her voice work as one of the lead roles in Disney's "Gravity Falls." A kids' cartoon that has a lot to offer adults, it's set in a town where Schaal's Mabel and her twin brother Dipper spend the summer investigating all manner of paranormal and unexplained phenomena. Think "The X-Files" by way of "Twin Peaks," but hilarious and Disney-approved (after a lengthy notation process).
Gravity Falls is home to ghosts, an evil time-devouring baby, interdimensional portals, zombies that turn out to be gnomes, and a whole lot more. In just two seasons, which is by his own words all creator Alex Hirsch wanted to make in spite of the show's good ratings and rabid fanbase, "Gravity Falls" tells a quippy and entertaining but thoughtful and deep story about growing up and delves into a surprisingly complex larger cosmology of the town and the history of the world at large. 
The Good Place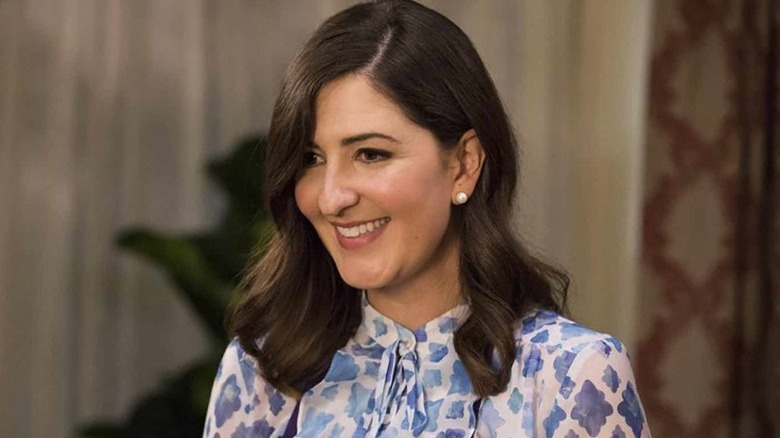 NBC
If "What We Do in the Shadows" is about reckoning with immortality, "The Good Place" is about the life everlasting, which is to say the afterlife. Kristen Bell stars as a decidedly bad person who dies and is surprised to find herself in the titular "good place" — a sort of bland, non-denominational version of heaven, Jannah, Valhalla, or whatever else you might call it. Like an eternal "Star Trek" holodeck, the good place provides everything you could need for eternity and has odd quirks like a chipper digital assistant named Janet played by the MVP of the show, D'Arcy Carden. When you try to curse in the good place, it comes out as anodyne replacement words like "fork" and "shirt."
Suspecting there's been a mix up, Bell's character begins a journey to becoming a good person that doubles as a crash course in philosophy and ethics over the course of the show. The first season ends with a spectacular twist that upends the entire premise, which is rare to pull off in the internet age — seriously, go blitz through it now if you haven't already heard what it is. Eventually over the course of its four seasons, "The Good Place" tells a comprehensive and thoughtfully funny story about what it means to have a soul, which isn't standard NBC sitcom fodder to say the least.
Miracle Workers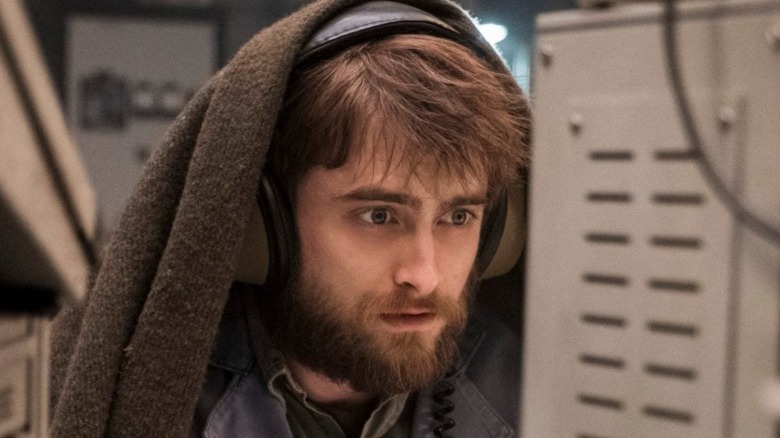 TBS
"Miracle Workers" is three different shows for the price of one, which is to say it's a comedy anthology. Like "True Detective" or "American Horror Story," it has a different premise each year. The first season explores the drudgery for low-level angels in heaven's prayer-answering department; the second goes back to the Middle Ages, and the third hops over to America to tell a story about the Oregon Trail. At times, the anthology format and the kooky, farcical tone of the show evokes classic British comedies like "Blackadder" or "Jeeves & Wooster."
The true highlight of the show is its cast, headed up by Harry Potter himself, Daniel Radcliffe, and quintessential character actor Steve Buscemi. Each have had successful comedic roles in the past, but nothing like three seasons (and counting) to play a wildly different role in each. Even after series creator Simon Rich's long success as a "Saturday Night Live" writer and the creator of "Man Seeking Woman," "Miracle Workers" has flown under the radar on TBS as one of the best and most inventive comedies on the airwaves.
Ash vs Evil Dead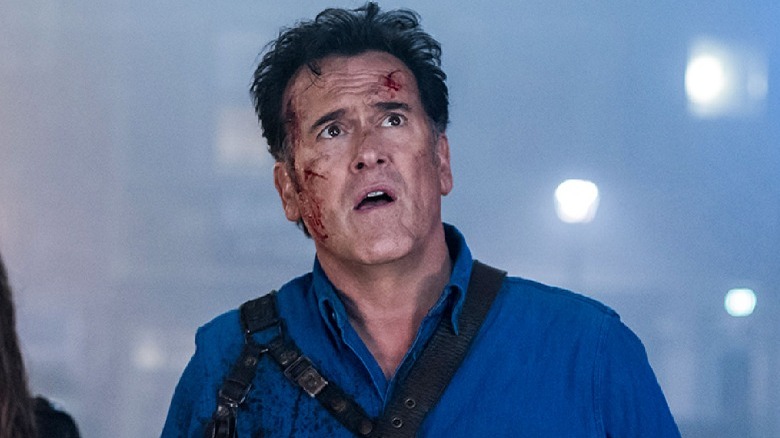 Starz
No matter how many wise-cracking CIA agents ("Burn Notice") or wise-cracking businessmen ("Lodge 49") Bruce Campbell plays over the course of his long career, he'll always be the wise-cracking Ash from "The Evil Dead" and its sequels. In 2015, he returned to his iconic character for "Ash vs Evil Dead," which ran for three delightful seasons on the Starz network. Despite becoming middle-aged like the actor himself, Ash remains cursed ever since he read from the Necronomicon in the first film decades ago. As was inevitable, Ash gets dragged back into his eternal fight with the undead.
Director Sam Raimi returns as a producer, and "Ash vs Evil Dead" delivers the basics the franchise is well-known for: witty and self-aware humor, an enthusiastic embrace of the genre, and absolutely ludicrous amounts of gore and practical creature effects. It delves into Ash's arrested development a little bit, as the series opens with him as a 50-something stockboy who has stalled in life since his action hero days, but it's mostly an excuse to get the gang back together and stick to the basics. "Evil Dead" fans rejoice.