David Warner's Last Big Role Before His Devastating Death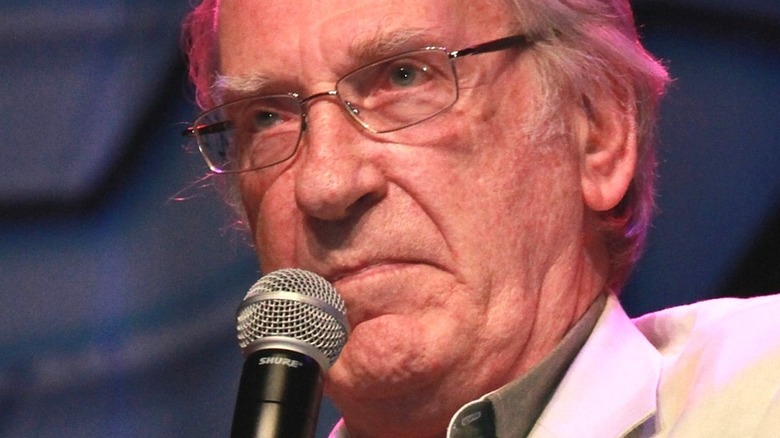 Michael Ochs Archives/Getty Images
As confirmed to the BBC in a statement from his family, it was announced earlier today that legendary English actor David Warner had passed away from a cancer-related illness. Dead at the age of 80, Warner has left behind an impressive cinematic legacy that will continue to inspire thespians and cinephiles for generations to come. The Manchester native began his career on the stage before moving onto the silver screen with 1963's "Tom Jones."
It wasn't until 1982 that he received considerable attention for his appearance in Disney's "Tron." Warner portrayed Ed Dillinger, Kevin Flynn's (Jeff Bridges) rival. He also appeared as Sark, a villainous program that exists within the virtual world. Shortly after, Warner was also in the running for the role of Freddy Kruger in "A Nightmare on Elm Street." 
As the '80s wrapped up, Warner appeared in "Star Trek V: The Final Frontier" as St. John Talbot, his first of three appearances in the franchise as unrelated characters. The '90s saw Warner appear in "Star Trek VI: The Undiscovered Country" and "Star Trek: The Next Generation." Despite multiple appearances, Warner revealed in 2008 to Den of Geek that he had never been invited to any fan conventions. That changed in 2011 when StarTrek.com revealed that Warner was a guest at Creation Entertainment's Official 45th Anniversary Star Trek convention, proving that the character actor was finally considered "Star Trek" royalty.
Over his career, Warner created several memorable characters in various genres, but his final cinematic role notably saw him breathe new life into a beloved character.
David Warner's major final role was playing an eccentric naval officer in Mary Poppins Returns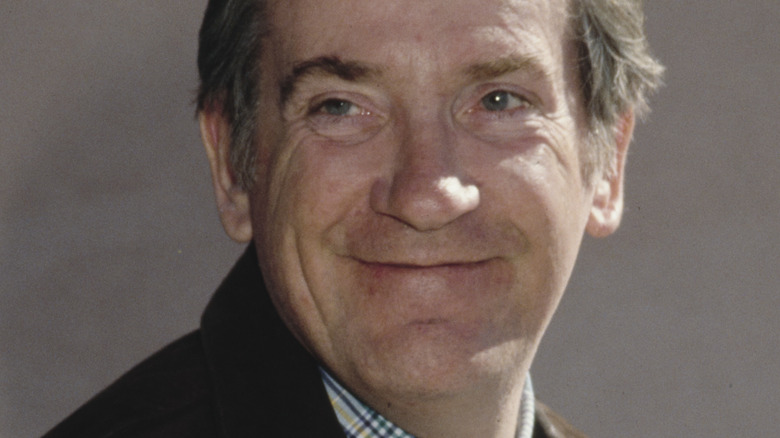 Michael Ochs Archives/Getty Images
In 2018, Walt Disney Pictures recruited "The Devil Wears Prada" star Emily Blunt and "Into the Woods" director Rob Marshall for the long-awaited sequel to "Mary Poppins." Titled "Mary Poppins Returns," the film saw Blunt step into the titular role, replacing Julie Andrews, who originated the role in the '60s. In the sequel, David Warner played Admiral Boom, a retired but eccentric naval officer. Boom is often seen with his sidekick, the retired and subservient seaman Mr. Binnacle (Jim Norton). In the original "Mary Poppins," Boom and Binnacle were portrayed by Reginald Owen and David Warner, respectively.
Admiral Boom and Mr. Binnacle, practically attached to the hip, live together, just a short distance from the Banks family. The duo appears sparingly in the sequel, which is set 25 years later. While speaking with The AV Club before the film's release, the late Warner admitted that he hadn't seen the original Disney classic during its initial run. "It wasn't a film I rushed out to see when it first came out," Warner revealed. "I was quite busy in the '60s, and one of the last things on my agenda was going to see 'Mary Poppins.'" As we know from Warner's rise in the '60s,  we can't fault him for not wanting to see the film when his own career was starting. Though Warner expressed how "nobody remembers [my] character at all when I mention it," the role of Admiral Bloom is now cemented as the great actor's final cinematic role.