The Devastating Death Of Genre Legend David Warner
One man was one of the biggest threats on The Grid, a feared enemy to Batman, and a doting father to Superman — all after, at one point, being literal Evil. Sadly, though, this day marks the loss of the incredible talent behind all of those fantastic benchmarks.
Today, news broke that British actor David Warner has passed away. He was 80 years old. As confirmed to the BBC in a statement from Warner's family, the actor died on Sunday after succumbing to a cancer-related illness. They said, "Over the past 18 months, he approached his diagnosis with a characteristic grace and dignity."
Boasting a credit list consisting of some of the most cherished sci-fi and fantasy-filled stories in history, Warner stretched his talent across movies, television, and radio throughout his career. On the big screen, he faced off against the spawn of Satan in the 1976 classic "The Omen" (and lost) and brought his own version of Evil to life in Terry Gilliam's beloved family film, "Time Bandits" in 1981. One of his most impressive efforts was in the following year, appearing in the timeless "Tron" as Ed Dillinger in the real world before installing into the Grid as Sark and voicing his Kool-Aid-looking AI boss, the MCP. It may have been a big feat for Warner at the time, but in the years that followed, the Manchester-born actor would go on to appear in some of the most iconic franchises in pop culture history — sometimes in multiple roles.
David Warner shared the screen with two Star Trek captains, and a Superman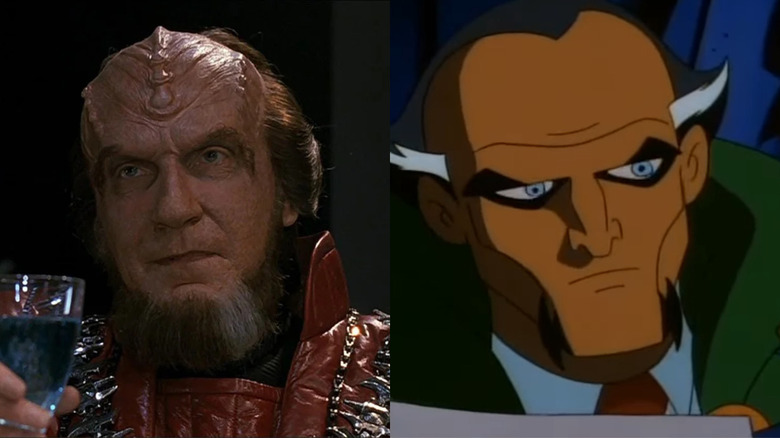 Paramount Pictures/Warner Bros. Animation
If those landmark appearances weren't enough, Warner appeared in an incredible three seperate roles in the "Star Trek" franchise, as well. Firstly, he was St. John Talbot in "Star Trek V: The Final Frontier" and then in "Star Trek VI: The Undiscovered Country" he appeared as the short-lived Klingon Chancellor Gorkon. Not content with getting one Enterprise in his sights, he also appeared as Madred, a Cardassian interrogator of Captain Jean-Luc Picard (Patrick Stewart) in "Star Trek: The Next Generation."  In an interview from 2011 via StarTrek.com, Warner recalled that besides working with his "old colleague Pat Stewart," he admitted that he wasn't as up to date with his alien species that time around. "I wasn't aware of it, of the Cardassians. I didn't know their history at all, except of course, that they weren't very nice."
His iconic English rasp made him a revered talent to appear in the DC universe, too. Besides lending his voice as Ra's Al Ghul opposite Kevin Conroy in "Batman: The Animated Series," he also played Kal-El's stoic Kryptonian father, Jor-El in "The New Adventures of Superman." His last live-action performance was at an impressive 77 years old as Admiral Boom in "Mary Poppins Returns."
The statement received by the BBC continued, "He will be missed hugely by us, his family and friends, and remembered as a kind-hearted, generous and compassionate man, partner and father, whose legacy of extraordinary work has touched the lives of so many over the years. We are heartbroken."