Julie Andrews' Best Movie And TV Roles Of All Time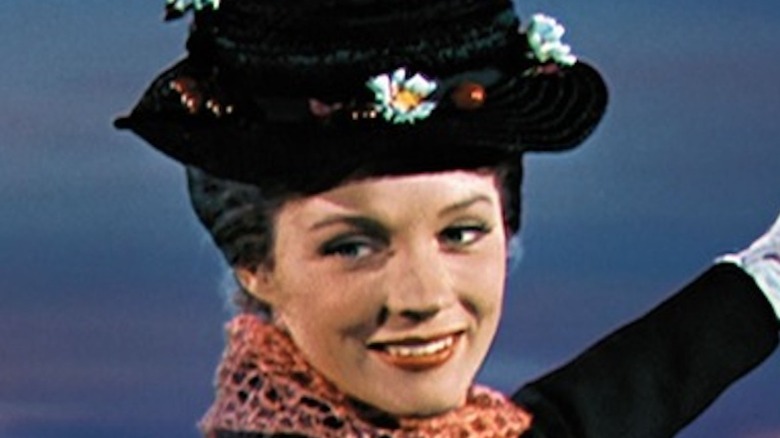 Disney
Few stars shine brighter than Julie Andrews. The actress has an extraordinary legacy, and since her film debut in 1964 with "Mary Poppins," Andrews has continuously appeared in both television and film. While the late stages of her career have largely involved voice acting, as we see in "Despicable Me 3" and "Shrek Forever After," seeing Julie Andrews' name in a film or show's marketing is more than enough to attract musical fans of all ages.
Andrews is no stranger to iconic roles, but she has also starred in a number of interesting, underrated films over her nearly 60-year acting career. While she is best known for starring in musicals like "The Sound of Music" and "Thoroughly Modern Millie," Andrews has also been in thrillers, historical epics, dramas, and comedies, and her work exhibits a remarkable range. In honor of a rich and extraordinary career, we've compiled Julie Andrews' best movie and TV roles of all time.
Mary Poppins (1964)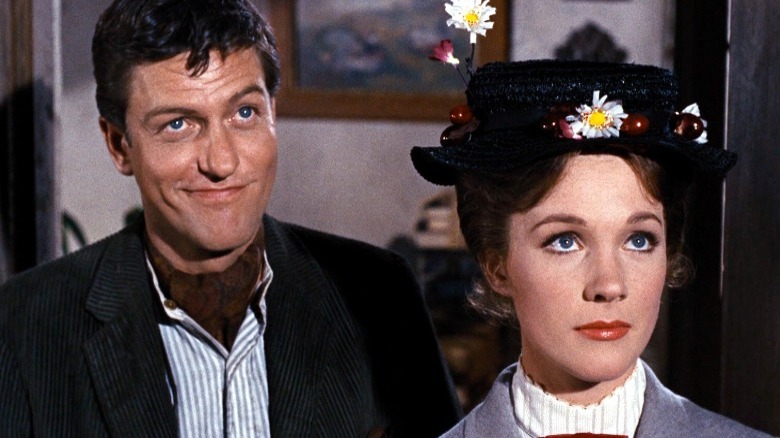 Disney
Now, this is how you announce yourself to the world: Julie Andrews' first-ever feature film role came as the titular nanny in the 1964 Disney classic "Mary Poppins." Andrews had been in a few TV movies including "Cinderella" and "The Gentle Flame" and had a promising career on Broadway before being discovered by Disney. In the film, two parents are in the process of hiring a nanny for their troublemaking children, and they choose Mary Poppins (Andrews), a majestic figure who spreads an irrepressible joy (all with a nice dash of deadpan).
Andrews' portrayal of Mary Poppins is divine. As Josh Spiegel for /Film explains, "Julie Andrews wasn't just playing a practically perfect character; everything about her performance suggested unqualified perfection." She is so effortlessly charming and joyful that you can't help but be completely swept up the moment she starts speaking.
Then there are the songs, which Andrews sings perfectly, exuding exceptional range. Her musicality never gets in the way of her performance and, in fact, only enhances it. Whether she's performing "Spoonful of Sugar" or "Supercalifragilisticexpialidocious," there's simply no taking your eyes off of Andrews. It's no wonder the role earned her very first Academy Award nomination and win for the unforgettable performance that would solidify her loveable star image forever.
The Sound of Music (1965)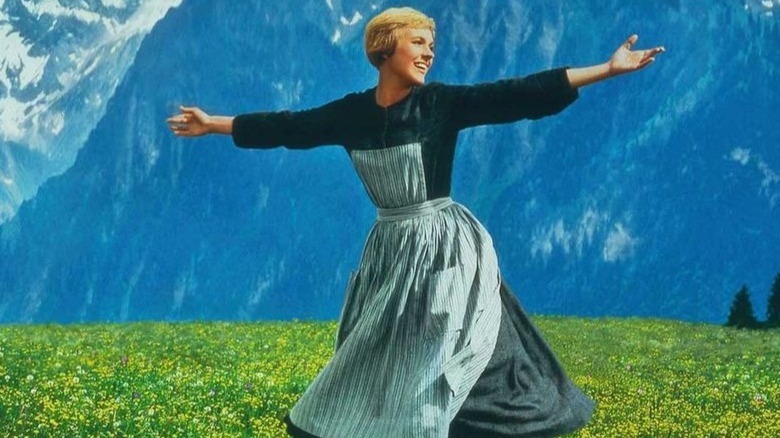 20th Century Fox
One year after "Mary Poppins," Andrews returned to the musical genre with Robert Wise's 1965 film, "The Sound of Music." Andrews stars as the indomitable Maria, a governess who falls for Captain Von Trapp (Christopher Plummer), joining his family just in time for them to escape the rise of the Nazi party in Austria. She would earn her second Oscar nomination for her work as Maria. The film itself is one of the most financially successful films of all time — when adjusting for inflation, "The Sound of Music" is the sixth highest-grossing movie ever.
Andrews brings her trademark charm and likeability to the headstrong Maria (there is an entire song, "Maria," about how the nuns struggle to keep her in check). Few images have endured in cinematic history like Maria running through the mountains of Salzburg while singing the now-familiar lyrics, "The hills are alive with the sound of music."
Torn Curtain (1966)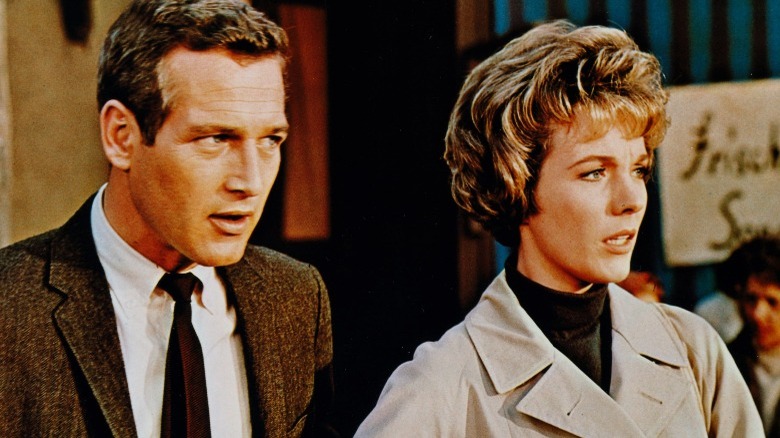 Universal Pictures
Andrews' next role was a bit of a surprise, as she would change things up by working with the master of suspense himself, Alfred Hitchock, in 1966's "Torn Curtain." Andrews stars as Sarah Sherman, the assistant and fiancée of Michael Armstrong (Paul Newman), an American physicist traveling to a conference in Copenhagen. Once there, Armstrong tells Sherman he has to go to Stockholm, but she discovers he is actually headed to East Berlin to defect, and bravely decides to follow him. As the film takes place during the high tensions of the Cold War, this is no small thing: If she stays with him, she may never be able to go home or see her family ever again.
While "Torn Curtain" is considered one of Hitchcock's lesser films, and the chemistry between Newman and Andrews is somewhat lacking, Andrews still delivers an excellent performance. It's an important reminder that Andrews can do a lot more than sing and dance, and her prickly portrayal of a woman in crisis who refuses to back down from an impossible situation is hugely memorable.
Thoroughly Modern Millie (1967)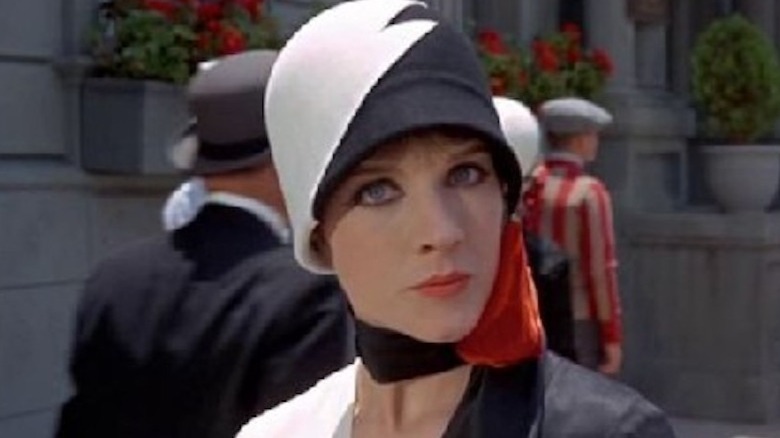 Universal Pictures
After starring alongside Max von Sydow in the epic "Hawaii," Andrews made her grand return to the movie musical with 1967's "Thoroughly Modern Millie," a gleeful parody of the 1920s. Andrews stars alongside comic geniuses Mary Tyler Moore and Carol Channing, as well as James Fox, John Gavin, and Beatrice Lillie. Directed by George Roy Hill ("The Sting") and written by Richard Morris, the film stars Andrews as Millie Dillmount, a naive flapper girl in New York City. She has a definitive goal — she wants to get a job as a stenographer for a wealthy and successful businessman and marry him, which Millie considers a "thoroughly modern" ambition. Despite her naivety, Millie is a layered character, and even manages to stop a slavery ring from selling young women into indentured servitude!
Andrews shines in a film that never takes itself too seriously, and her performance is full of glorious comedy. Bosley Crowther of The New York Times said of Andrews' performance: she "is absolutely darling — deliciously spirited and dry...she knows how to right the right expressions of maidenly surprise and dismay, the right taps in a flow of nimble dances, and the right notes in a flood of icky songs."
Star! (1968)
20th Century Fox
While Andrews was a massive box office star in the 1960s, her streak of financial successes came to a screeching halt with 1968's "Star!" The film had a huge $14 million budget but just made $4 million at the box office, a disappointment by any definition. In the book "The Fox That Got Away: The Last Days of the Zanuck Dynasty at Twentieth Century-Fox," Stephen Silverman notes that "Star!" lost the studio an estimated $15 million.
Despite its commercial failure, Andrews shines bright in the film. The 175-minute musical biopic features Andrews as British performer Gertrude Lawrence, best known for her stage roles in London and New York. Andrews showcases a remarkable range in a film that spans multiple decades. When she's with her daughter (Jenny Agutter), she is poignant, while moments with her various love interests are far more comedic. "Star!" is a delightful gem, with great music, choreography, and costuming, all anchored by a standout turn from Julie Andrews. Her shining moment comes in the long musical number "The Saga of Jenny," which Andrews performs with stunning brilliance.
10 (1979)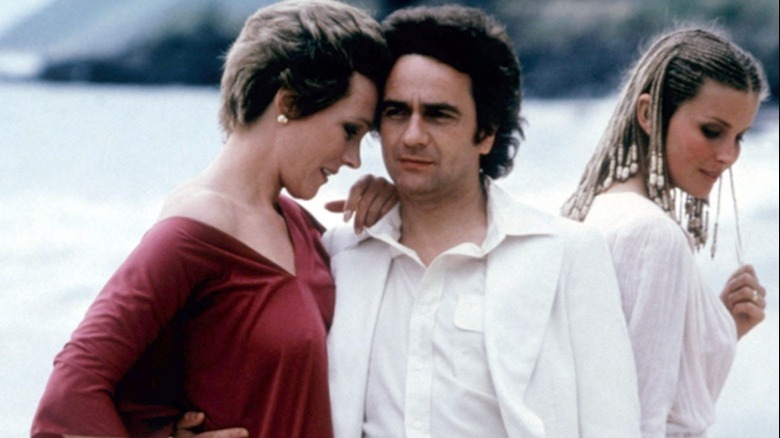 Orion Pictures
After the brutal financial results for both "Star!" in 1968 and "Darling Lili" in 1970, Andrews took a break from cinema, and didn't return to the silver screen until 1974, when she starred alongside Omar Sharif in "The Tamarind Seed." Andrews put together a string of strong performances in her minimal appearances during the '70s, but her finest work of the decade can be found in "10."
The film, which was written and directed by Andrews' husband Blake Edwards, is a satire about a Hollywood composer who, struggling with a midlife crisis, becomes obsessed with an attractive, newly married woman. George Webber (Dudley Moore) has it all: great success, and a beautiful girlfriend Samantha (Andrews) who loves him dearly. However, on his 42nd birthday, he realizes that he's deeply unsatisfied for reasons he can't understand, and happens upon a bride about to be married named Jenny (Bo Derek), with whom he becomes completely infatuated.
As Samantha, Andrews shows off great comedic timing in a role with much more adult content than in films like "Mary Poppins" and "The Sound of Music." It's hard to imagine Julie Andrews flipping anyone off or cursing, but in "10" it feels completely believable (and earned). Samantha's increasing frustration with her husband is delightful to watch, and Andrews showcases a great wit and no-nonsense attitude.
S.O.B. (1981)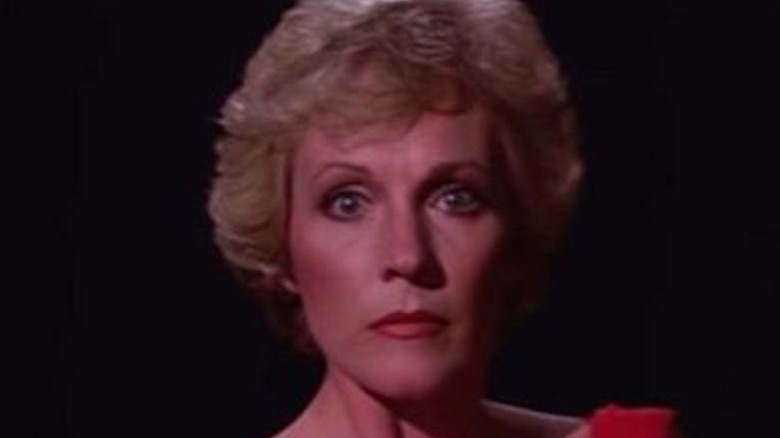 Lorimar Productions
Once again working with her husband, writer-director Blake Edwards, "S.O.B." is a black comedy that offers a scathing critique of the Hollywood filmmaking process. Andrews stars in the film alongside an outstanding ensemble cast that includes Richard Mulligan, Shelley Winters, Robert Webber, Robert Preston, Larry Hagman, and William Holden.
Andrews plays Sally Miles, the wife of Felix Farmer (Mulligan), a hugely successful film producer. When Farmer finally makes a box office flop, it causes him to lose his grip on reality. Miles is a superstar in her own right, with a pristine image in Hollywood, and an Oscar to her name. Her husband convinces her to star in a bold new film in order to save his reputation – a soft-core pornographic musical that requires Miles to appear topless, threatening to derail her squeaky clean image.
"S.O.B" shocked audiences as Julie Andrews does, in fact, appear topless in the film (or rather, the film within the film). It clearly has autobiographical elements for the real-life Edwards and Andrews, who is, of course, an Oscar-winning actress with a wholesome image. Andrews is brilliant in a role that challenges all preconceived notions of the actress — watching her on drugs giggling while saying "I'm gonna show my boobies" is a truly surreal experience.
Victor/Victoria (1982)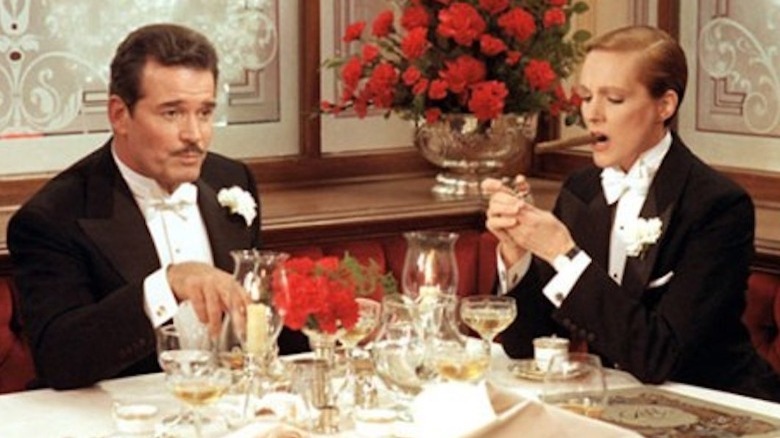 Metro-Goldwyn-Mayer
Edwards and Andrews would continue their professional partnership after "S.O.B.," collaborating once more as they returned to the musical genre that launched Andrews' extraordinary career with "Victor/Victoria."
Andrews' performance is nuanced and richly layered, as she plays a destitute woman named Victoria Grant. She meets Carol Todd (Robert Preston), who convinces her to become a female impersonator in the nightclubs of Paris. The only problem is, Victoria is already a woman. So, Victoria becomes Victor, keeping her identity secret from her co-workers and nightclub owner Marchand (James Garner). Andrews playing a woman posing as a man impersonating a woman is rather absurd, but she manages a seemingly impossible task and makes it feel believable. It's a complicated role that allows Andrews to shine in both comedic and dramatic moments, and "Victor/Victoria" is a fantastic showcase of her endless talents. The film would earn Andrews her third and final Oscar nomination.
That's Life! (1986)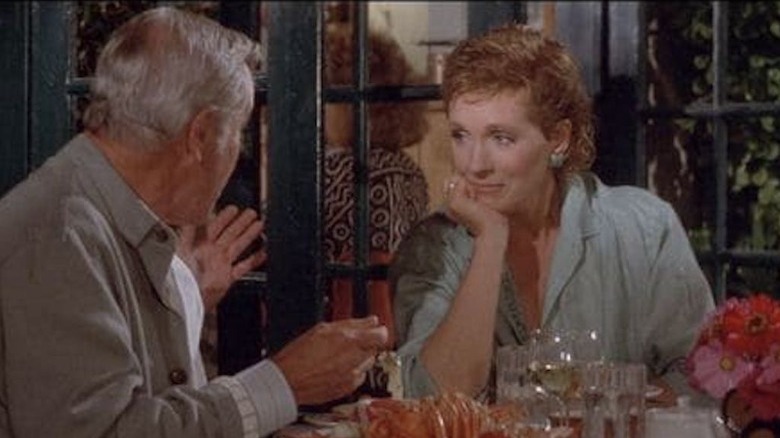 Blake Edwards Entertainment
Continuing her work with beloved husband Blake Edwards, Andrews shines in a difficult dramatic role in 1986's "That's Life!" Over the years, she starred in a considerable number of films playing the frustrated partner of a struggling man, as we see in "10" and "S.O.B." Here, she plays Gillian Fairchild, a famous singer and the matriarch of the Fairchild family preparing to celebrate the 60th birthday of her husband Harvey (Jack Lemmon).
The film is deeply intimate, and even features Julie and Blake's own children, Jennifer Edwards and Emma Walton Hamilton, in small roles. Perhaps that's why Andrews delivers such a memorable performance. As her husband has an existential crisis over turning 60, Gillian is dealing with something far more serious: a potential cancer diagnosis. She keeps the information a secret, so as to not derail the birthday celebrations, but you can feel the worry and concern underneath Gillian's cheery persona.
Our Sons (1991)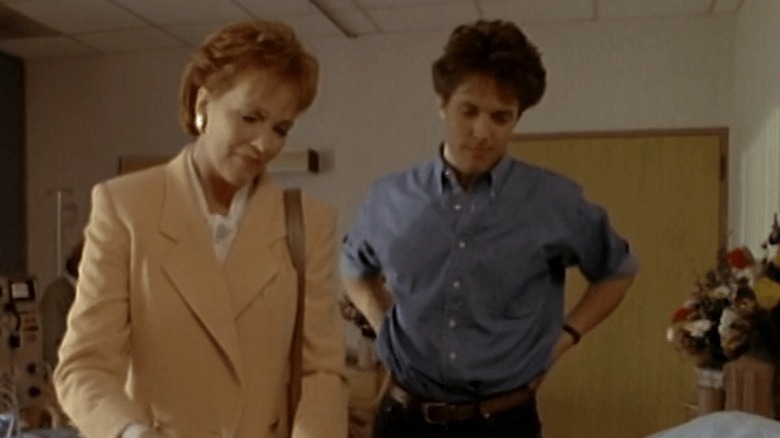 ABC
Julie Andrews shines brightly in the TV movie "Our Sons," a heartbreaking drama set amongst the AIDS crisis. Donald (Zeljko Ivanek) is suffering from AIDS and living out his last days in a hospital in San Diego. His partner James (Hugh Grant) informs his mother, a powerful businesswoman named Audrey (Andrews), of the devastating news, and the mother and son duo head to Arkansas to find Donald's homophobic mother Luanne (Ann-Margret).
As Audrey, Andrews is a tremendous force: She tries to support her son on his heartbreaking quest, while also struggling to accept his sexuality. In a pivotal scene, Audrey meets Luanne at her home to talk about Donald. Luanne initially denies the existence of her son, but Audrey delivers a heartbreaking speech explaining that her son is dying, shouting, "It's your child, he's dying. What does it matter what he's dying of?" She is disgusted by Luanne's casual reaction, but at the same time, she is not without opportunities to evolve, since she has a difficult time even saying out loud that her son is in a relationship with Donald.
The Princess Diaries (2001) & Princess Diaries 2: Royal Engagement (2004)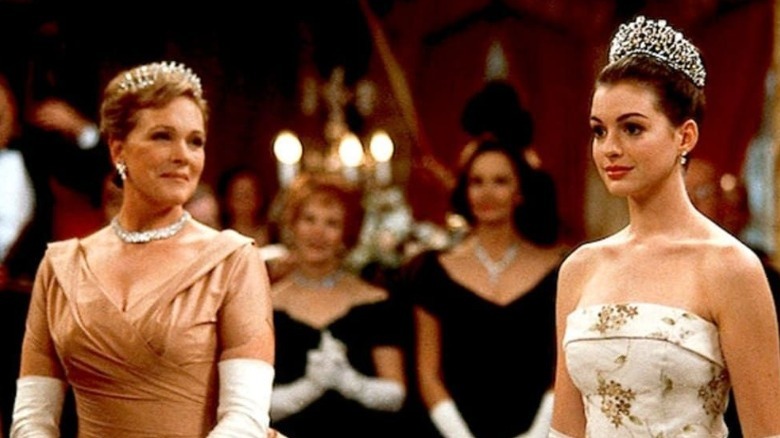 Disney
Julie Andrews stopped acting for a long time during the 1990s. In 1997, she had surgery on her vocal cords, but there were complications, resulting in the loss of her four-octave singing range. Andrews came back with a bang in 2001, however, with "The Princess Diaries," a film that recalls the immense charm of her earliest films, "Mary Poppins" and "The Sound of Music."
In Garry Marshall's "The Princess Diaries," Andrews plays Clarice, queen of the fictional European country of Genovia, and Mia's (Anne Hathaway) estranged grandmother. She imparts great wisdom to Mia, teaching her how to be a princess to prepare her for the decision of whether to accept her royal Genovian birthright. Andrews also reprises her role in "Princess Diaries 2: Royal Engagement," which takes place five years after the events of the first film: Mia returns to Genovia after graduation from Princeton, and prepares to begin her reign as Queen after Clarice.
Julie's Greenroom (2017)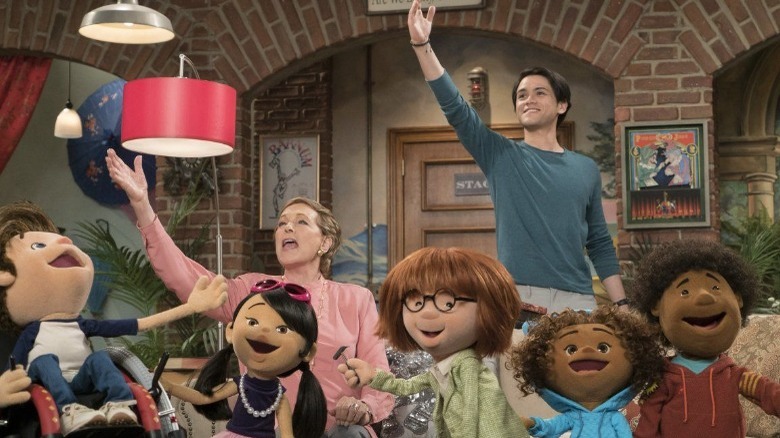 Netflix
In the Netflix series "Julie's Greenroom," Julie Andrews doesn't really act so much as she does play with her own legacy as a wholesome icon. Andrews stars as Miss Julie, the director of the Wellspring Center for the Performing Arts. There, she teaches a group of children all about the glory and excitement of the theater. The show features an incredible bevy of guest stars, including but not limited to Ellie Kemper, Idina Menzel, David Hyde Pierce, Alec Baldwin, Sara Bareilles, Tituss Burgess, Josh Groban, and Carol Burnett.
There's something moving about watching Julie Andrews speak of the magic of theater and performance. Various episodes teach kids how to write shows, explain the intricacies of singing, and provide lessons in acting, songwriting, improv, and more. Over the series, the kids work together to create their own musical, and Andrews' endless charm, patience, and joy make it some of her finest work.
Bridgerton (2020)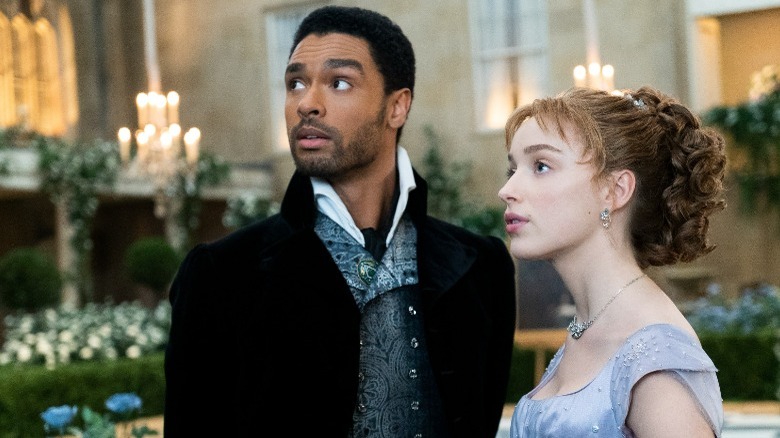 Netflix
One of Julie Andrews' most exciting roles is one where you never even see the actress — she provides the delicious narration at the core of one of Netflix's biggest shows, Shonda Rhimes' "Bridgerton." Andrews voices the mysterious Lady Whistledown, who continuously shakes up London's elite with a newsletter rife with scandalous accusations. She proves yet again that she's not just a great physical actress, but that her voice can do extraordinary things: She positively devours each and every word, creating an air of drama and suspense that allows "Bridgerton" to thrive.
The show is a huge hit, once again showcasing Andrews' undeniable success rate: "Bridgerton" was watched for approximately 625 million hours in its first 28 days. All we can really hope for is that Andrews returns as the narrator in the show's upcoming second season, so that we can continue to hear her throw Victorian shade like no one's business.