The Real Reason Hugh Grant Joined Dungeons & Dragons: Honor Among Thieves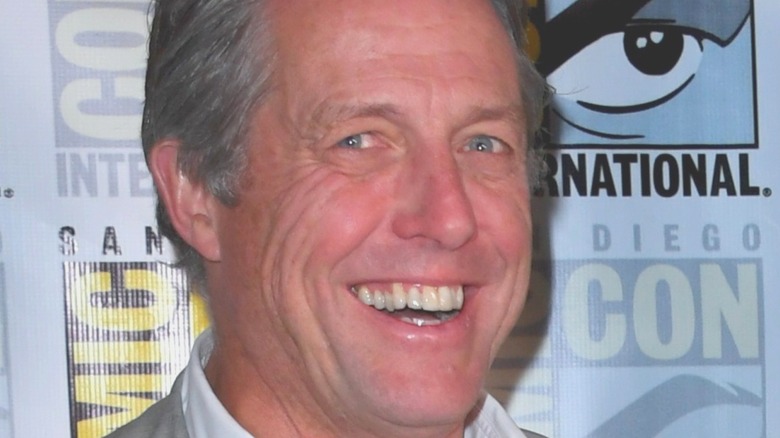 Albert L. Ortega/Getty Images
When "Dungeons & Dragons: Honor Among Thieves" comes out in 2023, moviegoers are going to be treated to one of the most star-studded fantasy adventure comedies in Hollywood history, capped off by what many expect to be a deliciously entertaining performance from Hugh Grant as the film's main baddie. But why would an acting legend such as himself be interested in doing a project like this? 
Sure, it could be Grant's self-described love for playing movie villains, with him describing the appeal in a 2020 interview with CinemaBlend while promoting Guy Ritchie's "The Gentleman," in which he played the morally slimy Fletcher character. "It is cathartic," Grant said. "It's more fun playing baddies. And easier." But that's actually not the main reason why "The Man from U.N.C.L.E" and "Bridget Jones's Diary" star chose to appear in "Dungeons & Dragons: Honor Among Thieves" alongside Chris Pine, Michelle Rodriguez, Regé-Jean Page, Justice Smith, and Sophia Lillis. What really drew Grant to the role-playing board game adaptation was how it resembled one of his favorite movie and comedy franchises.
The script for Dungeons & Dragons: Honor Among Thieves reminded Grant of Monty Python
According to Hugh Grant, the main thing that attracted him to "Dungeons & Dragons: Honor Among Thieves" was the film's script, which gave him major "Monty Python" vibes. "I found the script incredibly funny," Grant said during a July 21 "D&D" media panel at San Diego Comic-Con. "I hate all scripts," the actor added. "I'm notoriously negative. And to my astonishment, I was sent this thing which really made me laugh. I thought it had a real 'Monty Python' vibe to it ... That was the main thing." 
Back in the 1970s and 1980s, Monty Python was a British comedy group that became a global phenomenon in the world of television and movies, with hits like 1975's "Monty Python and the Holy Grail" and 1979's "Life of Brian." Their films were famous for poking fun at real-life issues and human themes under the guise of a surrealist fantasy flick. For Grant, "Dungeons & Dragons: Honor Among Thieves" apparently seems to serve the same purpose and this was a huge plus for him. Also, getting to portray a sharp-dressed villain alongside a star-studded cast was very appealing as well. "Quite a juicy role for me," he told reporters. "Nice costumes ... and then the amazing cast."
As of right now, not much is known about Grant's Forge Fletcher character, only that he'll be the movie's main antagonist (via Vulture). The official synopsis reads, "A charming thief and a band of unlikely adventurers undertake an epic heist to retrieve a lost relic, but things go dangerously awry when they run afoul of the wrong people." Based on that, it would seem Fletcher is in possession of the lost relic and is attempting to keep Chris Pine and his band of thieves away from it — or maybe he is just another thief himself.