What That '70s Show Fans Are Most Excited About For That '90s Show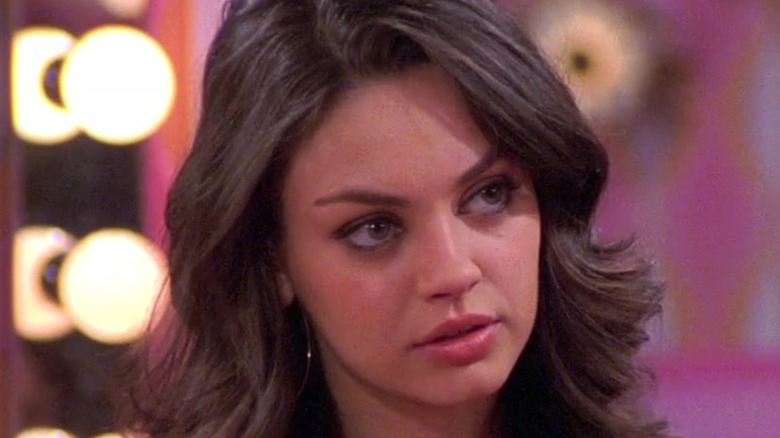 Fox
"That '70s Show" — which was created by Bonnie Turner, Terry Turner, and Mark Brazill — ran on Fox from 1998 to 2006 for a total of eight seasons. The series follows a group of six teenage friends — Eric Forman (Topher Grace), Donna Pinciotti (Laura Prepon), Michael Kelso (Ashton Kutcher), Jackie Burkhart (Mila Kunis), Steven Hyde (Danny Masterson), and Fez (Wilmer Valderrama) — who live in Point Place, Wisconsin, in the late '70s. They spend most of their time in the basement of Eric's house hanging out, smoking weed (although the substance is never actually named), and trying to avoid getting caught by Eric's parents, Kitty (Debra Jo Rupp) and Red (Kurtwood Smith).
In October of 2021, Netflix announced that a spinoff of "That '70s Show" was in the works, titled "That '90s Show" (via Entertainment Weekly). It was also announced at the time that both Rupp and Smith would be returning to reprise their roles as Kitty and Red. The series will follow Leia Forman (Callie Haverda), the daughter of Eric and Donna of the original series, as she visits her grandparents for the summer and bonds with the other teens of Point Place (via Deadline). These other teens include rebellious Gwen (Ashley Aufderheide), Gwen's easygoing brother Nate (Maxwell Acee Donovan), Nate's ambitious girlfriend Nikki (Sam Morelos), charming Jay (Mace Coronel), and wise Ozzie (Reyn Doi). The stars of the original series — including Grace, Prepon, Kunis, and Kutcher — are set to make special guest appearances in the new series.
With all of this information now public, fans of the original have a pretty good idea as to what to expect with the spinoff. Here's one thing that some fans are especially looking forward to seeing when "That '90s Show" drops on Netflix.
Fans can't wait to see Kitty as a grandma
One fan of "That '70s Show," u/AshRae84, took to Reddit to express what they're most excited about with the spinoff, writing, "I know there's a lot of mixed feelings about the reboot, but I'm excited to see Kitty as a grandma!" The post also includes a gif of Kitty jumping up and down, expressing excitement about grandchildren.
Another fan, u/sslyth_erin, noted that there will also likely be plenty of moments in which Red expresses contempt for how many children are hanging out at their house. This led to u/Mongoose42 speculating a hilarious (and quite accurate) scenario that could play out in an episode: "Red: 'Kitty, if we're going to have a whole new batch of dumba**es infesting our house, could we at least keep them out of the basement this time?' Kitty: 'Well, fine then, Red, where would you like them? In the kitchen [where] we eat our food? In the living where we watch TV? Or, I know, how about in the garage! With the car! Wouldn't that be fun!' Red: '...' *cut to Red in the basement with the kids* Red: 'So here's the basement.'"
One user, u/TractorFan247, noted that Kitty and Red as grandparents will definitely make for funny moments and later agreed with the prevailing sentiment that they couldn't wait to see Kitty playing a grandmotherly role to Leia and her friends.
Rupp is happy Kitty is a beloved character
In an interview with the Los Angeles Times, writer Deborah Vankin asked Rupp if she gets recognized in public often, which led Rupp into discussing the beloved nature of her "That '70s Show" character, Kitty Forman.
Rupp responded that she does get recognized from time to time, but that it happened much more frequently while "That '70s Show" was still on the air. She continued, "But it's still doing reruns, each generation seems to find it. I can tell when a waiter in a restaurant recognizes me. They hear me talk and it's the voice. There was a time when it happened all the time, and now it's once in a while. And it's kind of great and lovely, but I don't look like Kitty Forman anymore. I'm older, and I don't have that wig on."
Despite her appearance now differing from that of her character, people still have kind things to say about Kitty. Rupp concluded that she's glad "That '70s Show" fans grew to love her character on the series. She added that she would likely "cry all the time" if she was cast as a villain and was recognized in public for being such an antagonistic character.