Dominic Monaghan On His Roles In Moonhaven, Lord Of The Rings, And Lost - Exclusive Interview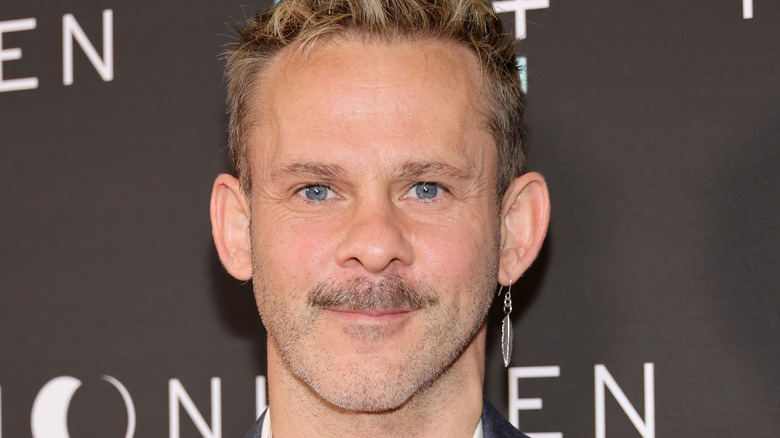 Amy Sussman/Getty Images
Dominic Monaghan has built his career on playing offbeat characters, dating all the way back to 2001 when he first appeared as Merry the Hobbit in the blockbuster "Lord of the Rings" trilogy. He then solidified his star power playing washed-up rocker Charlie Pace on the cult-hit series "Lost." Since then, he has appeared in "X-Men Origins: Wolverine" and "Star Wars: The Rise of Skywalker," among other notable projects.
Monaghan's most recent endeavor is the sci-fi mystery series "Moonhaven," which is now streaming on AMC+. On it, he plays Paul Sarno, an unconventional detective who's trying to solve a murder that occurred in his utopian colony on the Moon. Set 100 years in the future, "Moonhaven" — which also stars Joe Manganiello, Emma McDonald, and Kadeem Hardison — peels back the layers of this supposedly idealistic society that was created in order to find solutions to the problems that will soon end civilization on Mother Earth.
During an exclusive interview with Looper, Monaghan discussed his "Moonhaven" role, as well as reflected on his time in "Lord of the Rings" and "Lost."
Monaghan thinks Moonhaven is a perfect fit for his 'quirkiness'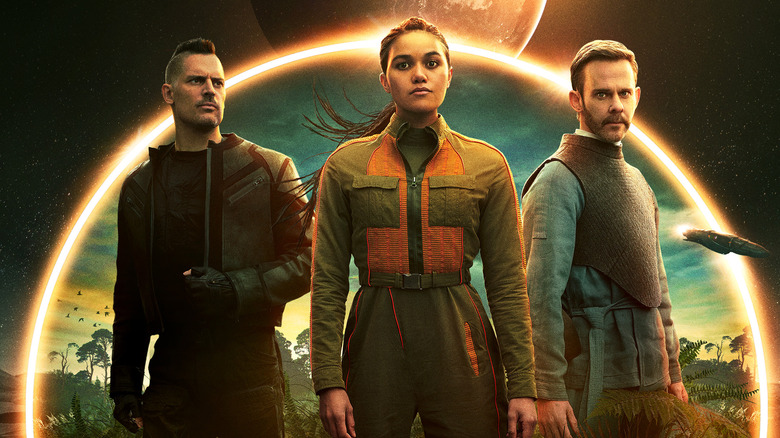 AMC+
In your career, you're known for these quirky characters, like detective Paul Sarno on "Moonhaven." What makes those kinds of roles appealing to you?
Those are the ones that I get offered. I would very much enjoy playing Peter Parker or Tony Stark, but people don't think I can play those roles — or people are not ready for me to play those roles — so I take the ones that I get offered. I guess it appeals a little bit more to my personality. I don't necessarily identify too much with the classic macho guy. I've always been more artistic. There's a sensitivity to that and a slight quirkiness to that. Maybe these are characters that I know a little better.
Well, it has taken you down an impressive path, including your role on "Moonhaven," which touches on a lot of sociopolitical problems that we currently face. If you could leave Earth and jet off to a "utopian paradise," would you do it? If so, why — or why not?
I'd do it because I'm interested in having new experiences. I'm curious as a person about everything. Everything interests me. Space travel would certainly be something that I'd be interested in. I've been lucky enough to see a lot of the earth — not that I necessarily know all of it by any means — and seeing a completely new part of our galaxy would be fascinating to me. I'd definitely be interested.
The series is kind of a mix of sci-fi, mystery, and comedic buddy cop show — which, by the way, Kadeem Hardison coming out of left field for the win! What is one of the most memorable or funny moments you had on the set? Does anything in particular stand out, whether with him or anyone else?
Well, Kadeem and I work very similarly together. We keep it pretty light and airy on set. We like to be in a sense of play. We like our crew and our cast around us to feel free and have a nice time at work. Because of that, it allows us to be a little bit silly and fun. There were a few moments on set where we were able to try stuff out and see if it works.
This idea of playing detectives — even though we are detectives, but we've never needed to explore a crime like this before — was something that Kadeem and I really enjoyed. I enjoy his company. I enjoy hanging out with him on set. Any day at work where I can leave and get the feeling that my cast and crew around me had an enjoyable day on set is a win for me.
He made best friends for life on the set of Lord of the Rings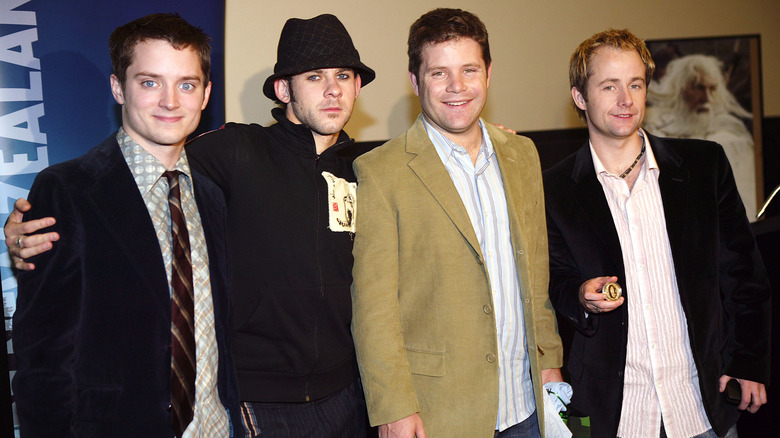 Scott Gries/Getty Images
"Lord of the Rings" is obviously a huge franchise for you. How do you feel about the upcoming Prime Video series? Is there anything in particular you're looking forward to?
I'm looking forward to a whole bunch of new artistic people having a swing at it. It's a hard act to follow. The further that we get away from that Peter Jackson set of films, the more people seem to hold it in high regard. I'm interested to see what a new cast and crew are going to do in that world. I wish it a lot of luck, and I hope it turns out to be a great success.
Looking back on your "Lord of the Rings" experience, what about working on those films stands out the most to you? Are there any memories or moments that will be etched in your mind for the rest of your life?
Things that stand out from that is the friendships. That's the thing that stands out from most great jobs that you work on. You can define them by the fact that you made a really great friend, or maybe you made a friend in that time that you remember a lot of amazing experiences with. I was fortunate enough that on that job, I made an incredible group of friends that I'm still friends with to this day. On acting jobs, you're lucky if you make a friend, and on "Lord of the Rings," there were multiple friends that I'm still tight with. It's the friendships there that are the most abiding thing.
Piggybacking on that, you and Billy Boyd have teamed up once again for your new podcast, "Moriarty: The Devil's Game," and you've been coming together with Sean Astin and Elijah Wood a bit too recently for Fan Expo. What's it like being reunited with those guys?
Well, I see Billy every week because, as you said, we do a podcast together. But I would see him every week anyway because I'm friends with his son. We all have dinner together. We all watch movies together. We play music together. It was not in any way a unique experience for me to see Billy as regularly as I'm doing right now.
Seeing Sean and Elijah, I tend to see them relatively often in terms of the rest of the "Lord of the Rings" cast. They've been on our podcast a few times. There seems to be a growing interest in this "Lord of the Rings" project on Amazon, and because of that, it's kind of ricocheted into the original Peter Jackson project. There's a newfound fandom in what we had done. It's always great to see those guys. Those guys are my really tight friends, and getting an opportunity to travel the country and work together is fantastic.
He has no interest in resurrecting Charlie Pace
ABC
My personal favorite character of yours is Charlie on "Lost," which was such a game-changing show. What was your favorite part of starring in that series?
The best thing about that job was that it caught fire. It very quickly became the biggest TV show on the planet and was huge for a long time. As an actor, you want to be having an effect on a large audience. Anything that you do artistically, you want it to resonate with as many people as possible. But then the journey that my character Charlie goes on — the way that he enters the show, and the way that he exits the show — ended up being some of the most profound moments on that show. It was great fun doing it.
About his exit ... were you content with Charlie's ending and the show's overall ending? What are your thoughts there?
[I] didn't watch the show, so I don't know about the ending of the show. That would be a question for the writer. It's like asking Huckleberry Finn how he feels about Mark Twain's work. He's a fictional character in that piece. It's really got nothing to do with me. All I can do is control what my character does, and I love what Charlie did. I love that he is one of the most beloved characters on that show and that people have a lot of affection for him. He was a troubled soul, but ultimately what he did was heroic.
There are always rumors about the show being revived or rebooted. How do you feel about that? Would you like to be part of it if it ever happens?
I feel great about it. I think sooner or later they'll probably revive it. I wouldn't have anything to do with it. It's like, why would you eat a cheeseburger when you've had steak? There's no reason for me to go back to something and dilute what I did. It's a great TV character that's frozen in time. The only thing that I would do if I re-explored that character, or any character in the "Lost" canon, is dilute the work that I did.
Fair enough. You've been to Middle Earth, you've been to a mysterious island, you've been to the Star Wars universe, and now you've been to utopia on the moon. Which has been your favorite to explore as an actor, whether because of the storyline or the actual set, etc.?
Probably the most abiding one out of all of them has to be "Lord of the Rings" because it was the biggest piece of pop culture and is one of the biggest movie trilogies ever made. Outside of the films themselves, the experience of being in New Zealand and being 23 and being in a very tight group of mainly men who were all having very similar experiences of sword fighting and horse riding and dialect training and working six days a week and living in Wellington ... It will probably always be the greatest job that we ever do, and certainly the one that has the longest reach.
Monaghan's latest project, "Moonhaven," is now streaming on AMC+, where new episodes are available every Thursday.
This interview was edited for clarity.