The Worst Mistake Amaro Ever Made On Law & Order: SVU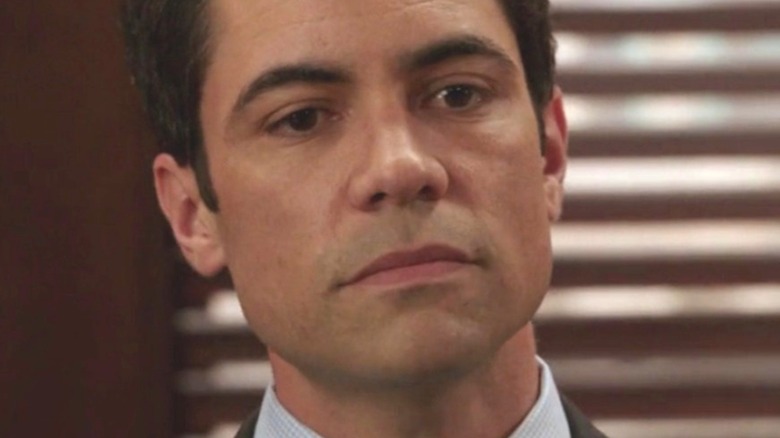 NBC
"Law & Order: Special Victims Unit" is known for its captivating storylines, humanizing narratives, and well-rounded characters, a combination that's been entertaining audiences for over two decades. Plenty of characters have come and gone since the series premiered in 1999, but it was still hard to see Detective Elliot Stabler (Christopher Meloni) exit the series after being partners with Detective Olivia Benson (Mariska Hargitay) for 12 seasons. Stabler's departure definitely altered the show's dynamic, so the precinct was pretty tense when Detective Nick Amaro (Danny Pino) arrived on the scene. 
Amaro is known for his dedication to putting criminals behind bars, as well as his occasionally erratic behavior and anger issues. Even as a former narcotics officer, the heinous crimes he sees working the Special Victims Unit test his resolve. He doesn't have as much finesse in the interrogation room as Stabler did, but Amaro's passion for the job more than makes up for it. 
Although some fans think Amaro gets unnecessary hate, he did make one mistake that landed him in hot water. Let's take a look at the moment when Amaro took his commitment to crime solving a step too far.
Amaro beats up an acquitted suspect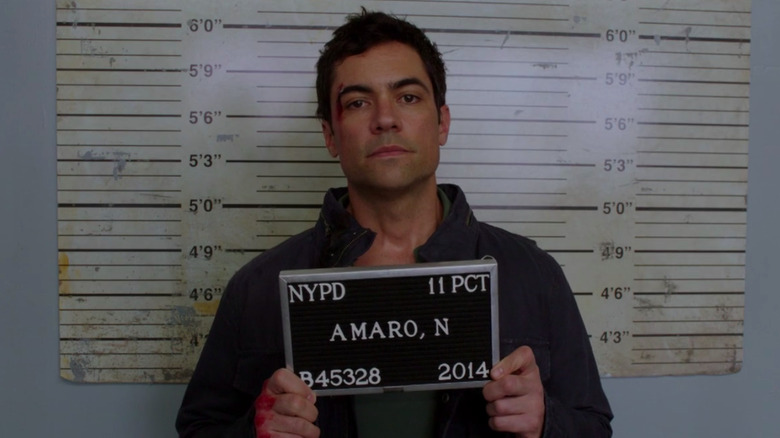 NBC
In the Season 15 episode "Thought Criminal," Amaro gets arrested after instigating an altercation that lands a former suspect in the hospital. Outside of work, pressure has been mounting in the detective's life. His wife, Maria (Laura Benanti), is thinking of taking a job in California, a move that would separate him from his daughter, Zara (Alison Fernandez). Maria wants him to come with them, but Amaro is more focused on the case against an alleged predator named Simon Wilkes (Joshua Malina). 
Saying that Wilkes is a shady character would be an understatement. However, he's never actually acted on his criminal impulses, so there's no physical evidence to work with. Despite the detectives' best efforts to get a conviction, the jury ultimately finds that Wilkes is not guilty. Amaro's frustration comes to a head when he sees Wilkes taking photos of kids on a playground. They get into an argument that ends with Wilkes on a stretcher and Amaro in handcuffs. Even though Wilkes is undoubtedly dangerous, Amaro's actions not only threatened his own career but any future case against Wilkes. 
Even though the charges against him are later dropped, he gets demoted from the Special Victims Unit. The incident is one of the reasons Amaro never moves up the ranks, and one of the factors that contributed to the character's departure from the series. Amaro later returned for the show's 500th episode, which revealed that he's found success working with DNA technology. 
Danny Pino weighs in on Amaro's redeeming qualities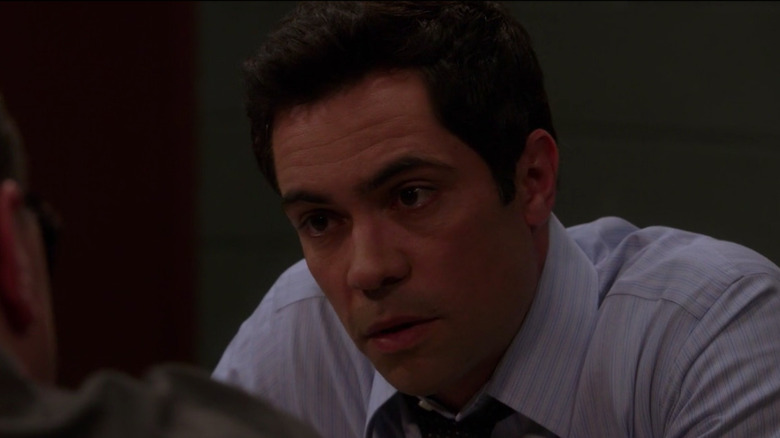 NBC
Even though Amaro's actions in the episode were reckless, the narrative manages to highlight the character's strengths, as well. One of the reasons they're able to extract any information at all from Wilkes is because of Amaro's subtle interrogation tactics. After pulling Benson from the interview, Lieutenant Murphy (Donal Logue) urges Amaro to try and align himself with the suspect. Amaro doesn't appreciate toeing the line of moral ambiguity to build rapport, but he puts his personal feelings aside to help build a stronger case. In fact, that tenacity is one of the characteristics actor Danny Pino likes best about the detective.
"What I like best about Detective Amaro is his intuition. I like that he has hunches and the more he investigates, the more he becomes a dog with a bone," Pino explained in a digital exclusive for the series (via YouTube). The actor continued, "I like his ability to deduce and to go after something he believes."
Despite his slip up with Wilkes, there are many instances where his passion works as an advantage. Even when Amaro's emotions get the better of him, the nuances in his personality make the character that much more interesting to watch.