The Actress Behind Spy X Family's Yor Forger Is Gorgeous In Real Life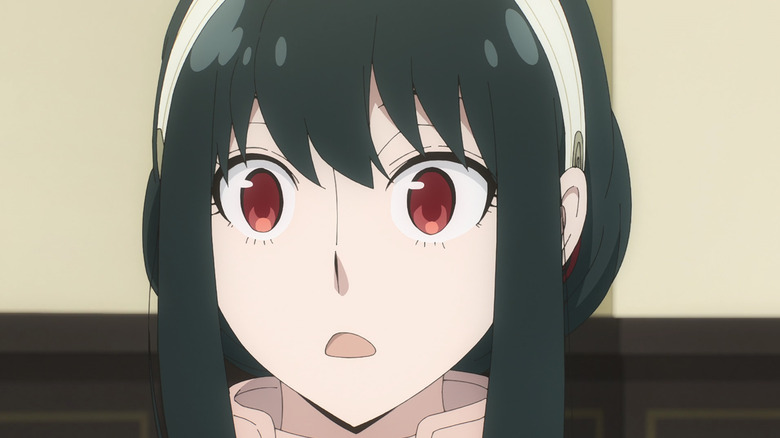 "Spy x Family" has emerged as one of the biggest breakout anime hits of 2022 (via Level Up). The series follows the ridiculous premise of a spy known as Twilight (Takuya Eguchi/Alex Organ) joining forces with an Assassin named Yor (Saori Hayami/Natalie Van Sistine) and a psychic little girl called Anya (Atsumi Tanezaki/Megan Shipman) to form a fake family unit and save the world from war and conflict.
The absurd setup leads to a ton of laughs, but fans have also found themselves occasionally moved by the story, which places these three outcasts together for long enough that they actually begin to feel like a genuine family unit that loves and cares for one another.
While several characters from "Spy x Family" have been hailed as fan favorites, Anya and Yor are especially popular with viewers (via CBR). However, Saori Hayami, who plays Yor, might also sound familiar to fans since she's been doing voice work in anime for years (via IMDb). Furthermore, she's got Yor's good looks in real life too.
Saori Hayami looks the part too
Saori Hayami is the voice behind dozens of memorable roles in video games and anime and boasts a staggering 257 credits at publication. "Demon Slayer," "Devil May Cry 4," "Xenoblade Chronicles 2," and "DARLING in the FRANXX" are just a few of her many notable projects. However, Hayami isn't just the voice behind these attractively designed characters; she happens to be something of a looker herself.
Fans often find themselves surprised when they see the voice actors behind some of their favorite characters, but in the case of Hayami and Yor, viewers get pretty much exactly what they expected: a charming and charismatic young woman who's just as likable as her "Spy x Family" character is.
As fans of Tara Strong or Ashly Burch will no doubt know, just because a performer happens to be conventionally attractive, that doesn't mean they will always choose to be on camera. Some actors just naturally prefer voice work to on-screen portrayals of their characters, which is totally reasonable. Either way, with more of "Spy x Family" on the way this fall, you'll likely be hearing more of Hayami very soon.