Ana De Armas Hired This Oscar-Winning Screenwriter For Her John Wick Spin-Off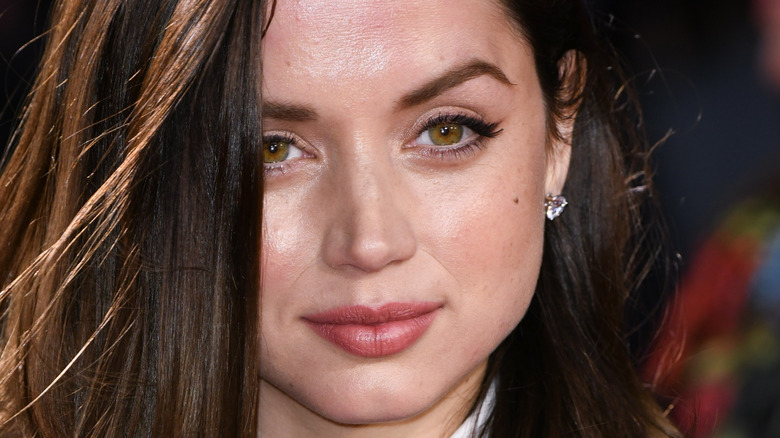 Featureflash Photo Agency/Shutterstock
Following her high-profile turns in director Rian Johnson's murder mystery "Knives Out" and Daniel Craig's final James Bond installment "No Time to Die," actor Ana de Armas' star continues to rise, both in front of and behind the camera. She'll soon be seen in Anthony and Joe Russo's action thriller "The Gray Man" and is already attracting attention for her upcoming portrayal of screen icon Marilyn Monroe in Netflix's "Blonde."
Among de Armas' future projects is "Ballerina," which is billed as a "John Wick" spin-off set in the same universe as Keanu Reeves' deadly assassin. While details of the film are scant, Variety reports de Amas plays the title character who seeks revenge against the killers who murdered her family. Of course, her character hasn't appeared in previous "John Wick" films, so it's reasonable to presume she is somehow connected to a secret organization that trains Russian ballerinas to be assassins in "John Wick: Chapter 3 — Parabellum."
With her increasing clout in Hollywood, de Armas told Elle magazine in a July interview that, in addition to her starring role in "Ballerina," she actively sought out and hired a female writer to help pen the script for the film. Luckily for the project, the scribe who got the job is someone whose most recent film earned lots of awards season attention in late 2020 and early 2021. Currently in development with no release date attached, "Ballerina" is directed by Len Wiseman, whose feature credits include Kate Beckinsale's "Underworld" films. Frequent Zack Snyder collaborator Shay Hatten ("Army of the Dead," "Army of Thieves") is the screenwriter for "Ballerina," but de Armas felt the female-driven revenge movie also needed a female screenwriter's perspective.
Promising Young Woman's writer-director has boarded Ballerina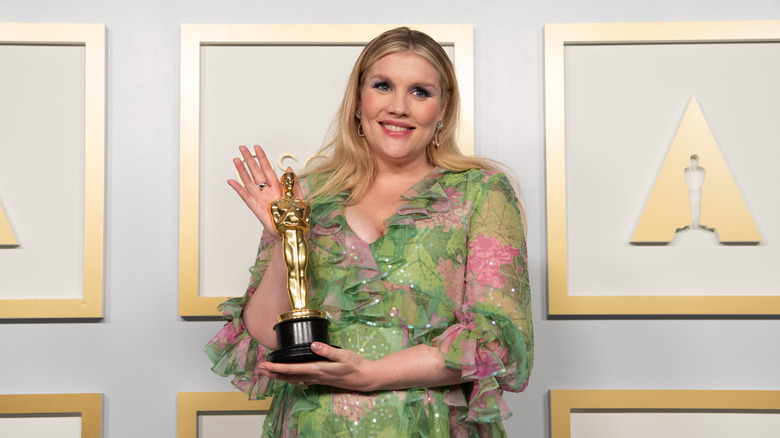 Handout/Getty Images
In her wide-ranging interview with Elle, Ana de Armas explained, "It was really important for me to hire a female writer, because to that point when I got involved in ['Ballerina']. It was only the director, Len Wiseman, and another guy [Shay Hatten]. And I was like, 'That's not going to work.' So I interviewed, like, five or six female writers. We hired Emerald Fennell, which I was so proud of."
Fennell, of course, is the creative force behind the acclaimed 2020 hit "Promising Young Woman," which earned Oscar nominations for best picture, best film editing, best actress for Carey Mulligan, and best director for Fennell (via The Hollywood Reporter). The filmmaker was also nominated for — and won — the Oscar for best original screenplay.
According to Variety, it's not known yet whether Fennell will be formally credited as a screenwriter on the "Ballerina." The trade publication said she's been brought in to help rework the script. No matter the case, Fennell certainly is familiar with writing revenge material, as "Promising Young Woman" follows a young woman (Mulligan) who concocts a plan to exact revenge upon the perpetrators of a horrific crime that was never prosecuted.
Time will tell whether de Armas will show up in "John Wick 4," which is set for a 2023 release at the time of writing. It's also conceivable that Keanu Reeves will be a part of "Ballerina," as Elle noted in their profile that the spin-off will reunite her with the action star. Reeves and de Armas previously co-starred in two films: the 2015 dramatic thriller "Knock, Knock," and the 2016 crime mystery "Exposed."