The Gray Man - What We Know So Far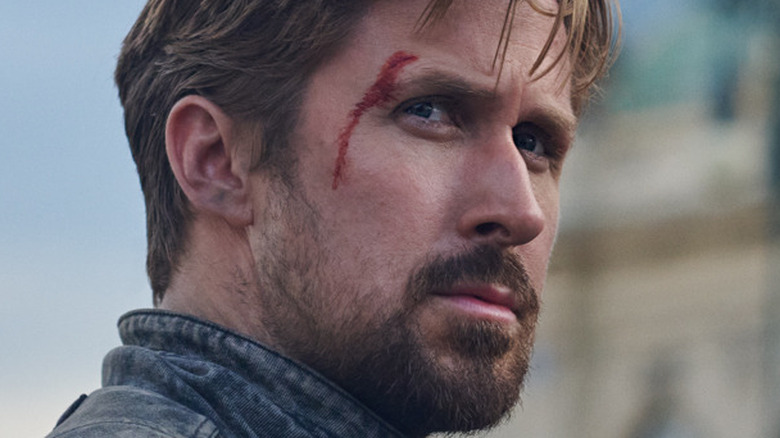 Stanislav Honzik/Netflix
Netflix has always been an ambitious streamer and promised subscribers one new original film per week when they previewed half of them to fans in January 2021. A little over a year later, the platform has backtracked, admitting they want to produce fewer movies — but make them bigger and better, according to The Hollywood Reporter. So subscribers can expect less of "Malcolm & Marie" and more of films like "The Gray Man."
"The Gray Man" was announced before Netflix decided to switch up its plan, but it looks like they want to center their original film catalog around movies just like it. The movie has been in developmental hell since 2011, when Brad Pitt was initially slated to star (per Deadline). Charlize Theron was also in talks to star in 2015, but that never seemed to work out either. The film really got on its feet in early 2020, with the directors and cast solidified.
The action film is based on the book of the same name by Mark Greaney. "The Gray Man" is a thriller that follows a former CIA operative on the run in Europe who is being hunted by his former colleague. There's a lot to unpack regarding "The Gray Man," from those working behind the scenes to those in front of the camera to its twisty-turny plot. Here's everything you need to know before watching the film when it lands on Netflix.
What's the release date for The Gray Man?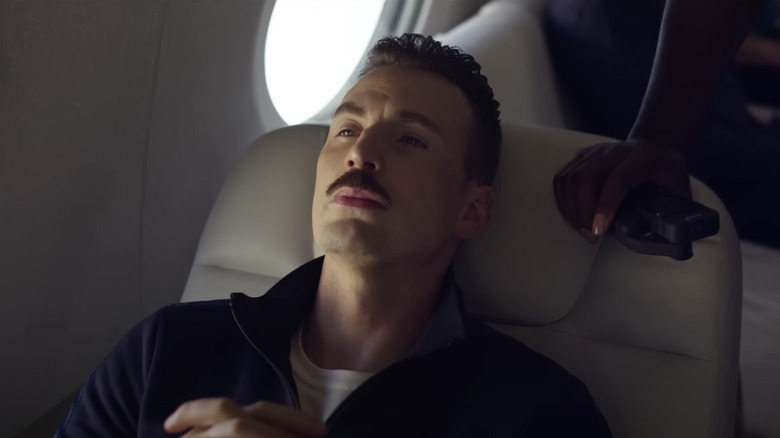 Netflix
On the red carpet for "Spider-Man: No Way Home," Joe Russo spoke to Variety and revealed that "The Gray Man" would be released sometime in the summer of 2022. The director admitted the movie has a lot of VFX that needs to be worked on, which would consume a lot of time in post-production, as would scoring.
In April, Netflix revealed on social media that "The Gray Man" would be available for streaming on July 22. The official trailer for the film also reveals that it will be available to watch in theaters, but it will be a limited release starting on July 15. "The Gray Man" might have had issues getting the wheels rolling for a few years, but it's one of the few films premiering these days that didn't get its release date changed a handful of times.
What's the plot of The Gray Man?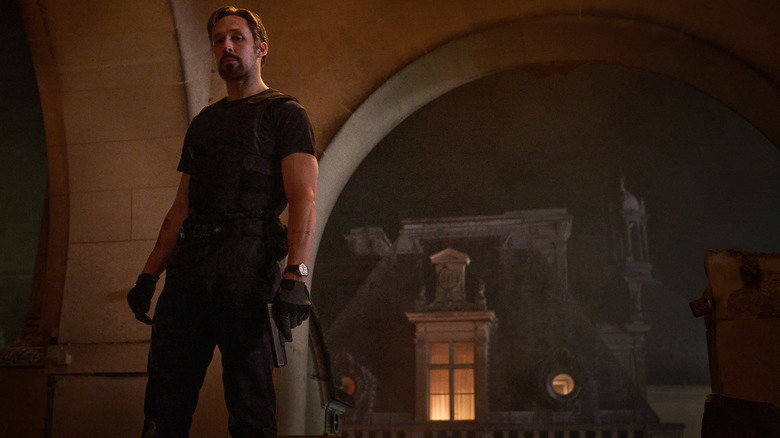 Paul Abell/Netflix
While things have been kept pretty tight-lipped regarding "The Gray Man," we can get a substantial amount of input from Mark Greaney's book. We won't spoil the ending of that novel for you here, so fear not.
Court Gentry, aka Sierra Six, aka The Gray Man, is one heck of a badass who is a former CIA operative. Much like Ethan Hunt and James Bond, Six (as he'll be referred to as often in the film) is the best at what he does and is probably the world's best assassin, with the agency greenlighting his kills. However, as things tend to do in these scenarios, Six uncovers some dirty secrets within the CIA and finds himself on the run from Lloyd Hansen.
Hansen also used to work for the CIA as an officer but is now employed by a shady French organization. When the president of Nigeria calls for the murder of Six (who previously assassinated the leader's brother), Hansen and his allies oblige in order to maintain a good relationship for a massive oil deal. The official synopsis for "The Gray Man" doesn't highlight anything other than Six being on the run from Hansen, but it's safe to assume the Nigerian storyline will weave its way into the plot.
Who's behind the scenes on The Gray Man?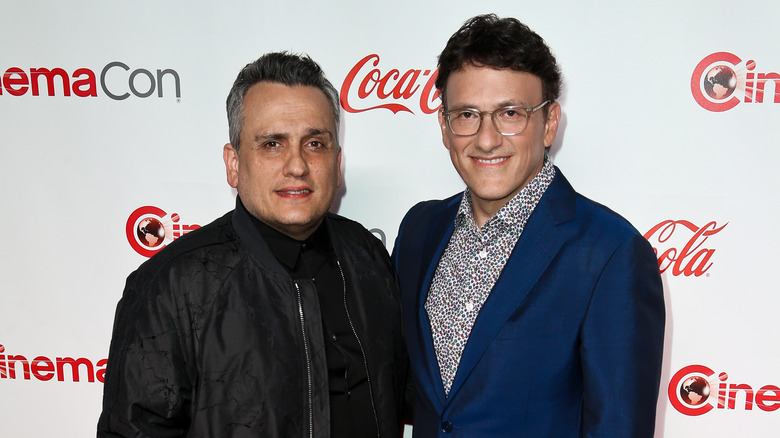 Debby Wong/Shutterstock
According to Deadline, the first director attached to "The Gray Man" was James Gray ("Ad Astra," "We Own the Night"), but that was way back in 2011. In 2015, Deadline also reported that Joe and Anthony Russo of Marvel Studios fame were attached to direct, but they dropped out of that and opted to write the script. The brothers were apparently overwhelmed with their Phase 3 projects for the MCU, so taking on "The Gray Man" was too much at the time.
Since the project took several more years to get going, the Russo brothers were able to hop back aboard as directors officially in 2020 (via Deadline). The Russo's production company AGBO is also behind "The Gray Man," with Joe Russo getting the screenplay credit alongside "Avengers: Infinity War" and "Avengers: Endgame" writers Stephen McFeely and Christopher Markus.
In a conversation with Fandango's Erik Davis (per Syfy Wire), Joe Russo amped up his new movie, saying, "I feel like 'The Gray Man' is basically everything we learned over the last decade poured into one film." In the last 10 years, the Russo's have directed some of the biggest movies ever made, including the final two "Avengers" flicks, "Captain America: The Winter Soldier" and "Captain America: Civil War." If they're carrying lessons that they learned from those films, "The Gray Man" shouldn't be anything less than stellar.
Ryan Gosling is Court Gentry, codename Sierra Six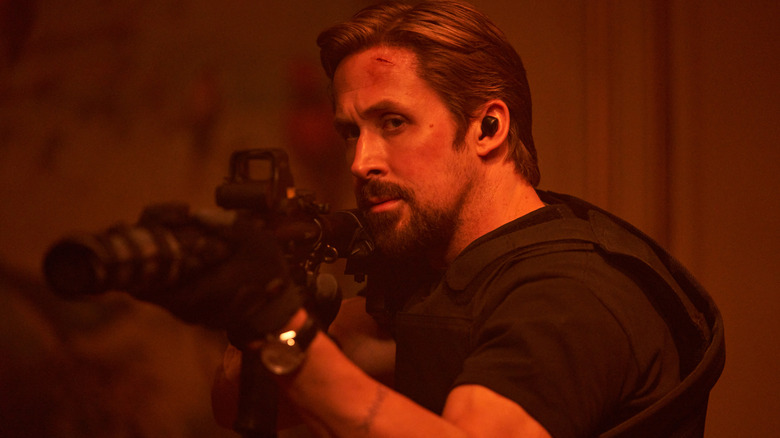 Paul Abell/Netflix
In July 2020, Deadline exclusively revealed that Ryan Gosling had joined "The Gray Man" to play the titular protagonist. This marks the first major motion picture for Gosling since 2018, when he played Neil Armstrong in "First Man." When chatting with Empire about "The Gray Man," Gosling mentioned he had a ton of fun making the film and wouldn't be opposed to some sequels. The actor also gave a little bit of insight into his character Six, revealing that even assassins are just like us!
"What I liked about this character is that he wants something that most of us want, which is just to be free," Gosling told Empire. "His goals aren't monetary, it's not about treasure, it's not revenge. He just wants to have the right to sit on the couch and watch Netflix like the rest of us." The two-time Academy Award-nominee also noted that Six has a dry sense of humor, which will carry through into every scene. Gosling also mentions Six is a MacGyver of sorts, using whatever he can get his hands on in dangerous situations to give him the edge.
Chris Evans is Lloyd Hansen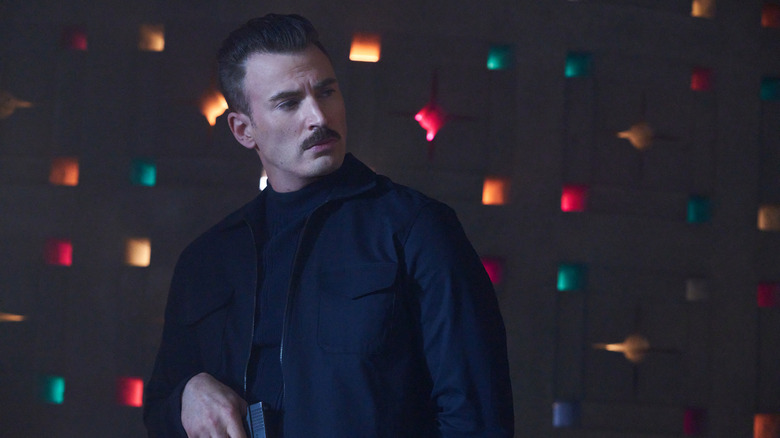 Paul Abell/Netflix
When Deadline announced Ryan Gosling was joining "The Gray Man," Chris Evans was also revealed to be starring in the film. He might be known for playing the hero, but the new Netflix thriller sees Evans step into the villain's shoes as the mustache-clad Lloyd Hansen. Lloyd is Six's biggest adversary, and the duo is expected to have some heated head-to-head moments.
When director Joe Russo chatted with Den of Geek, he revealed that a conversation with Evans around the time of "Avengers: Infinity War" and "Avengers: Endgame" let them know what decision to make down the road regarding casting. Russo noted Evans had mentioned being comfortable in his career to that point and was ready to take some serious risks in the characters he took on moving forward. "So it seemed obvious to us that the right move here would be to offer Chris the sociopath and not the hero," Russo added.
Evans also teased what to expect from his character Lloyd when catching up with Empire in May. "He's a trainwreck of a human being," the actor revealed. "That guy can be anything in any scene, because all he wants is anarchy."
Ana de Armas is Dani Miranda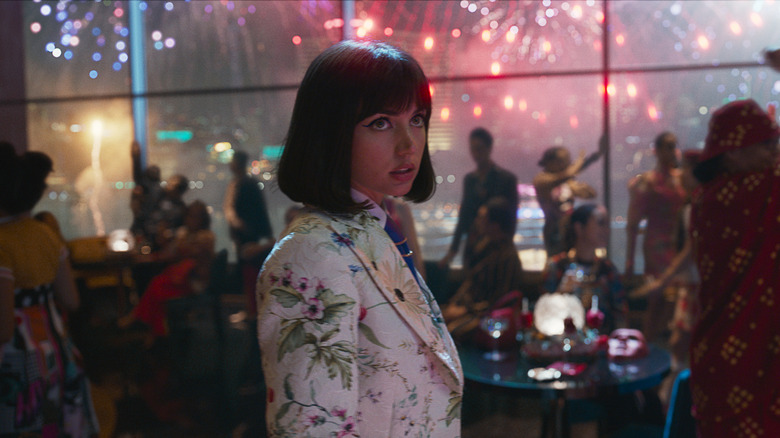 Netflix
In December 2020, Deadline revealed Ana de Armas was locked in for "The Gray Man." The actress plays CIA agent Dani Miranda, someone who takes their job at the agency very seriously. She'll work closely with Six, but the duo will spend some time figuring out if they can be allies. Their work as agents in the CIA has taught them to be skeptical of everyone, and that doesn't exclude each other. According to Dani's official poster for the film, the agent is "untraceable," suggesting she might be able to help Six escape Lloyd's capture.
According to Den of Geek, Lloyd will do Dani dirty, which could be the driving force behind her risky team-up with Six. Not much else is known regarding de Armas' character as Dani does not exist in "The Gray Man" novel. It's possible her character is an amalgamation of others from the book or inspired by one specific character. The Russo brothers or writers Christopher Markus or Stephen McFeely have yet to reveal the inspiration for Dani.
Regé-Jean Page is Denny Carmichael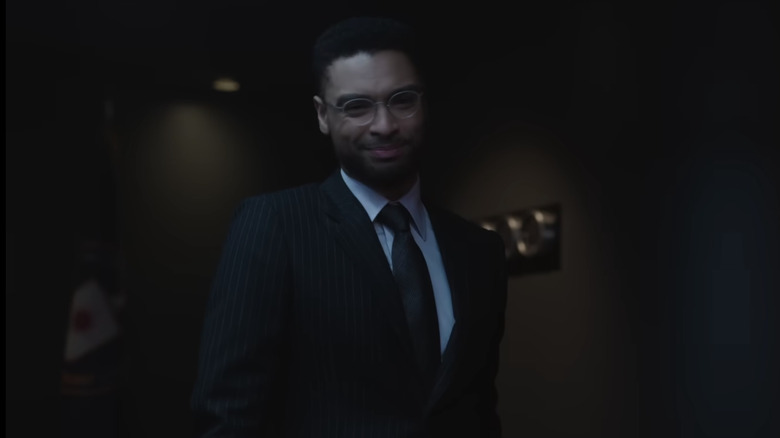 Paul Abell/Netflix
One of the later additions to "The Gray Man" was "Bridgerton" scene-stealer Regé-Jean Page. The actor plays Denny Carmichael in the new Netflix film — a character pulled straight from the book, unlike Dani Miranda. When speaking with Elle, Page revealed a little bit about his role, saying, "There's a lot of shadow and contrast to this character, it's something that I don't think people have seen a lot of from me specifically before, which was great fun for me to play with." Denny is the head of CIA clandestine services, so we can expect a lot of mystery and sketchiness surrounding the character. "These people live in the shadows, you kind of gotta discover them in the movie," Page noted.
Page also told Elle he was absolutely shocked when he got to screen "The Gray Man." The actor claims the new movie is the biggest action movie he's ever seen. The film marks the first project for Page since his shocking "Bridgerton" exit. According to The Hollywood Reporter, Page's desire to focus on his film career is part of the reason he exited the immensely popular Netflix series. "The Gray Man" will prove if he's got what it takes to make it on the big screen. 
Billy Bob Thornton is Donald Fitzroy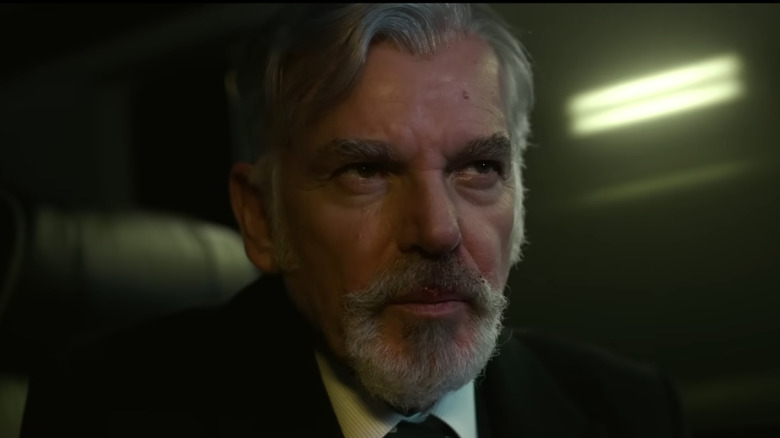 Netflix
The news of Billy Bob Thornton's involvement in "The Gray Man" was announced alongside Regé-Jean Page's. Thornton plays Donald Fitzroy, the handler of Court Gentry. According to Netflix, Fitzroy recruited Gentry to join the Sierra program, and he's recently been replaced as director. One of the only allies Six has left, Fitzroy is in just as much danger.
From what we know from "The Gray Man" novel, Fitzroy will be used by Lloyd Hansen and his allies to lure in Six, who is on the run. As Fitzroy is one of the people he's closest to, it will be hard for Six to stay away from the man who helped him throughout his career.
"The Gray Man" marks the first credit for Thornton since his one-off episode in 2021's "1883." It's also one of his biggest films in quite some time, following up some of his more recent smaller projects like "Hollywood.Con," "London Fields," and "A Million Little Pieces."
Rounding out The Gray Man cast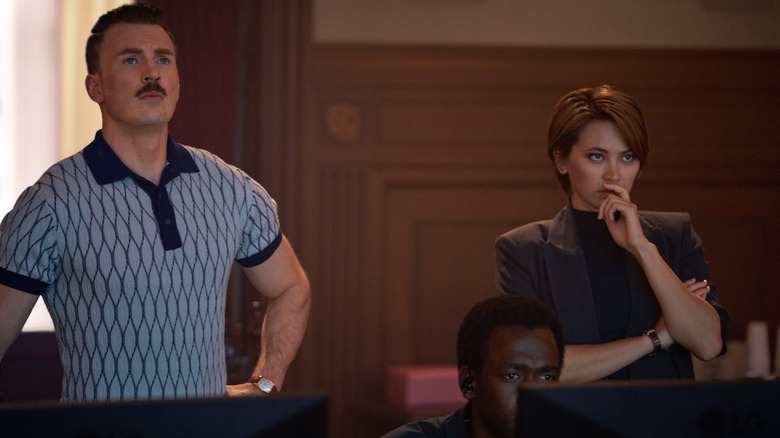 Paul Abell/Netflix
Filling out "The Gray Man" cast are a lot of recognizable names. Oscar-nominee Alfre Woodard plays Margaret Cahill, an old friend of Court Gentry's who might be his last resort in finding help outside the law. Jessica Henwick stars as Suzanna Brewer, who works alongside Regé-Jean Page's Denny Carmichael. Brewer will question if she can trust Carmichael as the case to bring in Six goes on, but which side gets her loyalty remains to be seen. Indian actor Dhanush will play Avik San, a deadly assassin who targets Six for an unknown reason.
Additionally, the cast features Robert Kazinsky ("EastEnders") as Perini, Daz Crawford ("Agents of S.H.I.E.L.D.") as Markham, and Jimmy Jean-Louis ("Heroes") as Alex Dumas. Also on "The Gray Man" roster are Julia Butters ("Once Upon a Time ... In Hollywood"), Wagner Moura ("Narcos"), Scott Haze ("Jurassic World Dominion"), Callan Mulvey ("Captain America: The Winter Soldier"), and DeObia Oparei ("Loki") in unidentified roles.
What we learned from The Gray Man trailer
There were many takeaways from the first trailer for "The Gray Man." The film has vibes of many action franchises to it, like "Mission: Impossible" and "James Bond." It looks like it will be extremely face-paced and action-packed, but there will be comedic relief from Ryan Gosling and Chris Evans, who have a few face-to-face moments in the trailer.
It looks like Lloyd catches up with Six at least twice in the film, with a possible tease of the finale in footage of a fist fight between the pair. We can also expect a car chase or two, as the sequences take up a good bit of the teaser. There will also be plenty of gun fights, explosions, and extensive stunt work.
Ana de Armas's Dani Miranda and Golsing's Six are together in the trailer, looking like they have come to trust one another. Lloyd is as sociopathic as we expected, appearing to have no issues killing people, and he has his sights laser-focused on Six. Billy Bob Thornton's Donald Fitzroy also gives the impression that Six is impossible to kill and might be impossible to outwit.
The Gray Man is Netflix's biggest movie ever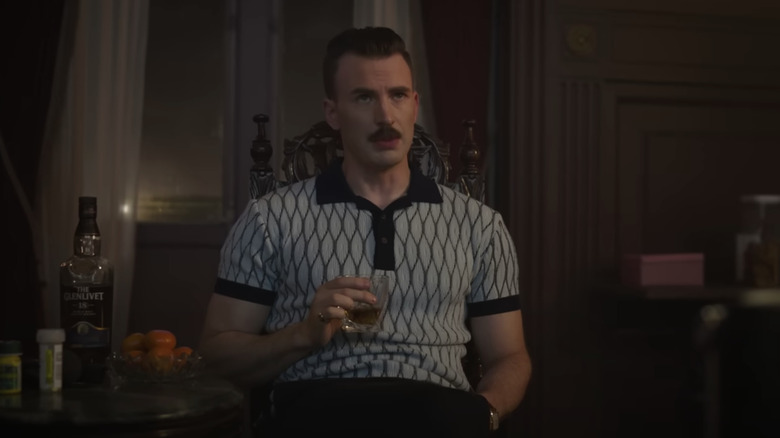 Netflix
Netflix is making history with "The Gray Man," which is the platform's biggest movie ever. Deadline reported the movie had a $200 million budget from the jump, which puts it ahead of former title holder "Red Notice." Initially, the Gal Gadot film had a $160 million budget (per IndieWire), but constant delays from the COVID-19 pandemic jumped the price to around $200 million. The record held by "The Gray Man" seems to be based on its initial budget and not from add-ons along the way, though, as $200 million is a far cry from Netflix's other big-budget films like "The Irishman" ($159 million), "6 Underground" ($150 million), "Outlaw King" ($120 million), and "Triple Frontier" ($115 million).
So why such a massive budget? According to Joe Russo, the goal was to have "The Gray Man" on the same scale as any action movie that would release exclusively in theaters. Viewers will feel that $200 million during the flick's insane action sequences, which Joe Russo says there are nine of, according to Empire.
Will there be a Gray Man sequel?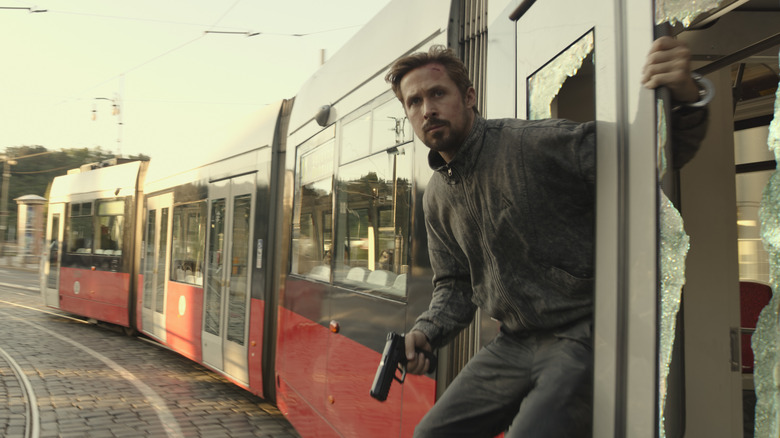 Netflix
At this point, it's almost a guarantee that we'll be getting another "The Gray Man" movie on Netflix. That was always the plan from the jump, with Joe Russo confirming it himself. "The idea is to create a franchise and build out a whole universe, with Ryan at the center of it. We have all committed to the first movie, and that's got to be great to get us to the second movie," the director said when the film was announced (via Deadline).
There's also plenty of content to pull from, as author Mark Greaney's "The Gray Man" series currently stands at 11 books. The latest, "Sierra Six," even came out this year. Anthony Russo also feels confident about moving forward with a "Gray Man" franchise. "["The Gray Man"] has a large ensemble, a layered story that you are only seeing the tip of the iceberg in this story. It goes deep. We have a lot of ideas about where to take it next," the director told The Wall Street Journal. The only thing that might deter a sequel is if the film tanks in terms of critical and audience response while also showing low viewership. With the Russo brothers at the helm and Chris Evans and Ryan Gosling leading the charge, we doubt it's anything but a success.