Twitter Is Losing It Over Ana De Armas' Marilyn In NC-17-Rated Blonde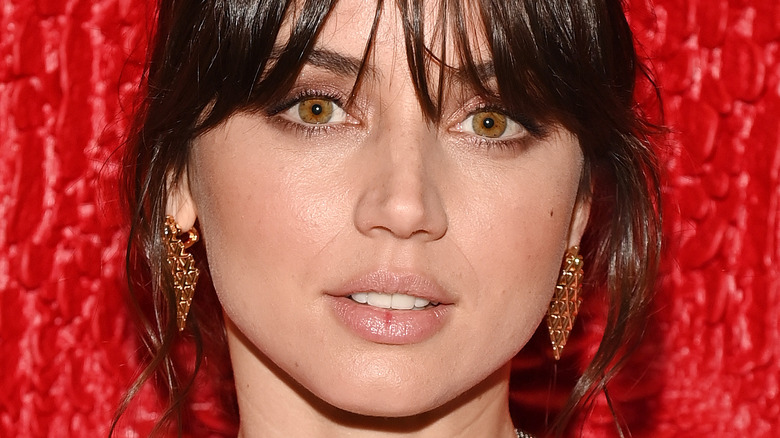 Pascal Le Segretain/Getty Images
There are plenty of movies to be excited about coming in the back half of 2022. Of course, there's the usual superhero fare with the likes of "Thor: Love and Thunder" and "Black Adam." Jordan Peele has another horror treat releasing that's bound to provide ample social commentary in the form of "Nope," and we're finally getting the long-awaited sequel to "Avatar" with "Avatar: The Way of Water." However, for some people, the most anticipated movie of the year isn't a superhero project or something related to aliens. It's about one of the most iconic women ever to grace Hollywood — Marilyn Monroe. 
"Blonde," starring Ana de Armas as Monroe, follows the life of the world-renowned actress as she came from humble beginnings to take over pop culture. The film's already making waves for its NC-17 rating, a first for Netflix, where it will be released. And now that photos and a teaser trailer have also dropped from the project, people on social media are already losing their minds and offering the greatest of praise toward the project.
Many think Ana de Armas has an Oscar in her future with this role
Netflix is ramping up promotion for "Blonde" early. The film isn't slated to come out on the platform until September 23, but we already have our look at the trailer as well as many production photos offering a glimpse into Ana de Armas' transformation into the icon. And naturally, people have been vocal about what they think of the project, and it's overwhelmingly positive. 
Many believe the actress has an Oscar in her future, as she's already demonstrated how much she's embodied Marilyn Monroe from the trailer alone. Twitter user @callmeregor wrote, "The way Ana de Armas has the Oscar in the bag THAT LAUGH AT THE MIRROR." While a lot of people agree that it'll be tough for her to win, seeing how the film has an NC-17 rating, many are still hopeful the talented actress can at least land a nomination. Twitter user @hoyeonsjungs is certainly pulling for a win, stating, "[Haven't] seen blonde yet but can tell that oscar is calling out ana de armas' name for her performance in it."
Then there are those who aren't necessarily thinking of Oscar prospects. All they can think about is how similar Ana de Armas looks to Marilyn Monroe and how that's a very good sign for the quality of the upcoming film. A lot of people probably feel similarly to @RyanSeghetti, who wrote, "OMG!!!!!!! I can barely tell the difference between Ana De Armas and Marilyn Monroe, they look so similar, this film is going to be so good, I can't wait to watch this." It's a joy to see this kind of hype building around a project not based on a superhero, and no doubt Netflix will be pleased with the reception when "Blonde" debuts on September 23.
Fans are now campaigning for Ana de Armas to take another fan-favorite role
Ana de Armas is set to have a very good 2022. In addition to "Blonde" coming out later this year, she's also set to star in another Netflix original film, "The Gray Man." It should come as no surprise that the actress has a lot on her plate, seeing how she's one of the most in-demand actresses working today, and her fans already have an idea of the kind of role she should take next.
When you look online, you'll find a lot of people comparing the actress' portrayal of Marilyn Monroe to Evelyn Hugo. Who is Evelyn Hugo, you might ask? 
She's the protagonist of the hit 2017 novel, "The Seven Husbands of Evelyn Hugo." The character herself is an Old Hollywood type who recounts her life story to a journalist, and the book has already been picked up to be adapted into a feature film courtesy of Netflix. Many people seem to think de Armas would be perfect for the role of Evelyn, especially seeing how much the character has in common with Monroe, and Twitter has become a hotbed for the fan-casting.
Twitter user @brekkermoony wrote, "Ana de armas as marilyn monroe is literally how [I] imagined evelyn hugo." Of course, there are those who see de Armas as Monroe as a bit depressing because it could mean the actress won't want to play similar characters back-to-back, with @tobesophlonely mentioning, "The way this probably means we won't have ana de armas as evelyn hugo is so oddly upsetting to me lmao." No casting announcements for "The Seven Husbands of Evelyn Hugo" have been made yet, so for now, fans can still dream of what may be.