The Black Phone Star Madeleine McGraw Reveals One Of Her Favorite Moments From The Movie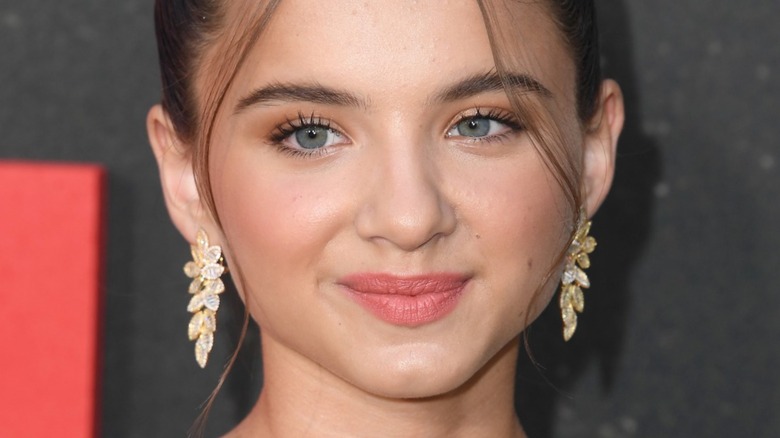 Steve Granitz/Getty Images
For Madeleine McGraw, starring in "The Black Phone" marked her very first foray into horror, and while most would expect a 13-year-old actor to be constantly spooked while on the set of a Scott Derrickson flick, McGraw actually compiled loads of great memories and fun moments during its production — including the filming of one scene that had McGraw cracking up in the theater.
"I think it is one of my favorite scenes," said the former "Outcast" star in a June 2022 interview with Bloody Disgusting. "It's super funny," she added.
For those who don't know, horror movies are kind of a big deal in the McGraw household. Madeleine's younger sister, Violet McGraw, has appeared in a number of horror projects, including Netflix's "The Haunting of Hill House" and "Doctor Sleep" (via IMDb). So when it came time for McGraw to start filming "The Black Phone," Madeleine knew exactly who to go to for advice. "I guess I would say I was a little scared because it's a horror movie and she was like, 'You just have to remember, when you're watching it, it's all fake," explained Madeleine in a June 2022 interview with Collider. "Because she does get scared at times too, even though she knows it's all fake, but it's like, it's not scary when you're on set, but then when you watch the movie it's terrifying." Violet's pointers not only helped Madeleine settle into her role as Gwen in "The Black Phone" for the scary scenes but they also helped prepare her to be as relaxed and free-flowing as possible in the less serious ones, resulting in her favorite on-screen moment.
Gwen cursing out the cops
It's a scene that comes as Madeleine McGraw's character is trying to help the police in the disappearance of her brother Finney (Mason Thames), who was snatched up by a serial killer known as The Grabber (Ethan Hawke). Gwen boldly cursed out the cops, resulting in what McGraw said was a hilarious and unforgettable on-set moment. "Well, when we were filming that scene after each take, everyone started laughing and [also] when we saw it," McGraw told Bloody Disgusting. "Mason [Thames] and I saw it privately in the theater and started laughing. I'm pretty sure Scott said that was one of his favorite scenes because she does rip them a new one."
McGraw said she's extremely lucky to have appeared in "The Black Phone," because if she didn't, her mom likely would've never let her see it. "I was so excited to get to do this, and I was so happy that I got to do it because my mom doesn't let me watch a lot of scary things," she told Bloody Disgusting. "So, I knew she would have to let me watch it since I was in it."