Outcast Season 2 Release Date Revealed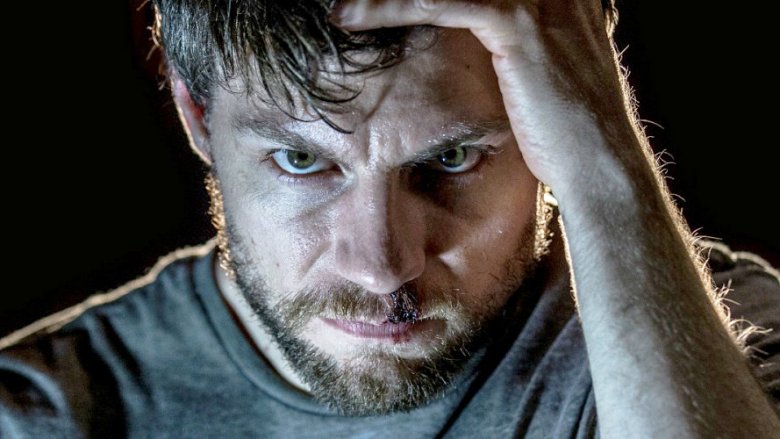 Cinemax
Cinemax has officially cast out a U.S. premiere date for season 2 of its suspense-horror series Outcast. 
Per Deadline, the upcoming season of Outcast will premiere on Cinemax on Friday, July 20 at 10 PM ET. Fans of Outcast living in the U.S. might feel a bit shafted by this release date, as it comes a year after the series' second season debuted on Fox International channels.
In the fall of 2017, HBO Miniseries and Cinemax Programming president Kary Antholis spoke about the future of Outcast past a second season, explaining that the cost of producing the show and its delayed U.S. airing leaves options for the cast limited and perhaps even long gone now.
"I think the new season is very strong, and I hope it's got a bit more fun and entertainment in it, and is a step forward," Antholis stated. "In success, we left open the possibility that we could have a conversation about figuring out a way to bring it back." But because Outcast is such an expensive series, "part of the consideration in doing that will be, what are the constraints [and] are there other co-production opportunities that maybe have a more efficient impact?"
From the mind of The Walking Dead creative Robert Kirkman, who serves as the creator and executive producer of the series, Outcast follows Patrick Fugit as Kyle Barnes, a young man who has spent his entire life plagued by demonic possession. Seeking help from Philip Glenister's Reverend Anderson, a preacher who insists that he's a solider fighting in God's holy war against agencies of unspeakable evil, Kyle attempts to make sense of the hardships he's endured and to protect the ones he loves most — especially now that the supernatural threats have proven themselves greater in size and quantity than anticipated. Can Kyle truly shield his hometown of Rome, West Virginia and save its residents, or will the haunting secrets of his past squander that hope?
Season 2 of Outcast will consist of 10 episodes that further explore the mystery of Rome's supernatural manifestations and, more importantly, why the apparitions are so drawn to Kyle. 
Joining Fugit and Glenister for Outcast season 2 are Wrenn Schmidt as Megan Holter, Kyle's sister; Kate Lyn Sheil as Allison Barnes, Kyle's ex-wife; Julia Crockett as Sarah Barnes, Kyle's estranged mother; David Denman as Mark Holter, a Rome police officer and Megan's husband; Brent Spiner as Sidney, a mysterious preacher; Gabriel Batman as Joshua Austin, a young boy suffering from possession; C.J. Hoff as Aaron MacCready; Melinda McGraw as Patricia MacCready; Pete Burris as Officer Lenny Ogden; Debra Christofferson as Kat Ogden; and Callie McClincy as Holly Holter, Megan and Mark's daughter. Reg E. Cathey is also part of the series' second season cast, playing Rome's Chief of Police Byron Giles, but the actor sadly passed away on February 9, 2018. Additionally, Outcast season 2 will introduce a number of new characters to the show: Briana Venskus as Officer Nuñez, Chris Greene as Oscar, C. Thomas Howell as Simon Barnes, Hoon Lee as Dr. Kenneth Park, M.C. Gainey as Bob Caldwell, and Madelyn Deutch as Dakota. 
Catch the long-awaited second season of Outcast on Friday, July 20 at 10 PM ET on Cinemax.