The Funniest Moment Of Law & Order: SVU Season 7
NBC
One of the ways many people cope with upsetting or disturbing situations is, naturally enough, through humor. Sometimes a dark joke or a one-liner defuses the tension in a room, and sometimes it doesn't. Roger Ebert wrote that when he was a young crime reporter, he observed how the cops often used jokes to find relief from the grim reality around them.
The portrayal of police in television and movies isn't always accurate. But shows like "Law & Order: SVU" seem to capture how one-liners and wisecracks can come in handy when detectives regularly deal with murder and assault cases.
"Law & Order: SVU" often deals with upsetting subjects, including suicide and sexual assault. But the detectives can be hilarious, especially whenever Detective Munch (Richard Belzer) times a good wisecrack or if the episode's case is especially absurd. However, this scene is one of the funniest of the show's seventh season.
If you or anyone you know has been a victim of sexual assault, help is available. Visit the Rape, Abuse & Incest National Network website or contact RAINN's National Helpline at 1-800-656-HOPE (4673).
Olivia Benson goes on the most boring speed date in history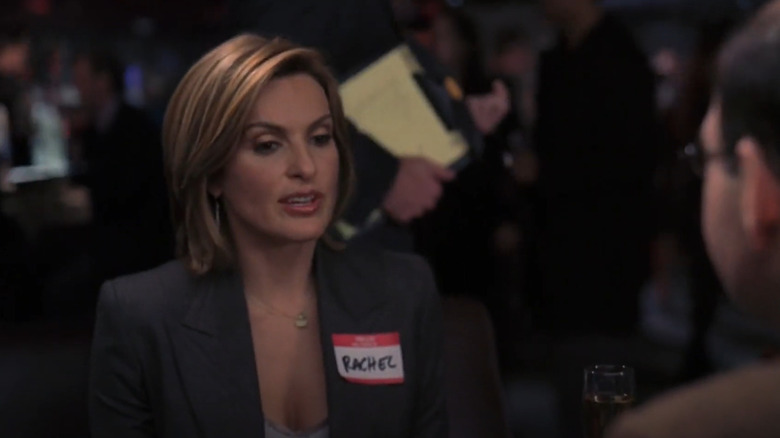 NBC
In the early seasons of "Law & Order: SVU," Elliot Stabler (Christopher Meloni) has been married for years, but in contrast, Olivia Benson has had several relationships, including ones with fellow officer Detective Brian Cassidy (Dean Winters) and ADA David Haden (Harry Connick Jr.). However, the police captain remains single as of Season 23 while focusing more on her career and her adopted son, Noah, but we can't forget the lighter moments of her dating history.
The Season 7 episode "Starved," for instance, has Benson going undercover at a speed dating event as she tries to find a predator who is also using the service, resulting in one of the episode's funniest moments. 
Benson has been matched up with Paul, a friendly but stereotypically nerdy-looking man. As the officer tries to seem enthusiastic, she says, "Collecting Pez dispensers ... sounds like a very interesting hobby." What makes the sequence so funny isn't just Mariska Hargitay's over-the-top expression as she flatters her date, but Paul's pleased reaction as if he agrees that Pez dispensers are fascinating. It's a fun, silly gag when most "Law & Order: SVU" jokes are sardonic or involve horrible tragedy.