Shows Like Law & Order That Legal Drama Fans Need To Watch
Beginning its 20 season run in 1990, "Law & Order" was a watershed drama, mixing police procedural with exceptional courtroom drama. It was an ambitious, groundbreaking concept to mix the two genres, and it paid off in spades. "Law & Order" didn't just become the top cop show on TV, it became the top legal drama, and one of the first major TV franchises, spawning multiple spin-offs that took the concept in new directions. Its success lead to a number of new procedurals that themselves became franchises, but "Law & Order" was the father of them all. 
Creator Dick Wolf has since become a TV legend, and characters from "Law & Order" have been enshrined in the annals of televisions hall of fame. In 2010, the long-running drama abruptly came to an end, shocking audiences who had grown accustomed to the mainstay drama. With news that the landmark series would be making a triumphant return in 2022, you might want to brush up on your legal cop dramas and see what else is out there to prepare. Look no further, because whether it's a gritty police procedural or an intense legal drama, we've gathered up the must-see shows for fans of "Law & Order." 
Chicago PD & Chicago Justice
With the most recent multi-show franchise to hit screens, we're nominating two shows in one for this recommendation: "Chicago P.D." and its spinoff "Chicago Justice." These two shows are centered on the Chicago Police Department and the Chicago legal system, and in sum are a good match for the mix of police and courtroom drama seen on "Law & Order." The series both also created by Dick Wolf, are also in the same "universe" as the "Law & Order" franchise itself, and have even included a number of crossovers and guest appearances from the different series.
Starring Jason Beghe, John Seda, Sophia Bush, and a large ensemble cast, "Chicago P.D." is your standard police drama, and follows the officers who steadfastly hunt down criminals in one of America's biggest cities. Likewise, "Chicago Justice," which starred Carl Weathers, followed the city's team of dedicated prosecutors, judges, and public defenders as they worked to put away the crooks nabbed by the police department. "Chicago P.D." has is still going strong, and while "Chicago Justice" only lasted one brief season, it was a strong one, with The Chicago Tribune comparing it favorably to Dick Wolf's original. If you haven't checked out the Chicago franchise — which also includes "Chicago Fire" and "Chicago Med" — "Chicago PD" is the perfect place to start, and will satisfy any fan of "Law & Order." 
Blue Bloods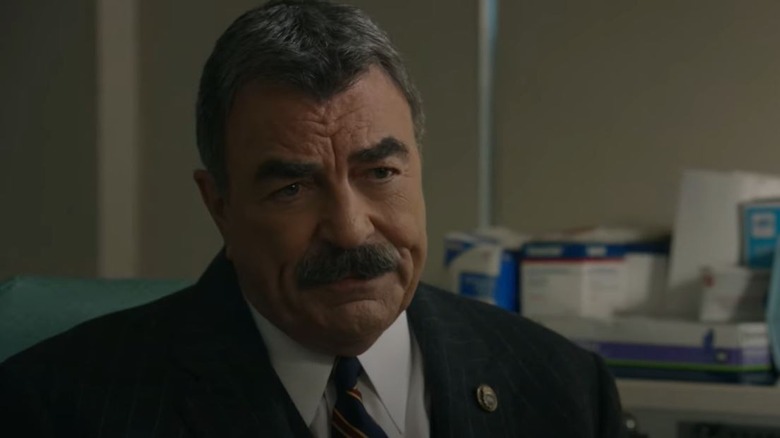 CBS Media Ventures/YouTube
Another long running police procedural, "Blue Bloods" features Tom Selleck in his first leading television role since "Magnum P.I." He stars alongside Donnie Wahlberg, Bridget Moynahan, and Will Estes. "Blue Bloods" is more than the just an average police precinct adventures, chronicling a single Irish American family and their long history in law enforcement. Tom Selleck plays the family patriarch Frank Reagan, New York City's police commissioner, while sons Danny and Jamie, both work for the NYPD. His daughter Erin is an assistant district attorney for the city. Their different roles within the system gave the family a 360 degree look at law and order in the big apple.
Primarily a story about one family, and how their diverse work on the streets and in the courtroom intersects and affected their personal and professional lives, "Blue Bloods" brought a different kind of flavor to the genre of usual cop shows. It was met with favorable reviews from critics, with Entertainment Weekly hailing it as one of the best new shows of 2010 upon its premiere. Strong performances and compelling stories mixed with family drama make this one of the best of the bunch if you're looking for a mix of cops and lawyers.
The Closer
 If you want another long running series to watch after "Law & Order," be sure to check out "The Closer," a drama focused on a CIA-trained police investigator and master interrogator with the LAPD's top murder squad. Hunting down vicious criminals, Los Angeles Deputy Chief of the Major Crimes Division Brenda Leigh Johnson puts her previous government training to good use, wringing confessions out of the even most tight lipped crooks in order to close the case. She faces off against serial killers, sex criminals, and Russian gangsters, with a few other ongoing storylines that play out in the background. Running for seven solid seasons, the series was headlined by Kyra Sedgewick as the deputy chief and superstar character actor J.K. Simmons as LAPD's assistant chief of operations.
Praised for being well written with a great cast, "The Closer" managed to use its unique and distinctive lead to set it apart from the glut of more standard police shows that were clogged up prime time TV schedules. One criticism sometimes levied at the series was that, over the course of its seven year run, the subtle dark comedy featured early on slipped further and further into broader silliness (which Entertainment Weekly would say began "to verge on self parody"). That would all come to an end with the series' spin-off "Major Crimes," which brought the franchise back to its more dramatic roots.
Major Crimes
If you're the TNT network and you've got one of the biggest drama series on cable, it might be hard to bid goodbye to your flagship series when its star wants to call it quits. So in true Hollywood fashion, you simply don't, and that's exactly what happened with "The Closer." In that show's final season, audiences were introduced to Captain Sharon Raydor of the Force Investigations Division, played by former "Battlestar Galactica" regular Mary McDonnell, as a direct rival to show lead Brenda Leigh Johnson. When Johnson stepped down at the end of the series, Raydor inherited the department, and her team. Producers smoothly segued into an all new series that was essentially the same show with a new title: "Major Crimes." A direct continuation of "The Closer," the series took with it many cast members of its predecessor, continuing the stories of the LAPD's best murder investigation unit.
Ditching some of the more light-hearted, tongue-in-cheek tone of "The Closer" for more serious drama, "Major Crimes" hewed closer to the legal side of the cases. It also made sure that McDonnell's Sharon Raydor was every bit the opposite of the more casual lead portrayed by Kyra Sedgewick on the previous series. Raydor here is a no-nonsense, resolute police Captain, and runs her unit with rigidity and a by-the-book structure. A worthy successor, "Major Crimes" continued the franchise's strong traditions, and ran for five seasons, ending its run in 2018.
The Practice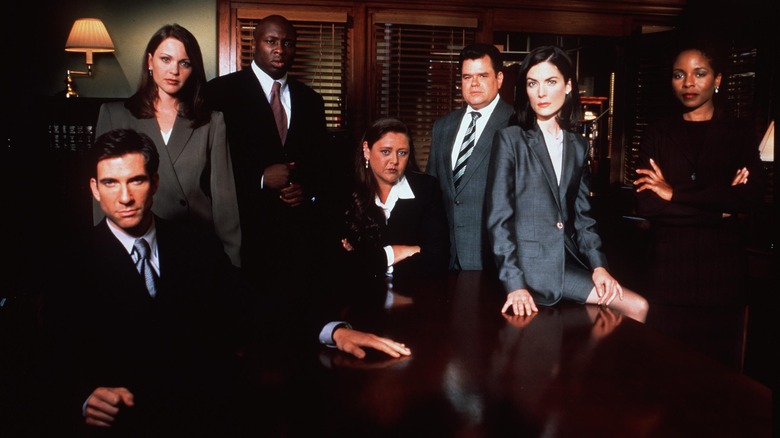 Getty Images/Getty Images
Acclaimed TV scribe David E. Kelley developed two legal dramas in 1997: "Ally McBeal" — the courtroom comedy starring Calista Flockheart that aired on Fox — and "The Practice," a more serious show chronicling the cases taken on by a small law firm. Debuting not long after the conclusion of Kelley's previous series "L.A. Law," "The Practice" focused less on the big time murder cases you might find on "Law & Order," and more of the everyday routine and more common and realistic clients.
Starring Dylan McDermott as Bobby Donnell, "The Practice" stood out for not just showing lawyers prosecuting the bad guys, but for defending them as well, a reality in any real life law firm. And rather than hide from the ethical issues present when a good lawyer must defend a guilty criminal, "The Practice" ran headlong into it, with Donnell constantly wrestling with the moral dilemma he often faced defending terrible people who committed heinous crimes. It did a good job of explaining the necessity of defending real criminals, and justifying nature of our legal system — that it is sometimes better to let a guilty man go free than risk imprisoning an innocent man. After watching, "The Practice" you may just find yourself understanding the legal system a little better, and opening a viewer's mind is the greatest achievement any show can hope to make.
Damages
Continuing on the legal side of the ledger, "Damages" might be better described as a thriller than a simple drama. With Hollywood movie stars Glenn Close and Rose Byrne, an all-star cast of rotating regulars, and season long stories, "Damages" may have more in common with prestige television like "True Detective" or "Dexter" than most on this list, but will satisfy any "Law & Order" fan just the same. Close plays Patty Hewes, a top notch lawyer and mentor to Ellen Parsons (Byrne). The relationship between the two women is the heart of the show, while each of the show's five seasons examines a single case from start to finish, typically sparked by a brutal murder. 
Highly respected for its ambitious stories and sharp writing, The Hollywood Reporter called it a "deliciously edgy and multilayered ... drama." The series boasted some compelling drama, but possibly the best thing about "Damages" is its incredible cast. In addition to Close and Byrne, it featured the likes of Timothy Olyphant, John Goodman, Ted Danson, William Hurt, and ... well, let's just say the list goes on, but we can't be here all day.
CSI
After the wild success of police and legal procedurals like "Law & Order" in the mid-'90s, it wasn't long before other networks wanted to make their own shows centered on a team of crack investigators. The ones that succeeded were the ones that found a new twist on the tried and true formula. In the case of "CSI: Crime Scene Investigation," the series took a more scientific approach, focusing on the work done by the brilliant forensic scientists and criminal profilers who assist in solving murder cases — from medical examiners and entomologists, to high tech data analysts. With a new angle, and blending together the ingredients that made dramas like "Law & Order" and docuseries like "Forensic Files" a hit, "CSI" became an instant classic. 
Starring William Peterson, the series made its mark on television and became every bit as influential as "Law & Order." So influential was the series that it spawned an alleged cultural phenomenon, the so-called "The CSI Effect", where the public — and, more problematically, juries in criminal cases — have higher expectations and pre-conceived notions of what forensic science is actually capable of. Regardless of its affect on real criminal cases, its popularity with television audiences lead to four spinoffs: "CSI: New York," "CSI: Vegas," "CSI: Miami," and "CSI: Cyber." But the original's fifteen seasons are still the top dog.
NCIS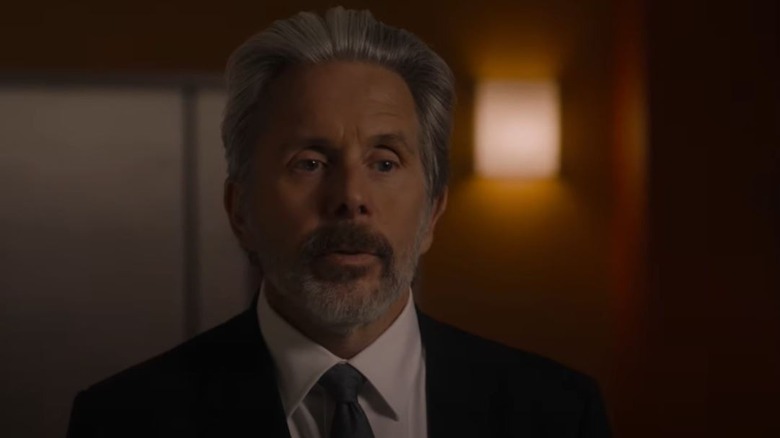 CBS Media Ventures/YouTube
When it comes to TV's best police and legal franchises, "NCIS" is among the league leaders. It began in 2003 from a backdoor pilot in an episode of "JAG." It has since grown into a universe of shows all its own that includes the flagship "NCIS" starring Mark Harmon, "NCIS: Los Angeles" with Chris O'Donnell, "NCIS: Hawai'i" starring Vanessa Lachey, and "NCIS: New Orleans" which featured Scott Bakula and cop drama veteran CCH Pounder. In sum total, the franchise spans over 34 incredible seasons and more than 850 episodes. How's that for a "Law & Order" rival?
Focusing on the investigative units in the Naval Services, a group of highly trained military detectives and skilled veteran field agents work on cases involving the government and military. The true strength of the "NCIS" shows are the charismatic, tough central characters in Harmon, Bakula, O'Donnell, and Lachey. Even when the stories start to strain believability, the prowess of their leads and ensemble casts make it work in slick and dramatic fashion. The main series, "NCIS" aired its 19th season in 2021, with lead star Mark Harmon exiting the series midway, and Katrina Law being promoted to series regular. But despite the change, the series and franchise continues to entertain — with the latest spinoff, set in Hawaii, just beginning its run.
JAG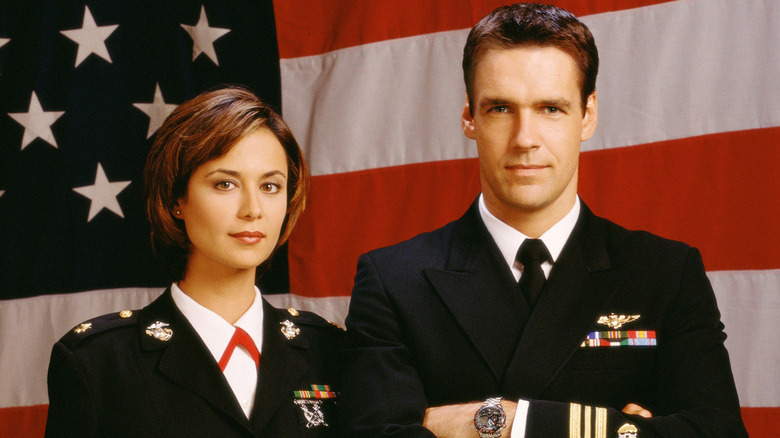 Getty Images/Getty Images
The show that birthed the entire "NCIS" franchise, "JAG" is often overlooked today, now largely living in the shadow of its bigger, younger sibling. But in its day, "JAG" was one of the premier courtroom dramas on television, and focused more on the legal side of the Naval investigation crew than "NCIS." Just think of "JAG" as an episodic TV version of the Tom Cruise classic "A Few Good Men."
Led by JAG Corp members Harmon Rabb Jr. and Meg Austin as Naval officers in the Judge Advocate General's office in Washington, D.C. (and later relocated to an office in Virginia), each episode saw the prosecution or defense of Naval officers involved in criminal cases across the country. Its military theme gave it a flavor distinct from the likes of "Law & Order," and while it debuted to tepid ratings, it soon became one of the most successful dramas of the decade. After its first season, "JAG" actually switched networks when NBC dropped it due to low ratings. CBS picked it up, where it was it became a powerhouse of prime time programming, with the series regularly beating NBC hits like "Mad About You" and "Home Improvement" after the move.
NYPD Blue
A groundbreaking TV series for its unceasing willingness to push the envelope, Stephen Bochco's "NYPD Blue" expanded the scope of prime time police procedurals and changed forever what dramas were capable of on the small screen. The series garnered attention and controversy for its regular use of formerly forbidden (but borderline) curse words, taboo subject matter, partial nudity, and infamously became the first network show to use the dreaded "S-word" in prime time. And while it's true that it showcased more sex and violence than most audiences were used to in the early '90s, what really made it such a landmark series was the intensity of its storytelling. Following in the footsteps of Bochco's own "Hillstreet Blues," the cop drama starring Dennis Franz became an icon by putting their cop characters into dark and serious stories with a profound dose of realism. "NYPD Blue" wasn't a show about flawless officers saving the day and stopping the crooks, it was a show about real people who had to deal with the real problems that come from policing America's biggest metropolis.
"NYPD Blue" ran for 12 sensational years and won 16 Emmys, including one for Outstanding Drama Series in 1995. Franz took home the trophy for Outstanding Lead Actor four times. The series launched the career of David Caruso, who would depart after the show's second season to pursue a film career. He would later return to television to star in "CSI: Miami" where he'd stick around for a decade.
Homicide: Life On The Streets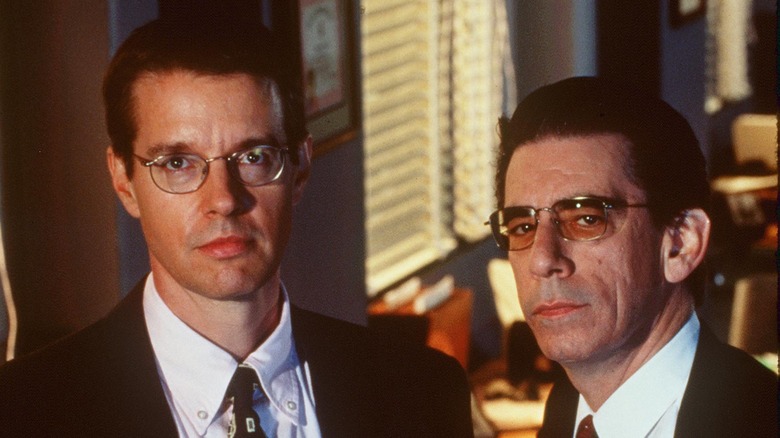 Getty Images/Getty Images
David Simon's "The Wire" is often hailed as one of the greatest shows in the history of television, as well as one of the best crime dramas. Sometimes overlooked though is the earlier network series, "Homicide: Life On the Streets." The show based on Simon's book "Homicide: A Year On The Killing Streets," which chronicled his time embedded with the Baltimore Police Department. Once named by TV Guide as one of the "Best Shows You're Not Watching," the series has grown in esteem and is often found among "best of" lists.
Notable for being featuring breakout star Andre Braugher (Holt on "Brooklyn Nine-Nine"), the series is also the birthplace of TV legend Detective John Munch, the quirky conspiracy-loving sleuth played by Richard Belzer who would become a series regular on "Law & Order: Special Victims Unit." The series ran for seven seasons, and was capped off with a television movie in 2000 that served as a finale to this underrated gem.
L.A. Law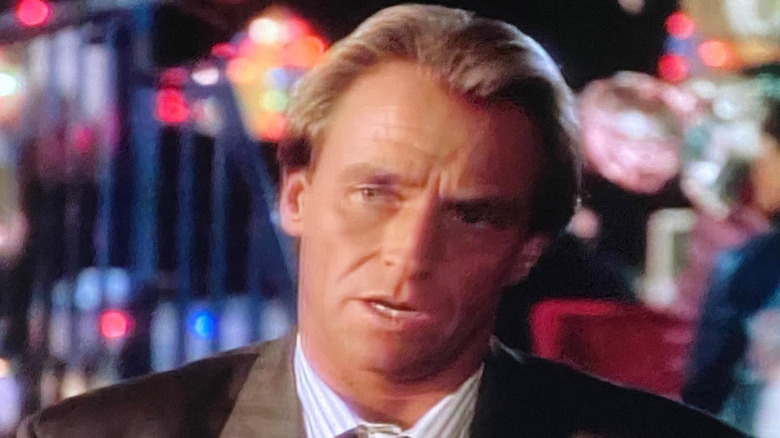 NBCUniversal Television Distribution
"L.A. Law" was a 1980's cultural touchstone — a courtroom TV series that set a new standard for the genre on TV, treating audiences to the day-to-day goings on of an entire law firm set in Los Angeles. Prior to the series, made by "Hill Street Blues" creator Stephen Bochco, legal dramas had tended to focus on a singular crusading lawyer fighting for good in the courtroom, with such famous television lawyers as "Perry Mason" dominating the airwaves. By contrast, "L.A. Law" featured a large ensemble cast that included Corbin Bernsen, Harry Hamlin, Blair Underwood, and Debi Mazar. Though not fully serialized, it pioneered the use of ongoing storylines, and character relationships that would grow and evolve over multiple seasons. Though a bit dated by today's standards, in the days before so-called "prestige television," it was "L.A. Law" that was seen as prestigious — and a must watch for adult audiences in the days of water cooler talk.
Winners of 15 Emmy Awards during its long run, including four for Outstanding Drama Series, "L.A. Law" is the grandfather of today's current crop of courtroom dramas. With recent news of a revival, now is the perfect time to dip in to the waters of this classic legal drama.
The Bill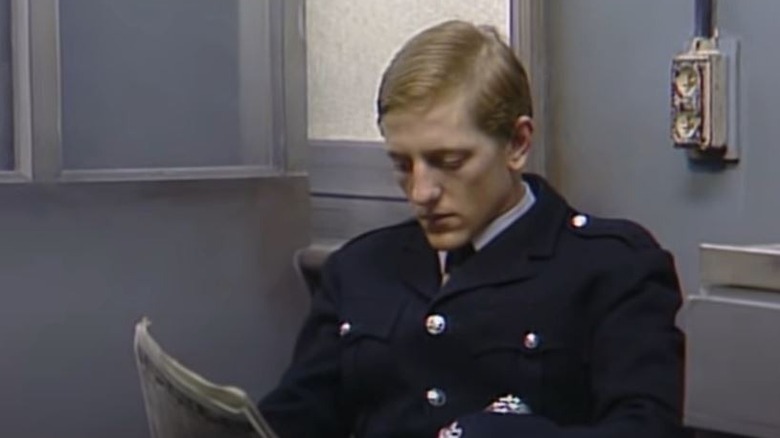 Fremantle
If you're looking for something a little different, you might want to consider "The Bill" from the U.K. One of the country's longest running series ever, it follows the men and women of the Metropolitan Police Force, in a series not unlike "Law & Order." Spanning more than 25 years, the cast continually changed, and featured as many as 100 episodes per series — with two new episodes per week year round — which is unfathomable not just in the U.S., but even in the U.K. were shows often have as few as five or six episodes per series.
The series did not focus on specific cases in each episode, but instead chronicled the routine of a group of officers during a single shift. By the early 2000s, the show had transition to telling long running serialized stories that mixed the professional and personal lives of the officers, as the show adapted to the times. With a more realistic portrayal of policing than was common on TV at the time and sometimes controversial stories, its impact on British television cannot be understated, with it being sometimes compared to U.S. counterpart "Hill Street Blues" for its influence on the police procedural genre in the UK.