The Narration Question Young Sheldon Fans Want Answered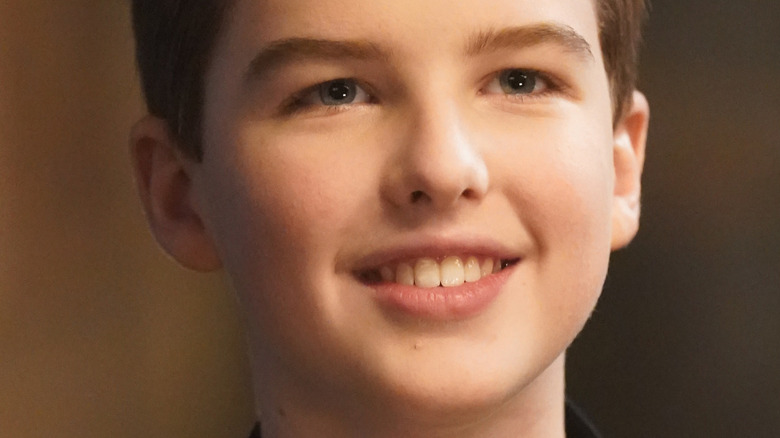 Robert Voets/2022 Warner Bros. Entertainment Inc.
"Young Sheldon," the prequel series to "The Big Bang Theory" focusing on the childhood of beloved quirky genius Sheldon Cooper (Iain Armitage), concluded its fifth season on CBS in May of 2022. According to Deadline, the series has already been renewed through Season 7, meaning audiences still have a plethora of nerdy teenage shenanigans to look forward to. While the series starts off as a relatively simple comedy delving into the early years of the boy genius, it slowly introduces viewers to the more serious issues that arise within the Cooper household. 
For example, in Season 5, Sheldon's brother Georgie (Montana Jordan) unexpectedly learns that he is going to become a dad. The latter half of Season 5 deals with a number of rather serious events in the Cooper family, and seems to set the stage for Sheldon's rough teenage years and the unfortunate patch of luck the Cooper family falls to, as referenced by adult Sheldon (Jim Parsons) and his mother, Mary (Laurie Metcalf), in "The Big Bang Theory." The season finale shows George Sr. (Lance Barber) fired from his position as the football coach, perhaps setting the stage for his fall from the pedestal of a good father to something more befitting of adult Sheldon's description in "The Big Bang Theory."
While the series stars Armitage as the younger version of Sheldon Cooper, Jim Parsons, the actor who played Sheldon in "The Big Bang Theory," narrates much of the show. However, many fans have noted that the familiar voice of adult Sheldon Cooper has been noticeably absent in certain episodes of the series.
Fans wonder why Jim Parsons doesn't narrate every episode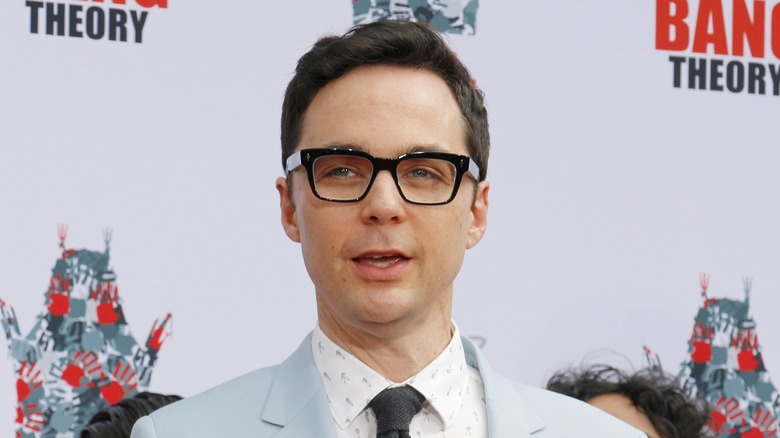 Tinseltown/Shutterstock
Throughout the first five seasons of the series, the adult voice of Jim Parsons tells the story of "Young Sheldon." However, a handful of episodes in Season 5 change this routine. Outside of the "Previously On" segment that precedes each episode, Parsons doesn't utter a single word in Episodes 19 or 20. Additionally, Adult Sheldon is almost completely silent in Episodes 18 and 21. Given the significance of the events in the latter half of "Young Sheldon" Season 5, some fans of the show are wondering whether Parsons' absence has something to do with the ongoing storyline. Unsurprisingly, quite a few fans have taken to the r/YoungSheldon subreddit to offer up speculation about why they believe "Adult Sheldon has been silent for a while."
In one thread, u/RaptorJesusF wrote, "Do you think is there a canonical story reason as to why Adult Sheldon hasn't been narrating the last couple of episodes? Or maybe Jim Parsons is busy? Idk I'd be happy if someone had a theory or explained it to me." In response, multiple other fans quickly came forward to offer their theories. One of the more popular replies came from u/ReplacementAshamed91, who explained that it may be because the last couple of episodes do not exactly focus on Sheldon, but rather on "Georgie and Mandy and her pregnancy." Other theories ranged from the practical to the dramatic. For example, u/JonGilbonie suggested that Adult Sheldon would quickly spoil certain events, while the original poster speculated that Sheldon might be traumatized by the events of these episodes.
So, what have the writers behind "Young Sheldon" said about this?
Young Sheldon producers admit the series has changed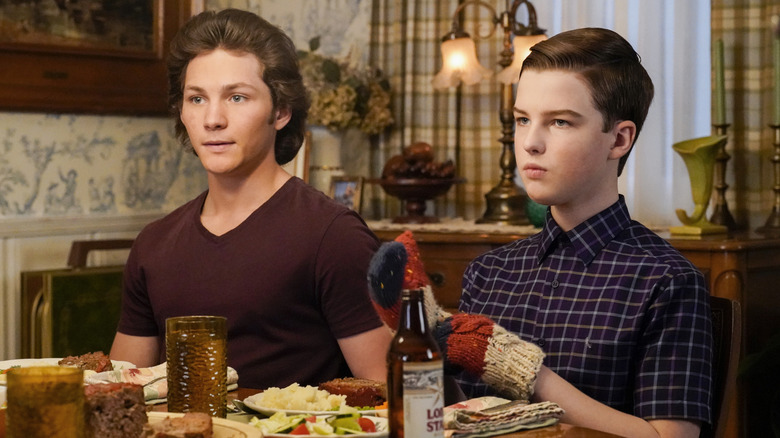 Robert Voets/CBS
"Young Sheldon" producers have yet to directly address Parsons' absence from these episodes. However, series co-creator Steve Molaro has talked about some of the changes introduced in the latter half of Season 5, and his comments suggest that some of these Redditors might have been on to something. In an interview with TVLine, Molaro talked about the transition of the series from a pure comedy to a dramedy. "The kids were getting to an age where we could lean into it more, and tell stories that felt like they mattered to us," Molaro said. "It has been a natural evolution, which is how we like things to grow when they can, and we've stayed more on that road. I think it's working." 
Given the changes introduced in Season 5, fans may reasonably expect "Young Sheldon" to set the stage for many of the events that Sheldon mentions in "The Big Bang Theory" (Georgie's two ex-wives, for example). However, the creators have interestingly admitted that they are not married to the idea of staying true to every retrospection from the parent series: "We don't have a precise roadmap in front of us — and to some extent, we don't feel handcuffed to things that were said on 'Big Bang.' I mean, there are some things that we will honor, but we also have to do what's best for this series."