Ms. Marvel Episode 4 May Have Just Proven This Wild Theory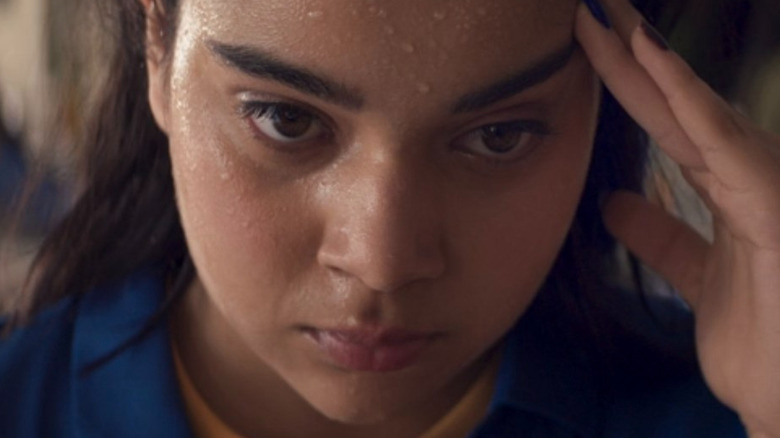 Marvel Studios/Disney+
Contains spoilers for "Ms. Marvel" Season 1, Episode 4
This week on "Ms. Marvel," Kamala (Iman Vellani) took a trip to Pakistan to find out more about her superhuman heritage, only for the danger she left in New Jersey to follow her there. Even with the help of her sharp-minded ally, Red Dagger (Aramis Knight), a battle with the Clandestines sees the bangle take another hit and puts our hero in a place that not even die-hard fans of the comic book version of Ms. Marvel could've expected. Somehow, Kamala has found herself lost in time during the partition of India in 1947, with absolutely no idea of how to get back.
If you thought Kamala Khan's powers in "Ms. Marvel" couldn't be any more varied from their comic book origins, the cliff-hanger at the end of "Seeing Red" took the time to prove otherwise — decades, in fact. In doing so, though, it sets up what might be one of the most important episodes of the Marvel Cinematic Universe's TV stint to date and could include a jaw-dropping timeline twist in the process.
Kamala's trip back in time could be Ms. Marvel's most important episode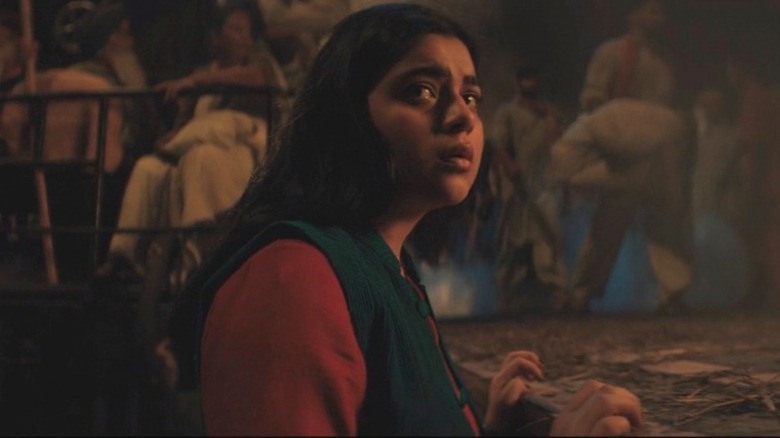 Marvel Studios/Disney+
Since the start of the series, the partition of India has been a constant topic of conversation for Kamala's family and her grandmother, Sana (Samina Ahmed), in particular, and rightfully so. Just as the show has made a brilliant effort to cast a positive light on Pakistani and Muslim culture in a way rarely seen in Western film and television, so too has it endeavored to highlight one of the subcontinent's darkest chapters, which was powerfully broken down by Kamala's grandmother this week. "My passport is Pakistani, my roots are in India, and in between all of this, there is a border," she says when thinking back to the partition. "There is a border marked with blood and pain. People are claiming their identity based on an idea some old Englishmen had."
It's an undoubtedly striking statement that has an impact on Kamala, whose knowledge of the partition of India is strongly linked to a story involving her grandmother that is told in Episode 2 and revisited again this week. After being separated from her family, young Sana found her way back in time to catch the last train thanks to a "trail of stars." While it's a sweet story in itself, could it be one that Kamala has a lot more involvement in than she thinks, particularly now that she's found herself present right at the time it's set to happen?
Is Kamala her grandmother's trail of stars?
While we can't confirm it just yet, there's a chance that Kamala has landed in a pivotal moment in her family's history and could end up being the reason it's still going at all. From the beginning, it's implied that her grandmother saw a literal trail of stars in the sky guiding her back, but what if they are, in fact, the noor-based constructs Kamala can create?
In this episode, we see that she now has a grasp on her powers and how to use them to traverse distances by building glistening, star-like objects out of thin air. What if she does precisely that to lead her grandmother (who is at this time only a child) back to her great-grandfather? It'd be a great little link between the past and present, making Kamala her family's hero before she even knew it.
More importantly, after a flashback in Episode 3, could her trip into the past lead her to recover the other bangle that was missing when Najma and Aisha recovered the one she's wearing? Or if you really want to get yourself into timey-wimey knots, is Kamala the actual thief of the absent accessory the Clandestines initially assumed was taken by British soldiers? We can only hope we get all these answers and more when "Ms. Marvel" returns to Disney+ next week.