Ms. Marvel's Red Dagger Explained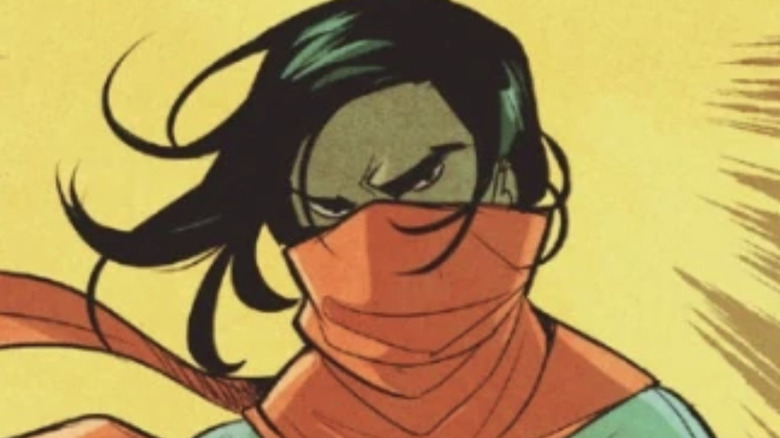 Marvel Comics
Now that "Moon Knight" has descended from the sky following a blockbuster finale, the countdown has officially begun for the next Disney+ venture into the MCU, as "Ms. Marvel" is only a month away. Iman Vellani is set to take on the role of one of Marvel's youngest heroes, and while she might not be embiggening in a way that comics fans might have expected, she will undoubtedly be telling a hero's journey worthy of the MCU.
Of course, being an up-and-comer in this epic world of superheroes isn't easy, but thankfully, the latest teaser for the new show confirms she's going to have some backup, thanks to another ally from the Ms. Marvel comics. Briefly seen in teasers so far, the latest preview entitled "Not Alone" gives us our first good live-action look at Aramis Knight — which already sounds like a super-cool comic book name, right? — as the masked vigilante Red Dagger. 
But who is this mysterious hero seen side-by-side with Kamala, and what can we learn from the ancient texts (aka Marvel Comics) to find out what part he'll play in the "Ms. Marvel" series?
Red Dagger is a razor-sharp ally to Ms. Marvel in the comics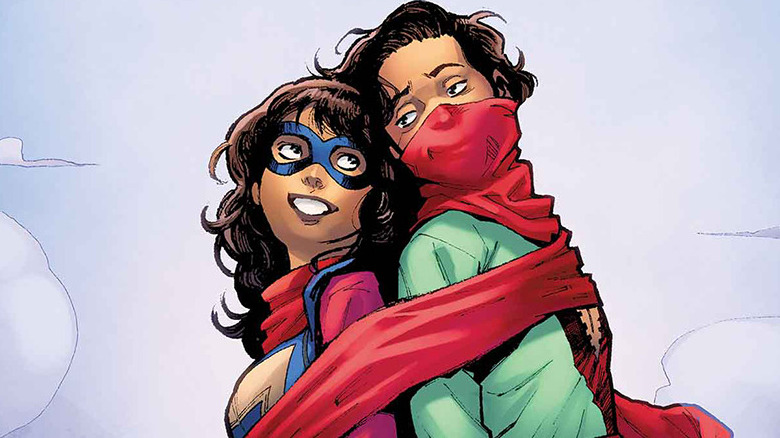 Marvel Comics
While he may have had the superhero gig down following his arrival in the comics, Red Dagger is a relatively fresh-faced crime fighter in Marvel's massive universe. Debuting in Ms. Marvel #12, Red Dagger was created by G. Willow Wilson and Mirka Anfdolfo in 2018 (via Fandom). Born in Badin, Pakistan, this solo vigilante goes by the name of Kareem and studied in Karachi. Living with Kamala's grandmother, he spends the night protecting locals from all manner of villainous foes until, eventually, Kareem transfers to New Jersey as an exchange student and applies his heroic skills there. As shown in the new preview, Kareem's weapon of choice is throwing knives that he can aim with incredible precision.
With so little revealed by the trailers so far, there's no confirmation regarding whether Kareem's journey on the upcoming series will resemble what happens in the comics. Given that Kamala's powers have drastically changed from the source material, her partner-in-crimefighting might well make an earlier visit to America and get into the fight for whatever threat she takes on. The only question is if there's a chance of the two being more than just super friends — and that does seem quite possible.
Is Kareem another point in Kamala's love triangle?
One thing that is hinted at from the previews we've seen so far is that Ms. Marvel's story will involve Kareem potentially colliding with core characters from the comic books, Bruno Carrelli (Matt Lintz) and Kamran (Rish Shah). The former is Kamala's best friend, who displays strong feelings for the hero-in-training from the beginning, eventually revealing his love for her. Before that, though, Shah's super suave new boy on the block stirs the pot as the perfect boy her parents would like to see her paired up with (but one who has secrets of his own).
Factor this in with a powerless, knife-throwing hero, and Kamala will have some serious teenage problems on her energy-powered hands. It'll be interesting to see how the show's creator Bisha K. Ali will handle this — combined with, you know, a girl learning she's a superpowered being — when "Ms. Marvel" arrives on Disney+ on June 8.