Stranger Things 4 Just Keeps Making It Rain For Netflix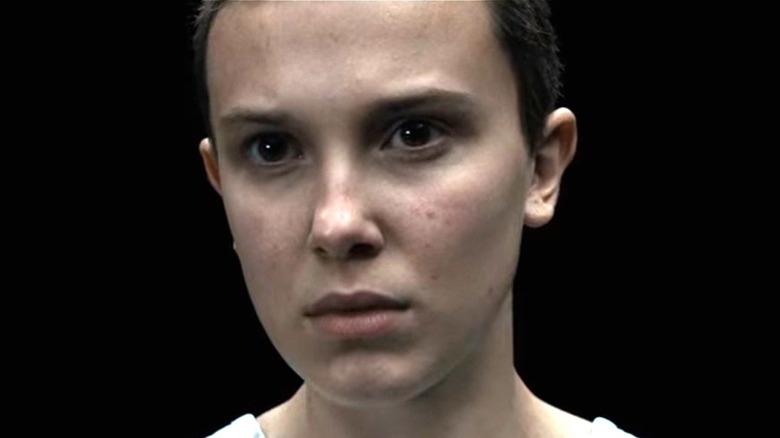 Netflix
You don't even have to watch Netflix's "Stranger Things" to know that the sci-fi drama series is one of the most prized creative ponies in the world of streaming. After a mere four seasons, the series already holds numerous records under its belt. According to a new report, the wildly successful show now owns yet another record following the release of Season 4, Volume 2. 
"I find it funny that there [were] so many 'Stranger Things is dead now, it's been too long since Season 3' comments before Season 4 dropped and now it's breaking its own records," wrote Twitter user @superboysbestie. Plenty of other Twitter users were similarly complimentary of the latest season's accomplishments. "It just keeps getting better," tweeted @pissofloor. 
According to Deadline, "Stranger Things" Season 4 soared to record-breaking heights — with the first seven episodes recording an estimated 7.2 billion minutes of streaming between May 30 and June 5, making it the most watched US streaming show of all time in the span of a week. It also managed to beat out Disney+'s 2022 prized jewel "Obi-Wan Kenobi" and holds the record for the biggest two-week viewership in the history of streaming (via The Hollywood Reporter). 
But as you'll see below, these numbers are ultimately peanuts when compared to the latest "Stranger Things" milestone that's being reported.
Stranger Things 4 has officially crossed 1 billion viewing hours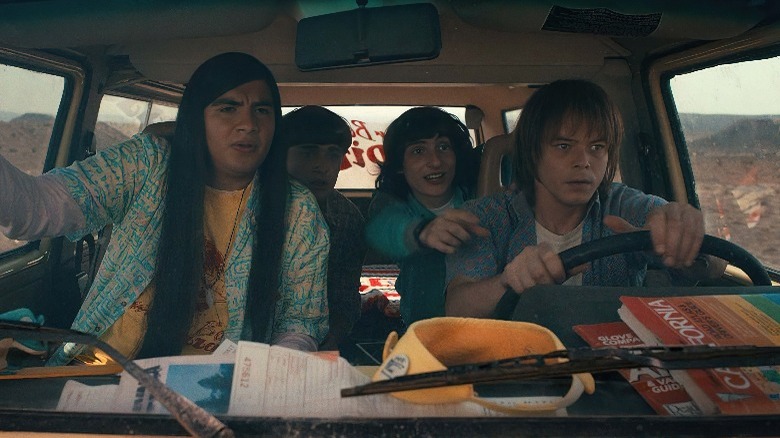 Netflix
According to IndieWire, "Stranger Things" has officially become the second Netflix series to ever cross 1 billion viewing hours on the app within its first 28 days of streaming. It's a feat that only "Squid Game" previously accomplished. This milestone comes after "Stranger Things" Season 4 already shattered the premiere weekend record for an English-language TV show on Netflix with 286.79 million hours of viewing time recorded. 
It took the season just 17 days to do this, per IndieWire. In total, the fourth season of "Stranger Things" has managed to rake in 1.15 billion viewing hours, while "Squid Game" gained 1.65 billion hours in its first month. Many experts believe that since Volume 2 of "Stranger Things" still has a few weeks left before hitting the 28-day mark, the show could technically still break the "Squid Game" record. 
After the first seven episodes of "Stranger Things" Season 4 dropped on May 27, viewers wound up amassing 930 million streaming hours in the first 28 days (via The Hollywood Reporter), and after the July 1 premiere of Season 4, Volume 2, viewers quickly added 200 million hours to the count. These numbers are a substantial increase from previous seasons, themselves heralded as major successes at their respective times of release. According to Netflix, Season 3 pulled in 582 million viewing hours in 2019, while Season 2 earned 427 million in 2017.
The Duffer Brothers have described the latest entry in the series as the biggest and most rewarding season of television they have ever completed. A statement from the showrunners that was released in February 2022 reads: "With nine scripts, over eight-hundred pages, almost two years of filming, thousands of visual effects shots, and a runtime nearly twice the length of any previous season, Stranger Things 4 was the most challenging season yet, but also the most rewarding one."