Stranger Things 4 Just Made The Kind Of News Netflix Sorely Needs Right Now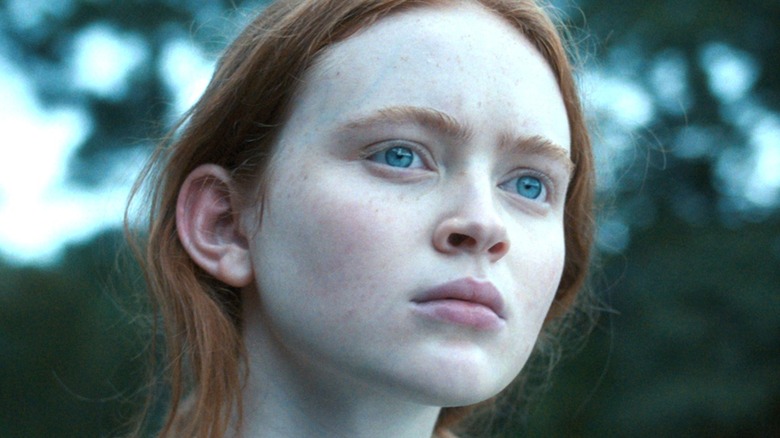 Netflix
While there's no doubt that premium streaming network Netflix has enjoyed a staggering level of success since it launched, the company has been going through something of a rough patch as of late. It recently reported that it had lost 200,000 subscribers and has even been contemplating adding a cheaper, ad-supported subscription option to offset this (via Reuters). This is a method that has worked somewhat well for Netflix's competitors like HBO Max, Paramount+, and Peacock, though Netflix has been adamantly resisting such a method up until now.
At the end of the day, however, the OG streaming service has arguably remained as popular as it is because of its plethora of original content. One of the streamer's most popular offerings in this department is the nostalgia-fueled horror series "Stranger Things," which attracted all sorts of attention when it premiered in 2016 thanks to its 1980s setting and compelling, bingeable appeal. However, thanks to the pandemic, fans had to wait nearly three years for Season 4 of "Stranger Things" to finally make its debut. As it turns out, the wait has been more than worth it, as the series has just proved beyond a reasonable doubt.
Stranger Things Season 4 has broken premiere weekend viewing records
As reported by Deadline, Season 4 of "Stranger Things" has set a new viewing record for Netflix in its debut weekend. According to the streamer, viewers spent 286.79 hours watching "Stranger Things" Season 4. That number easily eclipses the previous record of 193 million viewing hours set by Season 2 of "Bridgerton." Not only that, but "Stranger Things" was also the No. 1 viewed show in 83 countries, which is yet another viewing record in and of itself. Simply put, it's a really good weekend for Netflix and a welcome piece of good news that its executives probably needed right now.
"Stranger Things" has also continued its run of critical acclaim, garnering an impressive 94% on Rotten Tomatoes for Season 4 thus far. Many have praised the darker, gorier approach to this latest entry, as well as its offering of supersize episodes. The good news doesn't end there either since the first 7 episodes released by Netflix comprise only Volume 1 of Season 4. Fans clamoring for more "Stranger Things" won't have to wait long — Volume 2, which will consist of two additional episodes, will be premiering on July 1. Whether or not those two episodes can keep the series' record-setting run going strong remains to be seen, but it's clear that "Stranger Things" remains the flagship experience for Netflix subscribers.