David Harbour Wants This Euphoria Star To Play Young Hopper In A Stranger Things Spin-Off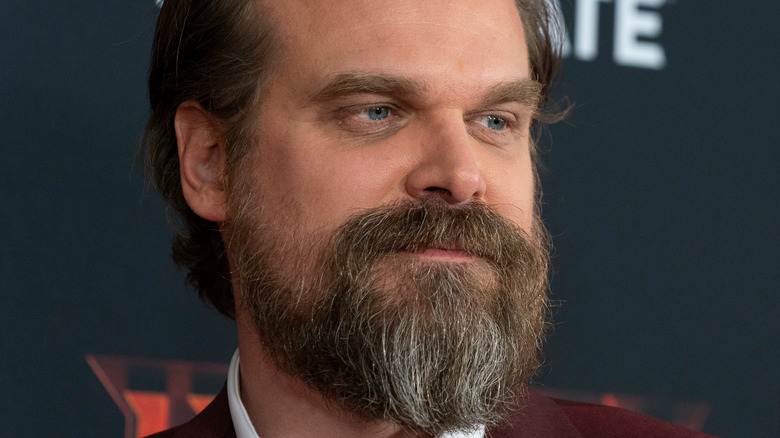 Lev Radin/Shutterstock
After what became an excruciatingly long wait for Season 4 of "Stranger Things," fans of the thrilling sci-fi horror series returned in droves to make it one of the most-binged series in Netflix's history (via Deadline). And they temporarily broke Netflix when Season 4, Volume 2 arrived on July 1. Judging by fan reactions, pulse rates were heightened, hearts were broken, and minds were blown along the way (via Cosmopolitan).
It's safe to assume expectations are officially through the roof for the upcoming fifth — and final — season of "Stranger Things." David Harbour's fan-favorite character Jim Hopper, of course, made his return to the series this season after narrowly cheating death in the Season 3 finale. The Hawkins police chief indeed plays a sizable role in the latest season-ender, and it seems he'll have a part to play moving forward too. Still, Harbour believes it'll be a while before fans actually get to see how "Stranger Things" ends, telling GQ, "I think we'll [shoot] next year. ... So it'd probably come out mid-2024, based on our track record."
Until then, theories abound as to what lies ahead for Team Hawkins in the final season. Some "Stranger Things" stars are even teasing potential spin-off series. And if one of those spin-offs should be about a younger Hopper's formative years in Hawkins, David Harbour thinks this "Euphoria" star would be great in the role.
Harbour thinks Euphoria star Jacob Elordi could play a young Hopper
DFree/Shutterstock
Before we continue, it should be noted that neither Netflix nor anyone else involved in "Stranger Things" has announced or even alluded to a possible prequel series centered around Jim Hopper. That being said, based on David Harbour's comments to GQ, the actor is certain enough that some sort of spin-off from the massively popular series will happen, stating, "I think as soon as the show ends ... you'll be hearing about whatever spin-offs they have planned."
Harbour went on to offer that if said spin-off should happen to feature Hopper, he'd prefer to see another actor play the part: "I think Hopper is a character that can exist independent of me. ... I'd love to see another actor play Hopper, and see what they can bring to it." Given how closely the character is associated with Harbour, anyone stepping into the role would certainly have their work cut out for them in trying to make it their own. In an email response to his GQ interviewer, however, the "Stranger Things" star named a potential successor in Jacob Elordi, who's best-known for playing Noah Flynn in Netflix's "The Kissing Booth" and the sometimes softhearted bad boy jock Nate Jacobs on HBO's "Euphoria." After naming Elordi, Harbour even sheepishly noted of the young actor, "He could pull off being as handsome as I was at 20."
As it is, a "young Hopper" series just doesn't feel like the right move for a "Stranger Things" spin-off, particularly in the context of the show's increasingly intricate mythology. But if Netflix bosses did manage to tap the "Euphoria" star for the part, fans would almost certainly tune in to see it.