Stranger Things 4 Vol. 2 Finally Reveals Vecna's Master Plan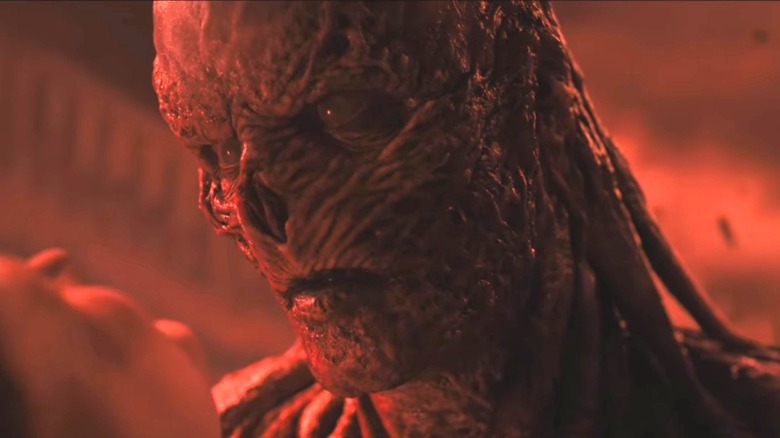 Netflix
Contains spoilers for "Stranger Things" Season 4, Episode 9
"Stranger Things" fans have been waiting patiently since May 27 for the final two chapters of Season 4, which sees the Hawkins gang facing off against the all-powerful Vecna. Because of how dramatic this season has been, many fans have been wondering which characters are on the chopping block — and there are definitely some heartbreaking moments scattered across the two feature-length episodes. Don't worry; Twitter darling Steve Harrington (Joe Keery) makes it out alive, just — although Joseph Quinn's Eddie Munson sacrifices himself to save the others in a moment of personal growth.
It's all in the name of stopping Vecna, who is finally unmasked as Henry Creel (Jamie Campbell Bower), also known as One, the helpful orderly at the Hawkins lab in Eleven's (Millie Bobby Brown) flashbacks. The end of Volume 1 revealed that the abuse he suffered at the hands of Dr. Brenner (Matthew Modine) warped his already-dark personality and he became a mass-murdering monster — although it isn't until Eleven blasts him into the Upside Down that he becomes the tentacled, fleshy beast that he is in the present day.
His reign of terror didn't stop at the Hawkins lab, though — the bulk of the season revolves around Vecna slaughtering teenagers around the town by snapping their limbs and absorbing their trauma as a way of making himself more powerful. He's had his sights set on Max Mayfield (Sadie Sink) for a while, and it's only the true power of Kate Bush's "Running Up That Hill" that keeps her out of his clutches.
Thankfully for fans, the pieces fall into place by the end of Volume 2, which finally reveals Vecna's master plan.
Four victims, four gates, four chimes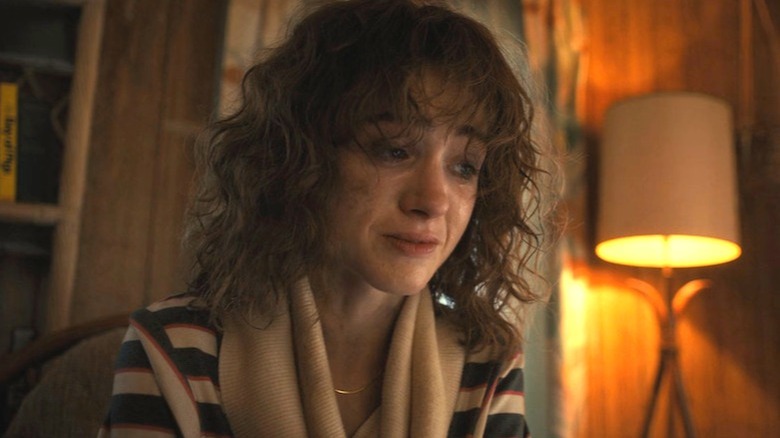 Netflix
The Duffer brothers waste no time in explaining Vecna's plan at the beginning of Season 4, Episode 8, "Papa," after Nancy (Natalia Dyer) escapes from the villain in the opening — although it's worth pointing out that he only let her go to send a message to the rest of the gang so that they know what they're going up against. Vecna is clearly a twisted individual, and he gets satisfaction out of inflicting pain and suffering on other people — so this is a very effective way of getting into the heroes' heads.
Nancy tearfully explains that Vecna showed her a vision of Hawkins in ruins while an army of monsters spills into the streets out of four gates from across the town. She identifies three of the gates as the sites of the three murders so far: Eddie's trailer, the road where Fred (Logan Riley Bruner) is killed, and Lover's Lake. Unfortunately, that only leaves one victim for Vecna to scratch off his hit list: Max. If she dies, Hawkins falls. This puts a huge amount of pressure on everyone in the group, knowing that if they don't succeed in killing Vecna and saving Max, then they will lose not only their friend but the entire town too.
Max then points out that Vecna has been taunting them the entire time with visions of the grandfather clock that chimes four times. So let's get this straight: At its heart, "Stranger Things" Season 4 revolves around four victims, four gates, and four chimes. ... Has anyone asked the Duffer brothers what their favorite number is yet? Because this might've cracked the answer.