It's Time To Talk About Eddie's Big Moment In Stranger Things 4 Vol. 2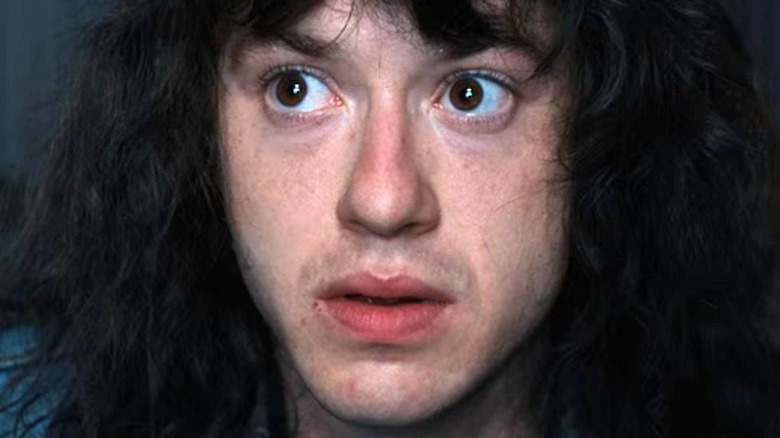 Netflix
Contains spoilers for "Stranger Things" Season 4, Episode 9
"Stranger Things" fans have had a painstakingly long wait for the final feature-length episodes of Season 4 after Volume 1 arrived on May 27, but Netflix has finally released the last two chapters, and they drastically change the future of the hit series.
While the end of Volume 1 revealed that the terrifying villain, Vecna (Jamie Campbell Bower), is not only Henry Creel but also One, Volume 2 mainly revolves around the gang's attempt to kill him by using Max (Sadie Sink) as bait. After all, he's already had a taste of her pain and he wants to finish the job. This is partly because Vecna's master plan involves ripping open four gates across Hawkins using four deaths as a way of bridging the real world with the Upside Down. Needless to say, that would be pretty bad. The stakes have never been higher, and there's been talk of a tragic death in the series since before this season started.
So it's a little nervewracking when Steve (Joe Keery), Nancy (Natalia Dyer), and Robin (Maya Hawke) all lie in wait for Vecna at the Creel house while Dustin (Gaten Matarazzo) and Eddie (Joseph Quinn) keep the Demobats distracted with an impromptu metal concert at the trailer park. Unfortunately, the battle comes at a high price for Eddie — but it's also a moment of personal growth and self-sacrifice.
Eddie puts himself on the line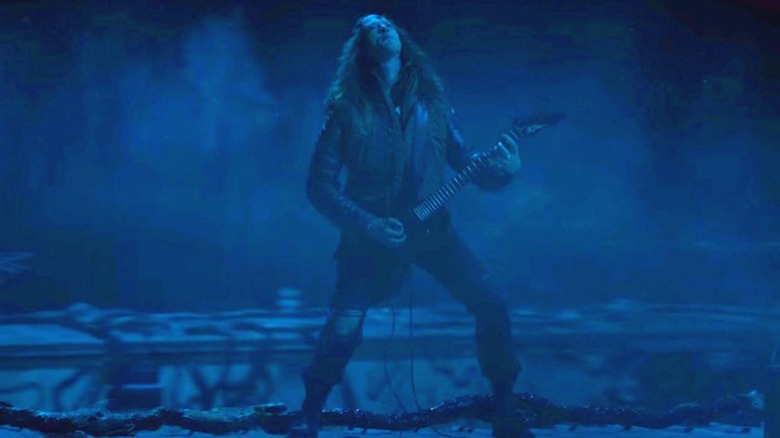 Netflix
The leader of the Hellfire Club has been a big focus this season since the Hawkins townsfolk think he's responsible for the deaths of Chrissy (Grace Van Dien), Fred (Logan Riley Bruner), and Patrick (Myles Truitt). It's all down to the (very real) satanic panic that gripped the United States in the 1980s, which led many to believe that Dungeons & Dragons was part of some sinister evil plot to corrupt young people. Although Eddie spends most of his time hiding and going on the run, he armors up to help Steve, Nancy, Robin, and Dustin in the Upside Down.
Eddie's idea of distracting the Demobats is a pretty inspired one — he grabs the Upside Down version of his electric guitar and climbs on top of the trailer to absolutely shred Metallica's "Master of Puppets" as a siren song to draw the Demobats away from the Creel house. It's an act that fits his character perfectly since he's a metalhead as well as a Dungeon Master. It's a pretty appropriate song choice too, since Vecna is also a master of the Upside Down.
The scene allows Eddie to let loose for a few minutes after spending days hiding in the woods by Lover's Lake — he just gets lost in the music, knowing that it's helping in the fight against Vecna. While Eddie isn't much of a brawler, this is something he can do to contribute to the team, and his performance is another example of how powerful music can be in the series. After all, Kate Bush's "Running Up That Hill" is Max's hopeful anthem to pull herself out of the Upside Down in Episode 4. But Eddie putting himself on the line shows he's grown up a bit.
Eddie dies in a moment of heroism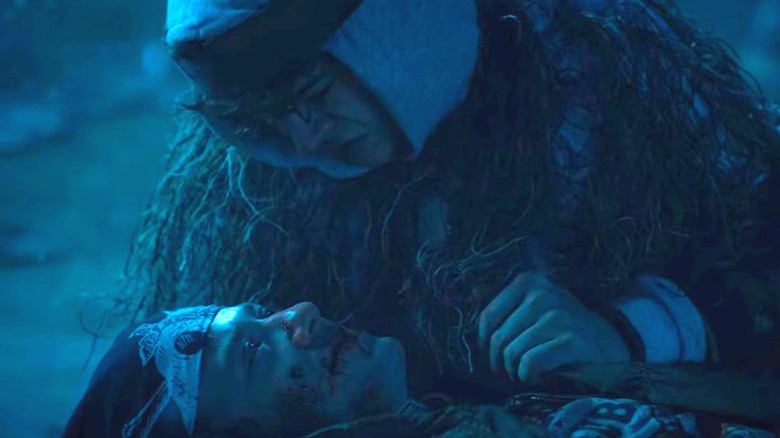 Netflix
Unfortunately, Eddie and Dustin's plan works a little too well and they have to deal with a huge swarm of Demobats that assault the trailer, eventually breaking in through the vents. The beasts are small, but they're vicious. Eddie quickly bundles Dustin through the gate back into the real world before severing the makeshift sheet rope so that he can't come back through and get hurt. Obviously, this leaves Eddie trapped in the Upside Down. Uh-oh.
It's a selfless act of heroism, and it proves that Eddie isn't afraid to grow up and take responsibility for his own actions. He knows full well what he's about to do, and he doesn't want Dustin to get hurt in the process. The Dungeon Master is just protecting part of the party. Although at first it looks like Eddie might get away from the Demobats on a bike, one of them knocks it out from underneath him — and he's suddenly swarmed by the monsters.
Choosing to save Dustin while drawing the Demobats away from his young sidekick and the Creel house proves that Eddie has grown up since the start of the season — when he jokes about being held back at high school and refusing to conform with society. Although Dustin gets back through the gate to find his friend, he's too late — and in a heartbreaking goodbye, Eddie passes the mantle of Dungeon Master on to him, noting that he didn't run away this time. See? Growth.
Fans have been worried about Eddie's fate for a while, and this loss definitely hurts considering how charismatic Joseph Quinn was in the role. But at least it had meaning.