It's Time To Talk About That Max Shocker In Stranger Things 4 Vol. 2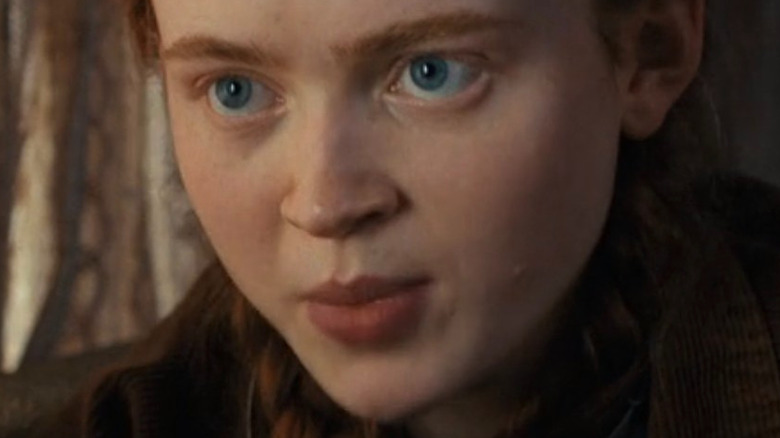 Netflix
Contains spoilers for "Stranger Things" Season 4, Episode 9
Since the beginning, "Stranger Things" has kept a consistent record of turning things up to Eleven for its drama and compelling emotional beats in between decimating whatever dares to step out from the Upside Down. Season 4, Volume 1 of Netflix's award-winning series accomplished that before a five-week break that felt like a year on its own. From there, though, alarms were raised thanks to threats from the Duffer brothers promising a mad symphony of chaos for Volume 2. It turns out they weren't kidding — the Mind Flayer-sized double dose of final episodes hit us with plenty of emotional gut punches, turning one in particular right up to the Max.
It's fair to say that for most of this season, Sadie Sink's performance as Max Mayfield has been at the core of some of its most heart-wrenching scenes. Besides putting Kate Bush back on the charts (for which the star was very grateful), it elevated (no pun intended) the character into one of the show's biggest draws. The hope was that she would help save the day and be rewarded for her troubles. Instead, Volume 2 ended in a bittersweet victory against Vecna aka Henry aka One (Jamie Campbell Bower) in what was easily some of the show's most powerful scenes to date.
Sadie Sink stole the show in Max's finest hour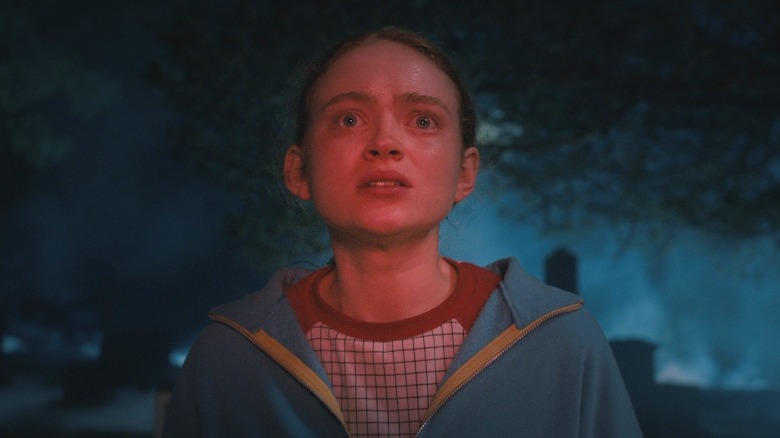 Netflix
Seeing any of the "Stranger Things" characters fall this year was going to leave a mark, but Max's dug in deeper than expected simply due to the time spent getting to know her this season. Between Eleven (Millie Bobby Brown) trekking through Max's memories and Max finally being honest about her feelings regarding her brother's death, these emotional beats allowed us to really connect with her and see that she had a clear path ahead — that is, until that '80s-obsessed double act the Duffer brothers pulled the rug out from under us and got Max right where Vecna wanted.
Max's plan to use herself as bait quickly turned south even despite Eleven piggybacking her way in to defend her. Although Eleven was only briefly out of the fight, it was long enough for Max to endure a similar fate as Vecna's previous victims, making for an excruciating watch. However, this wasn't orchestrated chaos like the show's creators had suggested; it was flat-out agony as those closest to her looked on, and Lucas (Caleb McLaughlin) got the worst point of view. Watching an invisible force snap his former flame's limbs was horrifying, but it also played a small part in rectifying a significant issue in Volume 1.
Max's bravery allowed Lucas to finally get off the bench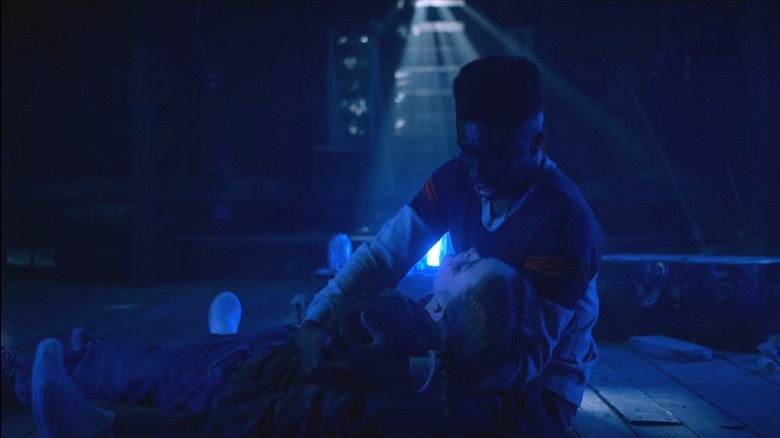 Netflix
Season 4, Volume 1 of "Stranger Things" spent time putting critical pieces in place, and here we see them in action, including Max's ex, Lucas. After watching him question his alliances in Volume 1, seeing him battle his former team captain, Jason (Mason Dye), and accepting being outside the norm felt long overdue. This also allows him to be at Max's side during her darkest hour, setting up McLaughlin to flex his acting muscles and provide some of the best work we've ever seen from him, culminating in one of the most visually stunning and simplistic moments, not just of this season but of the entire series.
Lucas pleading for Max to come back would've turned on the waterworks regardless, but having both of them be joined by Eleven in her barren and empty realm, which we've seen so many times before, amplifies just how huge the loss is. Watching Max's friends cry for her together while still apart is a beautifully bleak sight, one that is revisited when Eleven visits Max in hospital. To quote Papa (Matthew Modine) regarding Vecna's tactics, "He takes everything from his victims. Everything they are and everything they ever will be. Their memories, their abilities." The evidence of this is clear when Eleven makes one last attempt to psychically link to Max but finds nothing. Vecna certainly went by the book — but it's the one we see Lucas reading we should focus on.
Could the future of Stranger Things be found in The Talisman?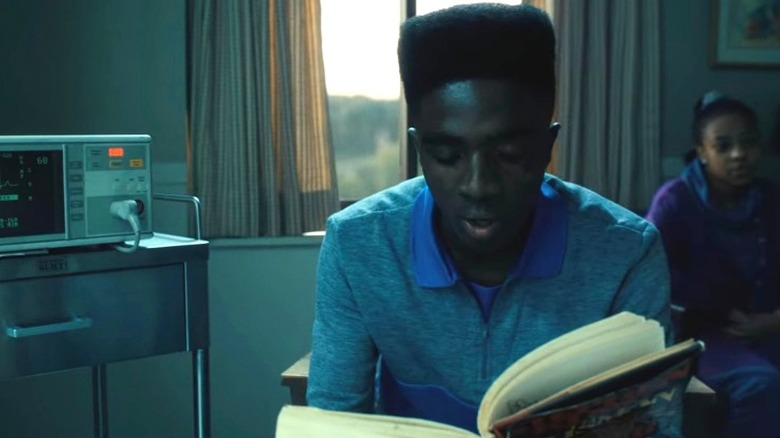 Netflix
Before Eleven and co. walk into Max's hospital room, Lucas is reading Stephen King and Peter Straub's 1984 book "The Talisman," a dark fantasy novel about a boy who uses the titular item in an attempt to save his mother from cancer. Admittedly, any book could've been picked off the shelf, but this one takes place in a world of alternate dimensions inhabited by parallel individuals, or "twinners," to those living in ours. These twinners can possess their other selves (think Wanda in "Doctor Strange in the Multiverse of Madness") and jump between worlds, but should one of them die, their doppelgänger becomes "single-natured." This allows them to jump between realities without needing a duplicate to inhabit.
With this page-turner in mind, could this hint at what's in store next season? Could Vecna still be alive even after being seemingly shot and burned to death, and if so, where is he? Might he still have what remains of Max, as Brennan suggested? Could Max be lost in another reality herself beyond the Upside Down? If so, a rematch for all of Max's marbles and the fate of the world could be in the cards for the final season of "Stranger Things." Our only hope is that it can top the most metal moment in history that was Eddie's rooftop guitar solo. Better get practicing, Eleven.