Which Metallica Guitar Solo Does Eddie Absolutely Shred In Stranger Things 4 Vol. 2?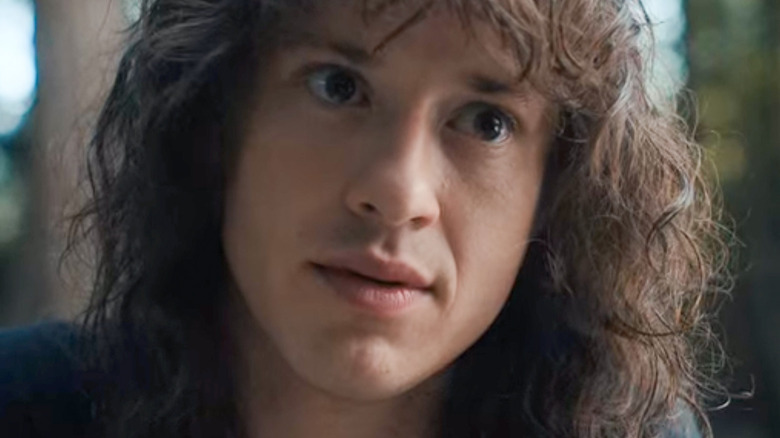 Netflix
Contains spoilers for "Stranger Things" Season 4, Episode 9
Music has always played a significant part in "Stranger Things" – Kate Bush's "Running Up That Hill" has broken three Guinness World Records since Max Mayfield (Sadie Sink) started listening to the song to help keep Vecna (Jamie Campbell Bower) at bay — and the last two episodes of Season 4 are no exception. In the finale, "The Piggyback," Bush's tune again figures prominently, but it's another song from the same era that helps keep Max safe during the group's campaign, at least momentarily.
Hawkins' resident metalhead, Eddie Munson (Joseph Quinn), faces a storm of bats to stand atop the Upside Down version of his trailer and perform what he and Dustin Henderson (Gaten Matarazzo) twice refer to as "the most metal concert everrrrrr." His manic rooftop guitar solo helps keep Max tethered to safety while Vecna pursues her through his old house and dark clouds spit red lightning above Eddie's head. But what is the song Eddie plays in the "Stranger Things" finale?
Eddie shreds Metallica's Master of Puppets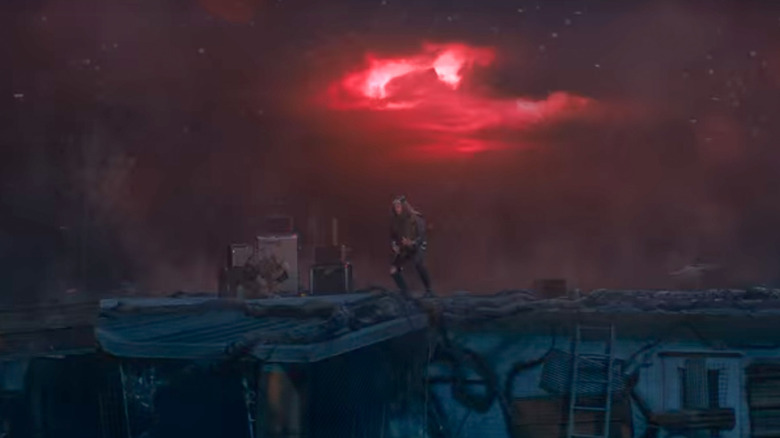 Netflix
The song Eddie plays in the "Stranger Things" finale is "Master of Puppets" by Metallica. It first appeared on the 1986 album of the same title, which was deemed important enough to be added to the Library of Congress' National Recording Registry in 2015.
"Master of Puppets" is heavier than most of the musical fare that has been featured in "Stranger Things" so far but by no means out of character for Eddie, who boasts a collection of tapes from heavy metal bands of the day. His solo morphs into Metallica's recording — complete with James Hetfield's vocals — and lasts just long enough to guide Max to the temporary safety of an Upside Down version of the Hawkins Middle School Snow Ball.
While Eddie is later killed by a swarm of bats and Max ends the season in a coma with multiple broken limbs after her run-in with Vecna, his heroic actions help save the day. It may not have been a happy ending for either of the characters connected by Eddie's "Master of Puppets" solo, but at least viewers got to hear a good chunk of another legendary '80s song.