Steve Buscemi's Favorite Adam Sandler Movie Makes The Most Sense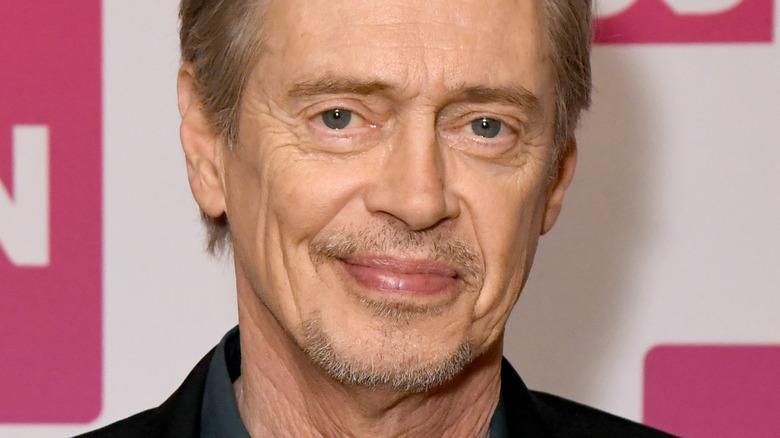 Jeff Kravitz/Getty Images
Adam Sandler has enjoyed a long and varied career and has dabbled in many genres. While perhaps best known for his long run of commercially successful comedies, which have resulted in films starring Sandler grossing over $3 billion worldwide (per The Numbers), the actor has also been known to step into more dramatic fare like "Uncut Gems" and "Punch Drunk Love."
Regardless of what sort of film he's tackling, however, Sandler has a close circle of actor friends that he tends to work with. Unsurprising to anyone who has followed the actor's career for decades, one of those friends is none other than versatile character actor Steve Buscemi, who has appeared in a number of Sandler's comedic efforts. Buscemi himself has enjoyed a prolific career in his own right, from starring roles in projects like "Boardwalk Empire" to supporting roles in classic films like "Reservoir Dogs." However, when it comes to Buscemi's favorite Sandler movie, his answer will probably make a lot of sense to most fans of the duo's works together.
Steve Buscemi is a big Billy Madison fan
During a Reddit AMA with the actor, Steve Buscemi was asked what his favorite collaborative project was with Adam Sandler, and his choice was fairly clear. "Well, I'm very partial to 'BILLY MADISON,' because that was one of the first films that Adam did on his own, as part of his production company," Buscemi said. While he did explain that he loved the other films that he and Sandler have done together ("Airheads," "The Wedding Singer," "The Ridiculous Six") and that it was hard to actually pick a favorite, he went on to say that he is enamored with the character he played in "Billy Madison."
"Billy Madison" tells the story of the eponymous character (Sandler), a highly immature young man who needs to repeat all 12 grades in order to take over his father, Brian's (Darren McGavin) hotel chain. Buscemi appears in a small role as Danny McGrath, a former classmate who Billy used to bully when they were young. In a pivotal scene, Danny appears toward the end of the film to save Billy from antagonist Eric Gordon (Bradley Whitford), the Madison Hotels executive vice president who was also in the running to take over from Brian. This scene comes after Billy calls Danny to apologize for how he treated him when they were younger. 
For comparison's sake, it's a smaller role than the one Buscemi played in "Airheads," where he and Sandler, along with Brendan Fraser, starred as members of a heavy metal band desperate for airplay. However, Buscemi's role in "Billy Madison" as a once-bullied kid doing right by his now-remorseful former tormentor has clearly stuck with him through the years.