The Cobra Kai Season 4 Scene Fans Agree Was Out Of Character For Johnny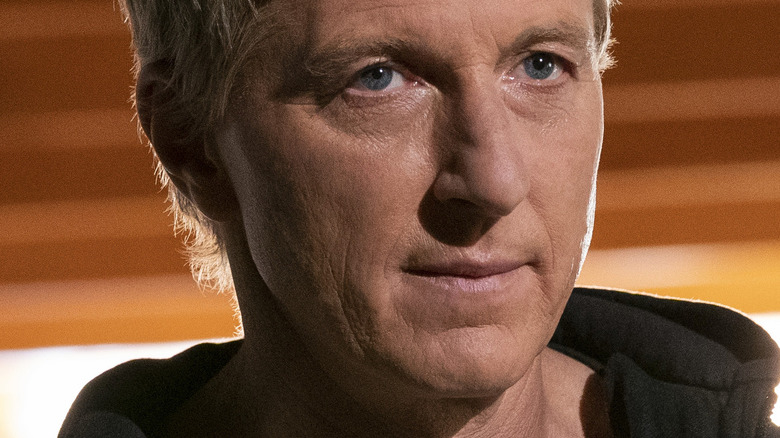 Curtis Bonds Baker/Netflix
When it comes to "Cobra Kai," William Zabka's Johnny Lawrence has had the toughest personal battles than anyone else on the show. Since we reunited with him after 38 years in 2018, the former top student of Cobra Kai's golden era has been forced to face old rivalries, reflect on losses, and cherish the little wins in this borderline ludicrous war between opposing karate schools. As dumb as that might sound written down, it nevertheless fortified Lawrence's role in the ongoing chapters of the Miyagi-verse, ushering him to grow as a person and learn from his mistakes. Doing so made this product of the '80s with the mindset to match, finally showing signs of improvement in an era he'd been reluctant to be a part of. At least, that's what fans thought was happening up to a point.
Even with all his progress, one moment in the show's fourth season felt like a total undercutting of Lawrence's development as a person and a teacher. The message it was trying to deliver was clear, demonstrating a solid display of the opposing views and methods between himself and Daniel LaRusso (Ralph Macchio). What it didn't intend to do was push the limits of the show's view on reality and reason with a lesson no logical person would ever consider doing — unless that person was Spider-Man.
The rooftop challenge in Season 4 was even too dumb for Johnny
While it was no surprise seeing Johnny and Danny unite and then immediately split up in Season 4, what did make jaws drop was witnessing the former's first lesson for his students involve them jump from one building rooftop to the next. With the only bit of safety being some used mattresses below, it was a cartoon-ish idea that wasn't befitting of the Lawrence we'd come to know and love. Taking to the "Cobra Kai" Reddit page, one fan highlighted that after spending most of Season 3 helping Miguel recover after injuring his back, it made no sense for Johnny to have a group of kids parkouring across rooftops.
"From a character standpoint, that act was ludicrous, and he should've grown up more at that point," said u/Legitimate_Unit_9210, baffled that it even went ahead. "I still can't completely let it go. There's funny-dumb, and then there's just dumb. That scene was dumb." They weren't the only ones to question the Lawrence's lessons either, as u/devs_6669 said, "the roof top jump was ridiculous and stupid. I agree." u/Jay_Kramer_1993 added that his top student Sam (Mary Mouser), who has a history of taking things too far, didn't help either saying, "Sam's 'flawless' landing of the rooftop jump was the dumbest!" Thankfully, in anticipation of the show's fifth season, Zabka promised a more focused Johnny who hopes to rebuild bonds with the young cast, rather than chuck them off buildings.
There's more work to be done for Johnny in Cobra Kai Season 5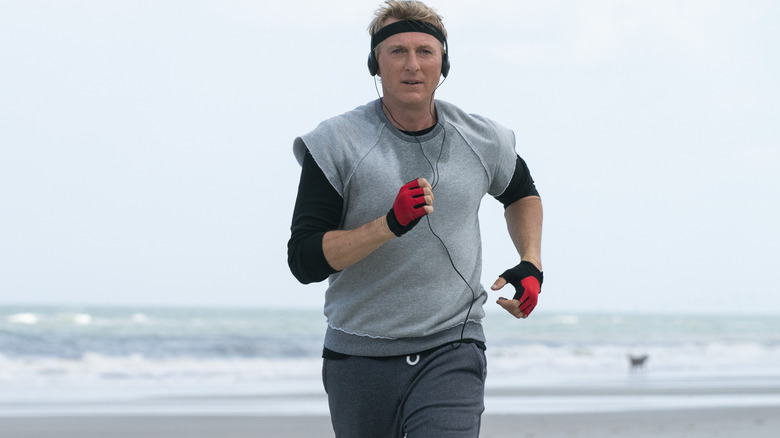 Curtis Bonds Baker/Netflix
While some of Johnny's antics from Season 4 may have put the teacher back a few levels, Season 5 has every chance for him to advance when Robby (Tanner Buchanan) reluctantly joins him for a road trip to track down Miguel (Xolo Maridueña), as teased in the last trailer. Not only will it ensure some father son time that even fans believe to be long overdue, it will also highlight to Johnny what's more important to him than cool sounding karate classes
Making sure not to give too much away, Zabka told Collider, "At this point, Daniel and Johnny they separated but then they come back together at the end." No change there, then? Nevertheless, Zabka did suggest that Lawrence is closer to seeing the bigger picture that stretches beyond the All-Valley Tournament and being a self-proclaimed bad***. "But really, more than the martial arts, more than the Eagle Fang of it, they're connected to these people, these humans, these characters so Johnny starts with Miguel, wherever Miguel is, and Robby. So what happens with Eagle Fang, we'll see." Yes we will, Mr. Zabka. Yes we will.