The Chicago Med Episode That Finally Got Fans To Turn On Dr. Manning
Want to see an army of "Chicago Med" Chi-Hards set social media on fire? Three words: Dr. Natalie Manning. Portrayed by veteran actress Torrey DeVitto from the 2015 premiere episode until she exits the show in Season 6, the mere mention of her name is often enough to prompt the entire "One Chicago" fan base to jump online and eagerly make their opinions known about this strong-willed Gaffney Chicago Medical Center doc.
As a physician in the hospital's Emergency Department with a focus on pediatrics, DeVitto's Dr. Manning is generally popular with many of her co-workers, despite her sometimes bull-headed insistence that she's more or less always right about any given medical situation. After some early friction, she develops a tight relationship with Dr. Will Halstead (Nick Gehlfuss), even though he can be as stubborn as she is regarding diagnoses and patient care. But their friendship comes to an end when Natalie steals drugs from an ongoing medical trial in order to save her ailing mother. After Will takes the blame for Natalie's actions, both doctors end up being fired. And while Will is eventually re-hired, DeVitto's character leaves the show for good. With this and other exploits to consider, which "Chicago Med" episode serves as the ultimate push that has viewers jumping off the Natalie Manning fan train?
One Season 5 episode of Chicago Med sealed Natalie Manning's hate-fate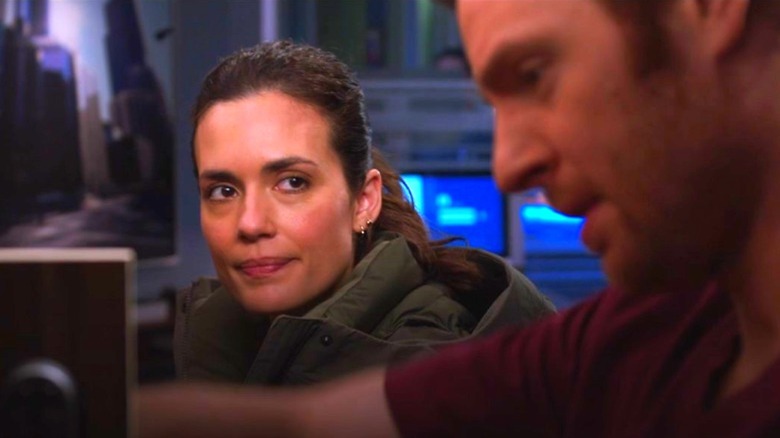 NBC
A key instance of Manning's off-putting behavior occurs in the "Got a Friend in Me" episode in Season 5, where she impulsively violated basic parental rights protocol concerning the treatment of a couple's child. Speaking with Glitter Magazine about the scene, DeVitto recalled, "I was nervous about the storyline from season 5, where Natalie locks the parents out of a little boy's room because they are refusing to allow me to treat him, and I know if they discharge him, he may die." She then worried that this behavior might be merely adding conflict for conflict's sake.
With this moment of bad-Natalie fresh in fans' minds, Episode 10 of the same "Chicago Med" Season 5 fought Natalie again making waves when she causes Will Halstead's young patient to be taken away from the boy's dependent mother by going around Will to call Protective Services. This was apparently the final act that drove some fans right over the edge. Redditor Oscar-D-Grouch notes how dislike for Natalie ripened over time in the show's subreddit discussion titled, "I now understand hatred for Natalie," with the subsequent comment: "It took me until Season 5 Ep 10 to truly absolutely detest her a**." In the same discussion, nerddddd42 responded to this Manning misstep with: "Wow she's a terrible person and doctor," while a similar Reddit discussion about the same episode had IlovePetrichor declare, "Took till S5 E10 but UGH NATALIE."