Things You Forgot Happened In The First Episode Of Chicago Med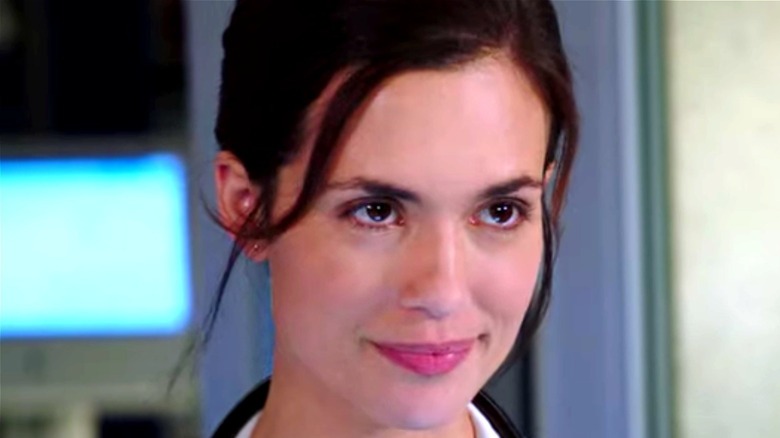 NBC/Netflix
You can't go wrong with a Dick Wolf production. He's a master of the procedural formula, and his wildly popular "One Chicago" franchise — which includes "Chicago Fire," "Chicago P.D.," and "Chicago Med" — is no exception. 
"Chicago Med," which debuted in 2015, was the last series to round out the "One Chicago" trilogy. Though straying little from the standard medical procedural, the show has attracted a dedicated fanbase for its authentic insights into the lives of emergency department staff. TVInsider ranked the show as the second-most accurate doctor-based series on television, after "Scrubs."
Despite an oversaturation of medical shows on TV, "Chicago Med" still manages to make a strong impression in a thrilling, jam-packed pilot. The episode starts with an elevated train accident, throwing a wrench into the celebration of the emergency department's grand opening. At the command of even-keeled boss Sharon Goodwin (S. Epatha Merkerson), Gaffney's physicians and nurses immediately spring into action to care for injured crash victims. 
We're also introduced to the show's core players, including charismatic Dr. Connor Rhodes (Colin Donnell), matter-of-fact Dr. Natalie Manning (Torrey DeVitto), empathetic nurse April Sexton (Yaya DaCosta), morose psychiatrist Daniel Charles (Oliver Platt), reserved Dr. Ethan Choi (Brian Tee), and strong-willed Dr. Will Halstead (Nick Gehlfuss). The episode lays the groundwork for several key character arcs, like Connor's mysterious past and the grief that haunts Natalie behind her calm, capable facade. 
"Chicago Med" – now in its seventh season — recently returned to NBC for its mid-season premiere. Since the show has sustained some major changes over the years, including several cast departures (via Newsweek), let's revisit the show's origins by taking a closer look at its pilot episode, "Derailed."  
Mayor Rahm Emanuel plays himself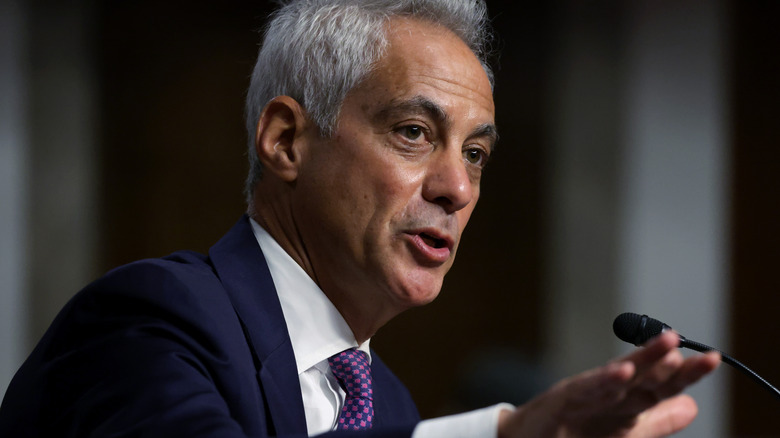 Alex Wong/Getty Images
One of the most charming traits of "Chicago Med" is its commitment to realism, from filming on location in Chicago (per The Observer) to name-dropping deep-dish pizza. It also features a cameo from one of America's most recognizable Chicagoans: Rahm Emanuel. "Derailed" opens on a ribbon-cutting ceremony for the new Emergency Department at Gaffney Medical Center, led by none other than Chicago's 55th mayor, played by himself.
Sharon Goodwin, the Head of Patient and Medical Services at Gaffney, glowingly introduces the mayor in a speech that echoes real-life praise from producer Dick Wolf. "I have never gotten the level of support from any other mayor that Rahm has given us since we came here to do the pilot (of 'Chicago Fire')," he raved at a 2019 "One Chicago" press event (via Chicago Tribune). 
Emanuel is a key figure in the "One Chicago" universe, appearing both in the pilot of "Chicago Med" and in two episodes of "Chicago Fire" (via IMDb). According to Oliver Platt, the then-mayor turned out to be a "natural actor." However, Emanuel revealed to NBC that he only agreed to join the "One Chicago" franchise on the condition that it make "an investment to the firefighter's widow and orphans fund."
Emanuel served the Windy City from 2011 to 2019. Two days after departing from office, he reprised his mayoral role on "Chicago Fire" in its 7th season finale.
A beloved Chicago Fire character makes a cameo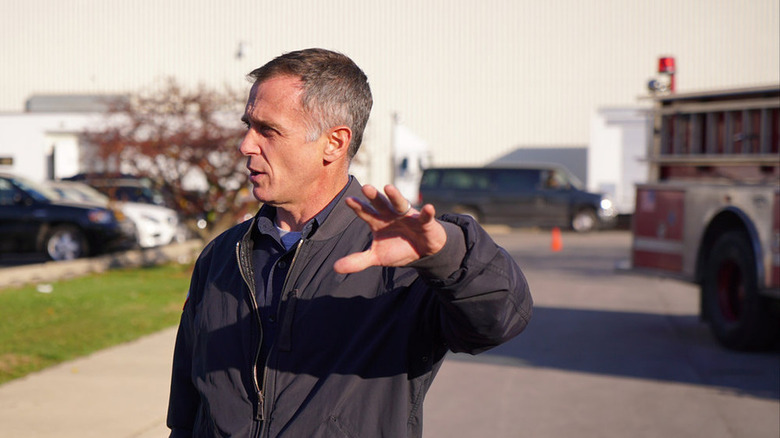 NBC
If there's one thing "One Chicago" fans love, it's the frequent crossovers that lend the three-tiered franchise its signature warmth and familiarity. "Chicago Med" ties in immediately to its sister series, "Chicago Fire," with a cameo from Lt. Christopher Herrmann (David Eigenberg), a firefighter at the fictional Firehouse 51. 
After the elevated train accident, Herrmann stops by the Emergency Department to drop off a box of passengers' personal effects from the crash site. He sings a tune and banters adorably with nurse Maggie Lockwood, played by Marlyne Barrett. Inside the box, Maggie discovers an engagement ring that a passenger had planned to give to his girlfriend before succumbing to his injuries. The scene, though only flimsily related to the plot, is an essential bit of world-building that is clearly designed to appeal to more general "One Chicago" fans. 
Later, Herrmann has a blink-and-you-miss-it appearance as an extra in a bar scene, where Connor and Dr. Daniel Charles share a somber conversation about a struggling patient. Dyed-in-the-wool fans will recognize the bar as Molly's, which Herrmann co-owns with fellow firefighter Randall "Mouch" McHolland (Christian Stolte) on "Chicago Fire." We love continuity! 
Eigenberg went on to appear in nine other episodes of "Chicago Med," including "Infection: Part II," the second installment of an epidemic storyline that begins on "Chicago Fire."
Dr. Rhodes makes a dashing first impression
We first meet Connor Rhodes, the handsome new trauma surgeon at Gaffney, boarding the same train that will hurtle off the rails. Despite sustaining his own injuries, he wastes no time checking in with other passengers and examining their wounds before heading into his first day on the job. The scene tells you everything you need to know about Connor: he's compassionate, self-assured, and — despite just surviving a train crash — effortlessly good-looking. 
Connor causes a buzz from the moment he confidently strides into the emergency department. "Who's young Rambo over there?" says Dr. Charles as he watches Connor flawlessly stitch a gash on his shoulder — shirtless, no less. "He's gonna light up some estrogen receptors over here." Maggie isn't immune to his charms, either. "I'll say — he lit up mine," she says coyly.
Other staff members, such as senior resident Will Halstead, are less enamored with the new doctor. The tension between Will and Connor is so palpable you could slice it with a scalpel. The two immediately butt heads when Will attempts to take over an assigned patient while Connor is applying CPR. "Nope, he's mine," retorts Connor. The interaction sets the stage for a long-standing rivalry between the two physicians, who frequently clash over medical decisions in the ER. 
Fans who started tuning in after the fourth season may not recognize Connor, as his actor, Colin Donnell, left the series due to a "creative decision" (via Fansided). Nevertheless, Connor is an early fan favorite and one of "Chicago Med's" best-developed characters. Despite growing up in an affluent area of Chicago, Connor leaves the city to study medicine in Mexico and Saudi Arabia. The reasons for his departure are only made clear much later on in the series when certain dark family secrets are brought to light. 
Moral conflicts set the stakes high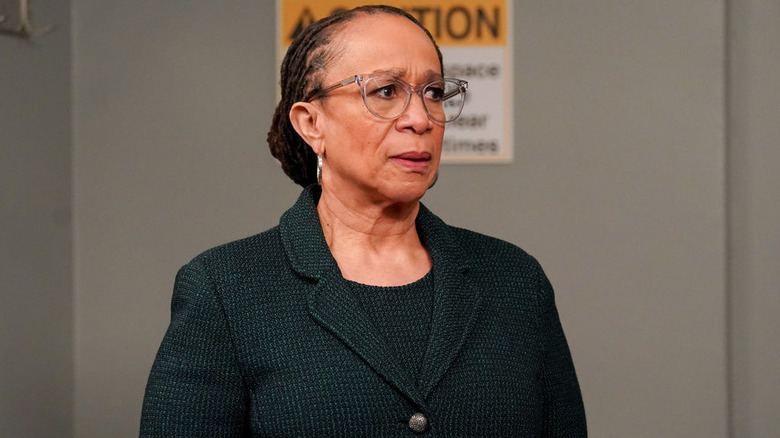 Elizabeth Sisson/NBC
"Chicago Med" doesn't shy away from the hard questions, and its pilot perfectly sets the tone for the tough moral calls that Gaffney doctors will continue to make for the rest of the series. First, we meet Jamie, a college student with cystic fibrosis mentored by psychiatrist Dr. Charles. Jamie is a repeat ER visitor and has already been intubated eight times. When Connor informs Jamie that he'll need to be intubated again if he expects to survive his latest bout with pneumonia, Jamie politely insists that he's "had a good life" and wants to die peacefully on his own terms. 
Initially, Dr. Charles defends Jamie's decision, wishing to protect Jamie's agency and doubting that the procedure will buy him much more time. Connor attempts to override him, exclaiming "We're past what Jamie wants!" It's a classic conflict of doctor-knows-best vs. patient autonomy that finds a tragically simple resolution when another patient, who dies from injuries incurred by the train crash, turns out to be an organ transplant match for Jamie.
Meanwhile, Dr. Will Halstead has his hands full with another harrowing moral quandary: the fate of Gina, a woman carrying a surrogate pregnancy who's sustained major head trauma. The baby's parents, who have power of attorney over Gina, fear that the surgery she needs to survive will cause complications for the baby. Gaffney faces a potential lawsuit if its doctors opt to move forward with the surgery against the parents' wishes — much to Will's consternation. "And that's how we make our decisions — by how much it's going to cost us?" Will fumes. Ultimately, Sharon Goodwin reasons with the baby's mother and convinces her to give consent for Gina's surgery.
Dr. Manning's tragic past is revealed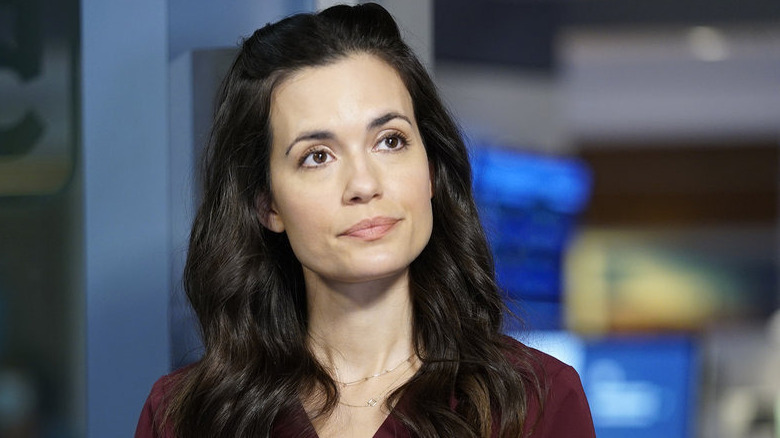 NBC
Dr. Natalie Manning is one of Gaffney's most experienced and unflappable physicians, but as "Derailed" unfolds, we see that she's coping with the aftermath of a personal tragedy. Natalie is clearly in the late stages of pregnancy, but the audience is left in the dark about the baby's father until the episode's end. "Is your husband a doc too?" Connor asks Natalie as they enjoy a brief moment of respite from the ER's chaos on a terrace outside. She hesitates a beat too long, then shakes her head. "No," she says softly. 
In another scene, Natalie barely maintains her composure as a woman shares a tearful moment via iPad with her husband, a train crash victim recovering in a different hospital. Later, she breaks down sobbing while returning her white coat to her locker. Taped to the locker's door is a picture of her husband, dressed in military gear. It turns out he died in combat just months before, leaving her a single mother in mourning. 
Natalie finds love again in subsequent episodes through her romantic involvement with Will Halstead. Will even takes the hit for Natalie in Season 6, when Natalie, in one of many questionable decisions she makes throughout the series, steals medication from the hospital to give to her ailing mother. After Will is fired, Natalie is driven to confess and leaves the hospital, which coincides with actress Torrey DeVitto's own departure from the show ahead of its seventh season.