Why Josh Brolin Was Hesitant To Play Cable In Deadpool 2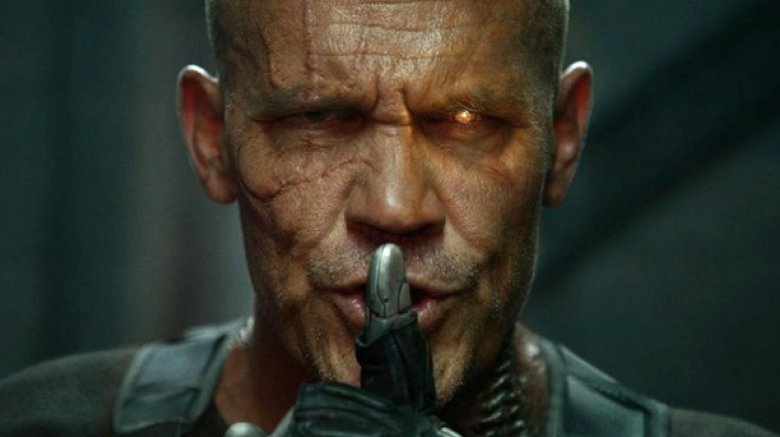 From the outside looking in, it's hard to believe that any actor would have doubts about accepting an offer to star in a major Marvel movie. But that's exactly what Josh Brolin experienced when faced with the decision to sign on to play Cable in Deadpool 2. 
Speaking in a recent interview with Collider, Brolin revealed that he was hesitant to say yes at first, as another project of his almost took precedent over the superhero sequel. "At first I was like, 'I don't know.' I want to do George and Tammy," the actor stated, referring to the musical biopic that follows the rise and fall of country-western icons George Jones and Tammy Wynette. Brolin was set to star as George alongside Jessica Chastain as Tammy in the Taylor Hackford-directed film. 
But when that project fell through at the last second, the opportunity to play Cable presented itself, and Brolin's wife was on the sidelines urging him to look at the Deadpool 2 script. 
"My wife—thank god—said to just read it. 'Why are you even talking, just read it,'" Brolin stated, owning up his hesitation. "I was thinking [too big] about the four-picture deal. So, on my phone, I remember I read it."
Brolin then said that the film's smart but sometimes raunchy and certainly off-kilter humor is what got him hooked and what ultimately drove him to signing on to Deadpool 2. He also mentioned that he wasn't aware of how dedicated the Deadpool fanbase is, and hinted that the sequel will be a treat for moviegoers the world 'round. 
"It was so irreverent and funny and hysterical that once I got through it I was like, 'That's it,'" said Brolin. "And I had no idea [about] the fan-base. I had no idea what it represented, and I think we've made something really special."
Though Brolin was initially wary of stepping into the role of the telepathic mutant, Cable creator Rob Liefeld never once questioned the actor's ability to do the character justice. "Josh Brolin brings both the gravitas as well as the physicality required to bring Cable to life on the big screen," said Liefeld, noting both Brolin's physical aptitude and his dignified presence. 
And Cable isn't the only character fans are excited to see on the big screen next summer. There's also Ryan Reynolds as the Merc with a Mouth himself and Zazie Beetz as fellow mutant Domino to look forward to, plus the return of a slew of well-adored characters like Blind Al (Leslie Uggams), Weasel (T.J. Miller), Dopinder (Karan Soni), Vanessa (Morena Baccarin), Negasonic Teenage Warhead (Brianna Hildebrand), and Colossus (Stefan Kapicic). 
According to actor Miller, the sequel will be every bit as hilarious as Brolin says it is—possibly even funnier than the first film. "I was crying so hard laughing that I dropped an iPad in a public restaurant when I was reading the script [for Deadpool 2], As Ryan [Reynolds] and I were talking about, it's this great thing where we know the tone, we know the stakes, everybody's played these characters before," Miller said. "Most importantly... we know how to hit [the tone] pitch perfect. So I think it might actually be funnier than the first one. I'm really, really excited."
Deadpool 2 recently wrapped filming this past weekend, and is set for release on June 1, 2018.